I am a Finalist!!!!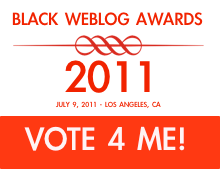 So. Thanks to Luvvie (a fellow finalist), I found out that I am a finalist for Black Weblog Awards! OMG!
Nominated for the Best Plus Size Blog, I am quite honored and GEEKED!
EEEEEEEEEEEEk!
The Black Weblog Awards recognizes those within the African American Community who are making moves and strides throughout the blogosphere!
Seriously, I am besides myself with excitement and….
I need your HELP!
I need your vote!
Please click the button below to head on over to VOTE!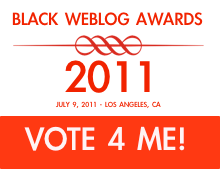 You have NO IDEA how GEEKED I am!
Thank you in advance!!!!!!!
P.S. Some of the other blogs (and friends) I frequent quite often are nominated too!!!  Miss jia, The Fashion Bomb, Afrobella, Sister Toldja, The Black Snob, Necole Bitchie, Dirty Pretty Thangs, The FreshXpress, Very Smart Brothers, Luvvie