Summer is such a great time of year to update your shoe-drobe and there's definitely a stylish summer breeze blowing right now because we've found some gorgeous wide-fit shoes that we know you're going to love for your next vacation or stay-cation!
There's an old saying that 'shoes maketh the man' – meaning that you can tell someone's worth by their shoes. Although the language is ye olde English, the phrase still claps today because let's be honest – shoes maketh an outfit!
You could be wearing a $20 outfit from Target, something you've thrifted OR a plain dress that you've owned for a year, but you can make anything look AMAZING if your shoes are on point.
So, whether you're hitting the beaches, going sightseeing, camping or simply taking in the rays by the poolside; packing some great footwear is essential. Check out these 10 amazing shoes for your next vacation including some of the hottest SS19 footwear trends.
Platform Heels
Over the last few seasons, we've seen platforms become ever more popular with fashionistas. Platforms are the perfect vacation shoe, because they give you the extra height and wow-factor of heels but with more support and balance to walk around and explore in. For SS19, platform sandals are the go-to vacation footwear, especially for party destinations and festivals!
We're totally here for the Nasty Gal Faux Snake Print Chunky 2 Part sandals. These would be dope for a festival or Vegas pool party.
https://www.nastygal.com/faux-snaker-print-chunky-2-part-sandals/AGG66128.html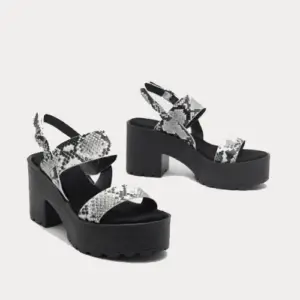 Mules
Retro mules made their comeback last year and we're loving that this trend is here to stay. The slip-on shoes are super easy to wear and are effortlessly stylish. With your choice of mid to high heels and a thicker heel, mules are great at supporting you whilst looking chic.
We love these faux suede peep-toe mules from Missguided.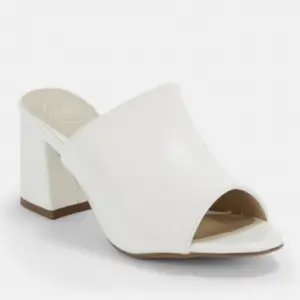 Toe thong sandals
Toe thongs are for so much more than flip flops. They are great for wearing every day on your vacation, from the poolside to the beach or grabbing a gelato. Feeling a little more fancy? Then check out these Rhinestone Keyhole sandals from Torrid. We'd love to wear these to go for cocktails.
https://www.torrid.com/product/rose-gold-rhinestone-keyhole-sandal-wide-width/11773060.html?cgid=NewNow_NewArrivals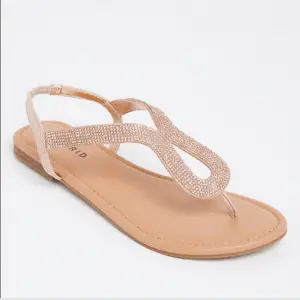 Barely There Sandals
Last year it was all about the chunky sliders but this season, the barely-there sandals are en vogue. Thin band sandals like these Hong Kong Barely There Block Sandals from ASOS are perfect for a cute dinner look.
https://us.asos.com/asos-design/asos-design-hong-kong-barely-there-block-heeled-sandals-in-warm-beige/prd/10066359?clr=warm-beige-patent&colourWayId=15091376&SearchQuery=&cid=19828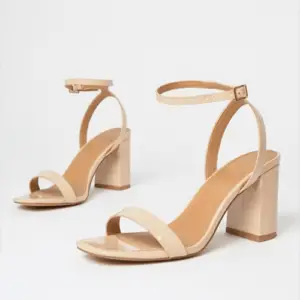 Nautical vibes (cord/rope)
Because vacays by the sea are just meant for nautical vibes, right? And that means for your feet too. Espadrilles are a summer must-have; they are lightweight, comfortable and squishable too which makes them super easy to pack. Nautical rope, braid and cord is a footwear trend that's set to be big in ss19.
Our pick are the Poolbar 3 styles from Rice. These shoes are handcrafted and sustainable too, made using the same process used to make the shoes of fisherman for hundreds of years.
https://thericeco.com/en_en/poolbar-3-17078-829#92=324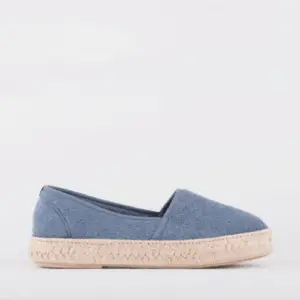 Fishnet Shoes
You've heard of fishnet tights but the hottest shoes for your vacation this season are fishnet heels. These statement heels from Pretty Little Thing are perfect for a party destination and are in one of the season's hottest colors; lime green.
https://www.prettylittlething.us/red-fishnet-slingback-pointed-toe-heels.html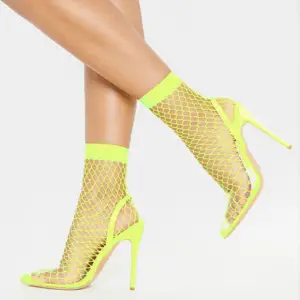 Bright Chunky Sneakers
Sneakers are a classic choice when it comes to choosing the shoes for your vacation. For SS19 the sneaker trend is going bright and chunky; the perfect statement shoe for casual vacay days of sun, sea, and sightseeing.
Check out these ASOS wide fit dart chunky sneakers.
https://www.asos.com/au/asos-design/asos-design-wide-fit-dart-chunky-sneakers-in-multi/prd/11566437?clr=multi&colourWayId=16352111&SearchQuery=&cid=28667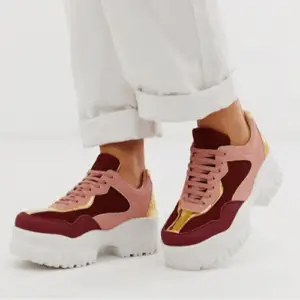 Feathered
Talking of statement shoes, another trend to watch this season is feathered footwear. And where better to show off your fashion-forward footwear than on vacation. Feathered heels and sandals. Mix and match your SS19 trends with these Fashion Nova Cool About it Heeled sandals/mules.
https://www.fashionnova.com/products/cool-about-it-heeled-sandal-black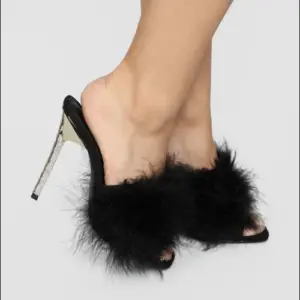 Bold Block Colors
SS19 is all about bold block colors. From chunky sneakers, mules and fishnet heels, go for bold this summer. Hot colors for SS19 include lime and orange, just like these Nasty Gal: A Low It Flare Block Heel Sandals.
https://www.nastygal.com/a-low-it-flare-block-heel-sandals/AGG71328.html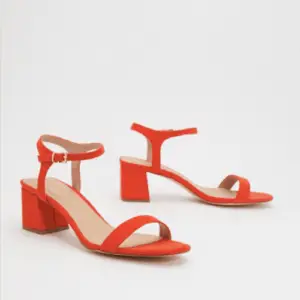 10. Embroidery
Embroidery has been a regular on the catwalk for a while now but for SS19; embroidered shoes are in. We love these super cute ballet flats from ASOS.
The ASOS design Lantana Wide Fit Embroidered pointed ballet flats are great for dinner at the resort.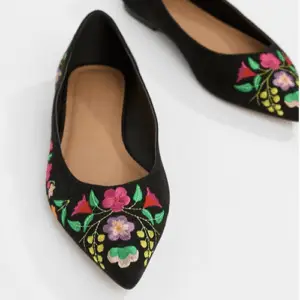 https://us.asos.com/asos-design/asos-design-lantana-wide-fit-embroidered-pointed-ballet-flats/prd/9294865?clr=black&colourWayId=15032579&SearchQuery=embroidered
What are your must-have shoes for your vacation? Let us know in the comments.