You know, I am always >>>here<<< for a baaaaad dress. And with the latest offerings from a few plus size designers, these options are becoming plentiful and one of the designers serving it to us is Los Angeles based brand, Z by Zevarra. And when I mean she is serving us? Honey, this collection IS NOT for the shy or demure. If you live life on the edge, want a dress that will command a few second glances, and that is amazingly constructed? THIS is a collection you should take a look at! I mean, did you see the last Z By Zevarra collection? It was just as amazing and bold. For reals.
If you are not familiar, Z by Zevarra is a contemporary "plus size luxury lifestyle brand that flatters the curves of all shapes." Known for her body conscious silhouettes, deep plunging necklines, and an amazing product that comes with built in support, designer Lakisha Livingston shares a bit about her inspiration for this collection!
The inspiration for this collection came from the high fashion houses in Europe that I admire. Their designs exude Confidence, Elegance and Glamour and I wanted to bring that same level of appeal and sophistication to the Plus Size market.

I LOVE every piece from this collection, but my favorite piece is the Armani Ruffle set, which is made from black and rich purple luxurious Giorgio Armani Mikado satin fabric which makes it so chic and elegant.
Okay, but are you ready to see what goodies she has for us?
Well, then please let me show you! Just click the first image to start the gallery!
The Elegance and Glamour: The Z By Zevarra Holiday Collection!!
Listen. Ma'am. I have so many faves from this collection that will be perfect holiday dresses and dresses just for life. Right? Like, can you see yourself rocking the hellllllll out of that red cape number? Or the feather hem number? Yes HONEY!
But that Sequins? YES. YES! Bwahahahah!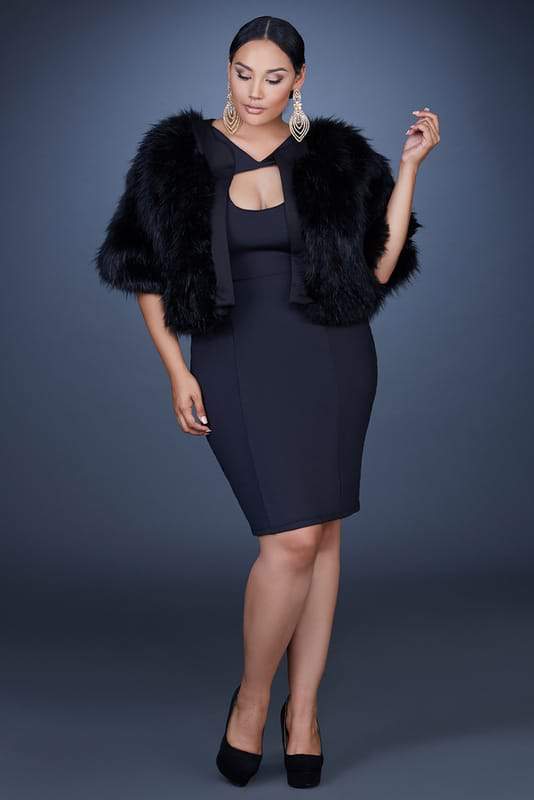 Because sometimes, life needs a bit of drama, this Z by Zevarra Faux Fur jacket brings attitude, style, and a bit of panache to your look! With jeans or over your holiday gown, this is a staple that will always wow.

The collection launches TODAY, and you can shop it at zbyzevarra.com!
OH! andddddddd she is having a Cyber Monday sale on her new collection! Save 25% off the collection! Woot!
This collection is segzy boo… I am here to give it a whirl in real life. Hehehehe, I mean. Which one can you see me rocking, I am curious. Either way, I need more than a few of these pieces to add to the closet! Seriously!
Can you see yourself in a few? Which ones have you hyped and excited?