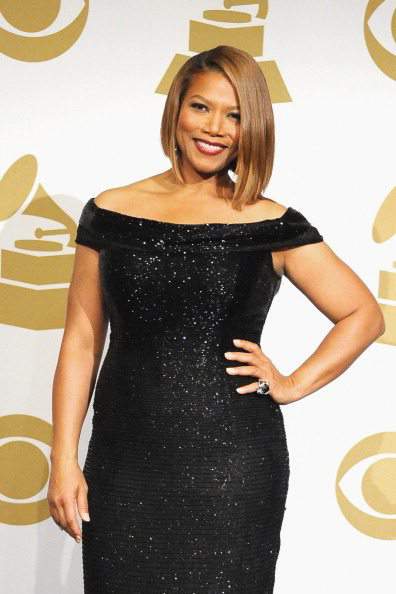 One of the best things New Jersey gave us was the dynamo! Queen Latifah has been on the film and music scene for 30 years and remains one of the most talented, unique, beautiful artists/actresses ever to exist. Can we say iconic? Hell yes! From her style to music to acting, let's break down why we love our curvy goddess, Queen Latifah!
U.N.I.T.Y.
"U.N.I.T.Y" is off her 1995 Black Reign album, and let us know Queen Latifah is here—in case that wasn't clear from her "Ladies First" track off her 1989 All Hail The Queen album. Her ability to sing and rap was apparent early on. "U.N.I.T.Y" gave an anthem that allowed women to take their place with confidence, beauty, and no-nonsense. It declared women do not have to put up with abuse, not from a partner, a friend, or the random man harassing us on the street. Queen Latifah deservedly won a Grammy for this track, the first Black woman to win.
Living Single!!
"A bunch of fat, happy women and no crime." No lie detected. That was Queen Latifah's character, Khadijah's, response to what the world would be like without men. And it's as accurate now as it was then. Queen Latifah stays a trendsetter. As Khadijah, Queen Latifah was one of a brilliant quartet of Black women living single in New York City. Before there was Friends or Sex in the City, there was a brilliant, comedic, heartfelt show that did it first and did it better. Want to rewatch hilarious moments? You can stream it on Hulu!
Cleo Has Our Heart
Though Set If Off is beloved, many fail to think of this film when asked to list trailblazing films. Not only did this film have all Black women leads, but it was also an action film with all Black women leads, a heist film with all Black women leads. It showed the issues of racism and police brutality in society through the experiences of Black women. This viewpoint is rarely seen, let alone portrayed, in such a natural way. It was a critique on racism, society, and police brutality with all Black women leads. That made it fresh and memorable. To have Queen Latifah, a statuesque black woman, as one of those leads shot it into the stratosphere!
Tell me you don't picture Cleo driving through the army of cops, knowing she won't survive, and hear those gut-wrenching lyrics, "I curse the falling rain. But they won't stop with my complaining. Down on my luck and up against the wind." I'm not sobbing! (*sniff) You are!
Mama's Good To Us
There are plenty of reasons Chicago was a knockout musical. But Queen Latifah as Matron "Mama" Morton is right at the top! Her style in that golden, fitted, roaring 20s style gown and headdress as she belted "When You're Good to Mama" is seared into my eyes and ears. Her performance is the most memorable part of Chicago, and I love that film! Her character wasn't an awful person. She understood how the system treats women and helped, but also expects compensation. With so many of us fighting now to be paid for our labor, Mama was ahead of the curve.
She Is Just Fun!
She knows how to have fun and has stellar comedic timing. Yes. I always loved Bringing Down The House. Steve Martin was funny, but Queen Latifah catapulted that film. There are too many scenes that are now classic in that film, and each one is thanks to her. That fight in the bathroom is hilarious, and many of us are resisting that side of ourselves right now in the face of racism, fatphobia, and other prejudices. The scene where she coaches Steve Martin's character on how to "be a beast" almost had me run out of air. And the scene when she dresses as a maid with the racist old white lady at dinner? I almost fell over from her expression.
She Fought Typecasting And Won!
Queen Latifah was the first Black, plus-size Cover Girl that created the Queen Collection with the brand! She constantly pushes to break down barriers. Queen Latifah resists typecasting and demands people recognize her as an outstanding, Black woman with range to be whoever and whatever the hell she wants. Her story and successes lead to the next, and she is always an inspiration because she cares. Typecasting is always an issue in the industry, but being pigeonholed is more prevalent for a plus-sized, Black woman.
This is by no means an exhaustive list. You're welcome to add to it in the comments because each reason and moment will be unique to you. That's what makes Queen Latifah so incredible; she reaches us each in a different way.
Please, for the love of God, someone make a live-action of Resident Evil Village and cast Queen Latifah as Lady Alcina Dimetrescu! She will bring that role to staggeringly epic life!!