I want to welcome in today's guest fashion and romance editor at Down that Aisle in Style and affectionately known as The Curvy Stylist on Twitter, Ms. Sheri Collins! After reading her insights on plus size bridal, and perfectly timed for that Fall Bride, I wanted to share with you some of the ongoings and special options for the blushing plus size bride!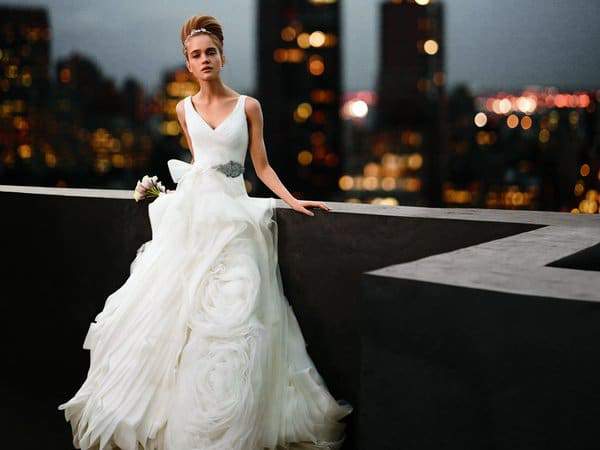 I heard a few months ago on Twitter that Vera Wang was making an affordable line of her glorious wedding gowns for David's Bridal. I started to imagine the day when plus size brides could have the wedding gown of their dreams by the illustrious Vera Wang. Well, I'm happy to report, no, I am overjoyed to report that "YES" my lovelies, you can have your Vera.
White by Vera Wang to Include Plus Size Wedding Dresses!
Plus size Vera Wang wedding gowns and bridesmaids dresses will be available in size 16 to 26 in selected styles this Summer. DId you catch that? YOU TOO can rock a plus size wedding gown from Vera Wang. If you can't wait you can special order your Vera beginning 2/11/2011 at all David's Bridal stores. However, you should be sure to plan wisely to allow 5 months for delivery and fittings.
The line called White by Vera Wang will be featured in 150 David's Bridal stores in sizes 0-14 this Spring and plans are to expand to the entire chain by the end of the year to 16-26!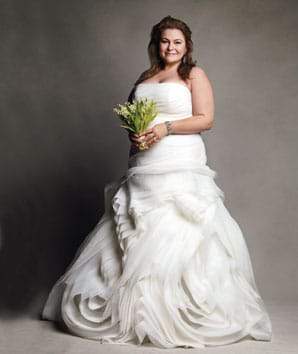 When I wrote my original post about the deal, Chamein and I worked our sources to find out the plans for the sizing. Nothing. But signing up for email updates at verawang.com proved to serve me well. About a month ago I started receiving XO, Vera Wang emails. I recommend you sign up too. They're full of great info from the designer herself such as "Gown Fittings To Dos."
When I got a XO, Vera email with "First Look: White by Vera Wang" in the subject line, I quickly clicked through to the website to take a look at the gowns and there I found what we needed to know.
I knew things were looking up when Glamour magazine featured bridal makeovers by Vera Wang in their annual Men's issue. All of the girls got engaged after cooking or eating Glamour's "proposal chicken." I've gotta to give this a try!
It was exciting to see a bride wearing a size 16 White by Vera Wang gown. Don't worry girls the dresses are pure Vera Wang with unique hand cut details; a wide range of quality fabrics; and enticing colors like soft white, ivory, champagne, and blush.
Prices range from $600 to $1400.
For more wedding fashion and style for you full figured blushing brides, please check out the Curvy Style Section on Down that Aisle in Style. AND, if you are on Twitter, please follow The Curvy Stylist on Twitter!