The technology that sends custom alerts from your phone to your finger…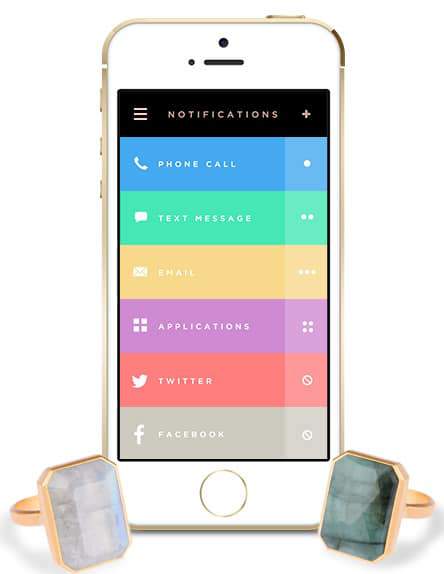 SHUT THE FRONT DOOR. This is what I said when I saw this. I damned near fell out of my seat when I saw this. I love love loveeeeeeeeee rings. I am just slightly obsessed with rocking rings and sometimes can overdo it. And then, I love my techy tools that make my life complete. SO when I stumbled upon this newest creation, RINGLY, I had to do some research.
Anytime you cross jewelry and tech together, you can easily and swiftly sign me up. I am not going to lie, I easily get overwhelmed with these fashion apps, but when there is relative FUNCTION and FASHION? I am here for it when done so perfectly and with Ringly, I am definitely intrigued! Any reason to confidently tick away the phone, while having a little secret? I am here for this…
I mean… I am really, really, really, hyped.
My ring can be a piece of technology too? YES. I can get with this.
From Ringly:
"Ringly creates beautiful smart jewelry and accessories that keep you effortlessly connected to the things that matter most. Our core belief is that technology can be more discreetly integrated into our lives. Ringly places fashion and simplicity first, and our first product line is a collection of rings."
Ringly in Action:
Yes, you read and saw that right… You see, Ringly is a line of 18k gold rings with precious and semi-precious stones that sync with our phones and apps, notifying us with subtle vibrations with messages, calendar events, and notifications that you choose to get! I MEAN, BRILLIANT, right?
I mean, if I only want to be notified when my sister calls, or specifically when I get a tweet or when the boo texts me? YES. Ringly does that.
ADD to this that this is available on BOTH iOS AND Android? I am geeked about this…
Items are available for presale right now! Make sure you check out Ringly.com to learn more!
I want the Black Onyx ring! Actually that and a few others, but I can start there… Off to shop I am!
Which one do you want? Which one could you see yourself rocking out in? Is this an app that you could get behind?
all images from Ringly.com