Attention west coast fashion lovers! If you live in the San Diego area, then you have a new plus size fashion destination coming your way! City Chic, the Australian plus size powerhouse has landed in your hood! Yep, that's right! You can now enjoy the contemporary plus size fashion that your fellow SoCal buddies have enjoyed with City Chic Mission Valley!
"Your Leading Global Plus Size Fashion Destination"
Westfield Mission Valley City Chic Opens THIS weekend
City Chic opens its fifth door this weekend and you are invited to visit and shop and enjoy 40% off the entire store at Mission Valley this Saturday 1st and Sunday 2nd November 2014 and online! Shopping the latest arrivals, you can play in the swanky shop (which if similar to the others, you are in for a treat), bring your girlfriends along, and stock up in the latest in plus size fashion!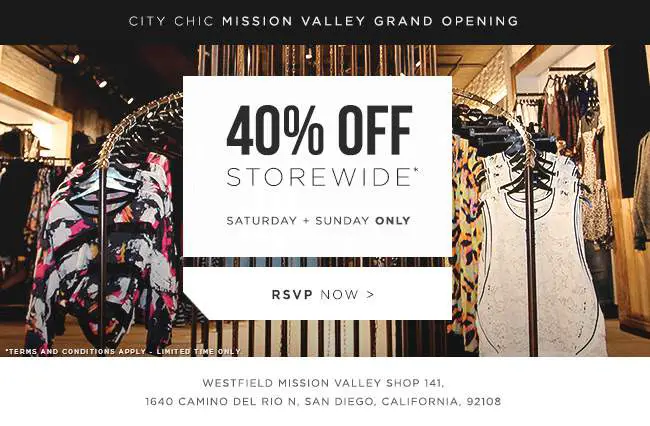 I mean. I am excited about more options, especially in areas where we do not have many to shop from and at! I mean, a new place to shop, who wouldn't love that? Let me share a few of my faves from the latest collection!
Now if you are NOT familiar with the plus size brand, City Chic offers better plus size fashion. Not the fast fashion options, but a new option- contemporary plus size fashion. Think better fabrics, attention to detail (hello lined dresses with soft boning), and impeccable fit. Add fashion to this and voila, you have an amazing recipe for fashion success!
You can shop at the Mission Valley Location or online at CityChicOnline.com!
If you get the chance, you can also shop City Chic at select Nordstroms! I am always hyped about new arrivals, positive changes in the community and offers that only give us more options and styles to better express our style! I am here for this, aren't you?
Only in SoCal, City Chic is slowly making its way in to the US and I am happy to welcome them!
Have you been to City Chic yet? Have you shopped them online? What pieces are you in love with? Let's discuss!