A while back, I teased the coming plus size fashion comic book- True Sheroes, and today, I have some fun news to share!
But first, if you did not catch who and what True Sheroes is, here is a quick snapshot:
The True Curves presents True Sheroes comic book series introduced us to an entire galaxy of bold bodacious Sheroes determined to save their world from their enemies all while a young new queen takes the thrown. Committed to empowering young girls and women, the True Sheroes comic books take an animated look at society through a sci-fi fantasy, mixed with high fashion flare, True Sheroes will inspire every woman to find the hero inside themselves.
And today, I get to share with you the ladies who are True Sheroes:
Plus Size Fashion Comic Book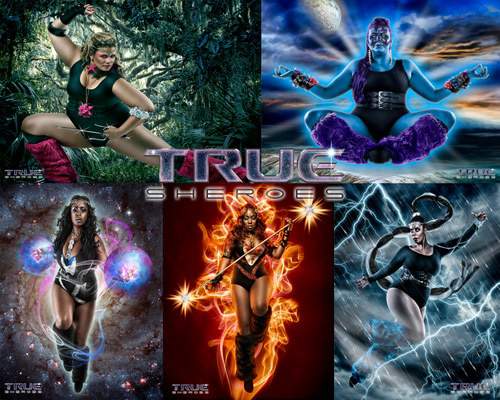 Lisa Essling – Genji
Extreme coordination and balance. Part of the Royal army but her loyalty does not lie with the queen. A powerful amazon beauty who is often known for her weaponry skills. She believes she should be general and knows staying close to her friend Princess Sinecoo might get her just that.
Dawn – Azure
Azure is from the mood tribe. Can calm those around her or even make depressed. When using her power she changes different color shades of blue. The mood tribe members are often part of the royal court. She is very strong and steadfast or light and friendly. Her skin is blue and the shade varies depending on the how much of her power she as used. The more calming she does the darker the shade of blue. She is mystical and spiritual.
Sommer Green – Princess Sinecoo
Eldest twin sister of Sinesca, is jealous that she lost the crown to Sinesca because she couldn't fly, has the ability to harness a hypo nova and can absorb others energy at will. Loves sister and her people deeply but jealousy clouds her judgment at times. Her super powers are the Gama Ray burst, can change gravitational field, absorb stars energy and transfer that energy to biological and technological objects.
Meilee – Princess Sinesca
Queen of the Sheroes, twin sister to Sinecoo, can harness powers from the sun. Youngest of the twins. Believes there is good in everyone. Her super powers are flying, Solar Flare, gift of heart, staff of light that can call upon all that is good for help. Weakest after using solar flares especially at night. Needs sun to rejuvenate powers.
Shannon Heitt-Tundra
Tundra is from the eco tribe. Controls the eco system and can create cold fronts and wind storms. She draws energy from nature's natural climates. The eco tribe does not take part in politics and are that of a peaceful people. Tundra helps all living beings.
True Sheroes is a 16 month calendar that brings each character from the True Sheroes realm to life. True Sheroes calendar represents different ethnicities and body types. Models were dressed and styled in custom made "super suits" designed by Meilee and custom accessories were designed by Amazon Barbie while choreography and art direction was given by Sommer Green.
To get your hands on this fabulous idea, endeavor and comic book, True Sheroes is available nationwide and throughout Canada at www.TrueSheroes.com
Are you headed to FFFWeek™?
Meet the Sheroes this June at FFF Week NY during the Youth Empowerment Panel!