Living in Georgia has afforded me the option to hop up and down and across the east coast in record time! I am still wrapping my head around how close everything is- compared to California, up and down the coast, you are still in Cali! BUT, as life in front of a computer can cause incredible amounts of tension and cabin fever, I was hyped when I was invited to hop over to Seminole Hard Rock Hotel & Casino Tampa for a mini vacation and to review their services!
I will have to add, not only was I invited to check out the Seminole Hard Rock Hotel & Casino Tampa, but more specifically, I was invited to check out the new Rock Spa, the "world's first music derived spa treatments." So a massage AND jams? I could not say yes fast enough! So I hit up my Tampa blogger boo, Farrah Estrella and we made it a girl's trip! Plus, who couldn't use a spa day?
Rest & Relaxation with Rock Spa at Hard Rock Tampa
So I hop aboard an hour and a half flight to Tampa (I mean, this is awesome) and Farrah scoops me up and we jet over to the Seminole Hard Rock Hotel & Casino! What I did not realize, is that not only was this a hotel, but a for reals Las Vegas, Laughlin, and Pala type of casino! Nestled on Seminole land, this particular location respectfully integrates Seminole culture and history into the inner workings of the casino, and I really appreciated this.
My Room & the Tour
Outfit Deets: Dress from LavendersJungle.com; Shoes from Fleeps.com
I realized that my room was a special Amplified Package that included a real life guitar, complete with an amplifier and lessons playing on TV! I may have a musically inclined family, but I had no idea what I was doing… but I could fake it really well!
We start off our trip with a tour of the property, getting a better grasp of the history of the Hard Rock hotels, how they acquire their memorabilia, and a few fun stories about each piece, thanks to our amazingly hospitable tour guide! I mean, there were so many nostalgic and surreal moments, especially if music's your thing!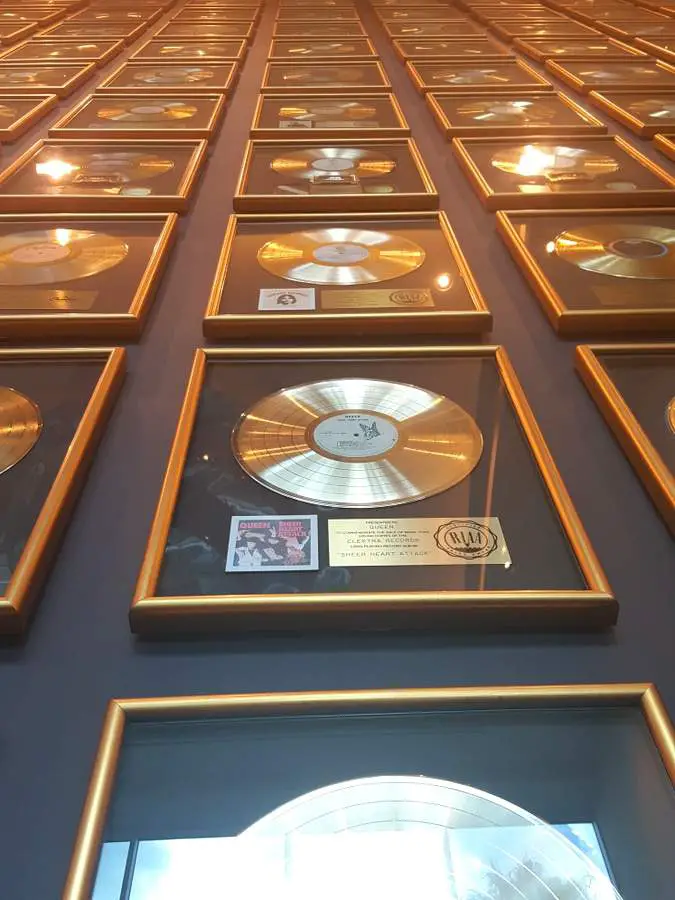 Seeing how tiny Elvis was, the wall of gold albums, the suits from Bette Midler's Mermaids, Bo Diddley's guitar… man! This was awesome.
Dining at the Hard Rock Restaurant
After we complete our tour, we dine in the Hard Rock restaurant! After learning that they freshly grind their meat daily, I dive into the burger and washed it down with an awesomely yummy coffee cocktail! I mean, if you know my love for and of coffee, then this makes sense to you… lol!
Towards the end of our meal, we had the pleasure to meet the head chef, and the girl power immediately got me hyped! ANDDDD she rides a Harley. She could not be any more perfect for the Hard Rock!

After a nice walk and great food, I happily knocked out, but not before I snapped a pic of our turndown welcome service!
The Next Morning? Spa Time at the Rock Spa!
Live Hard, Purify Harder
So what is it about the Rock Spa that makes it worth the trip? Well… Hard Rock wanted to throw their hat in the hospitality game, but wanted to make sure that they stayed true to their brand. If you are a lover of music and its history, you already know that a Hard Rock experience (Think Blues & Rock and Roll) is going to be a different one, so Hard Rock wanted to take their Rock Spa® offerings to the next level!
"by providing an immersive and energetic departure from what our spas traditionally delivered. Through the new musically-synchronized treatments, our goal is for guests to embark upon a journey of the senses into which they are subsumed, a journey that makes them awake, alive and at peace all at the same time. Much like seeing your favorite artist perform live, you would rather be nowhere else."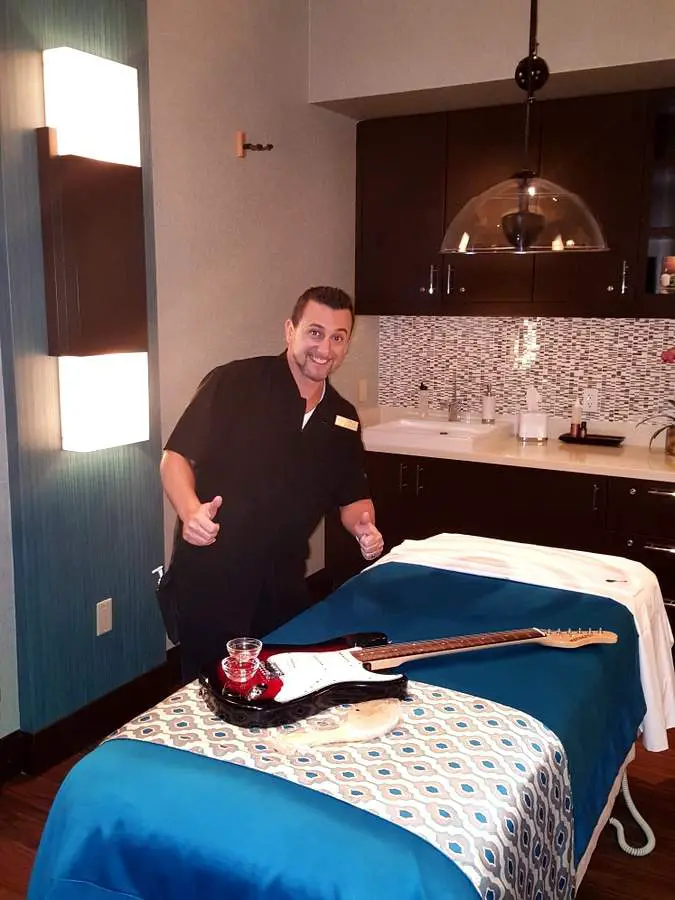 I must share, as plus size women, both Farrah and I were given robes that fit our bodies and I appreciated that the staff made sure we had our size, rather than flashing the world our goodies. Not once were we shamed, humiliated, or made to feel unwelcome- the staff were playful, accommodating, and warm!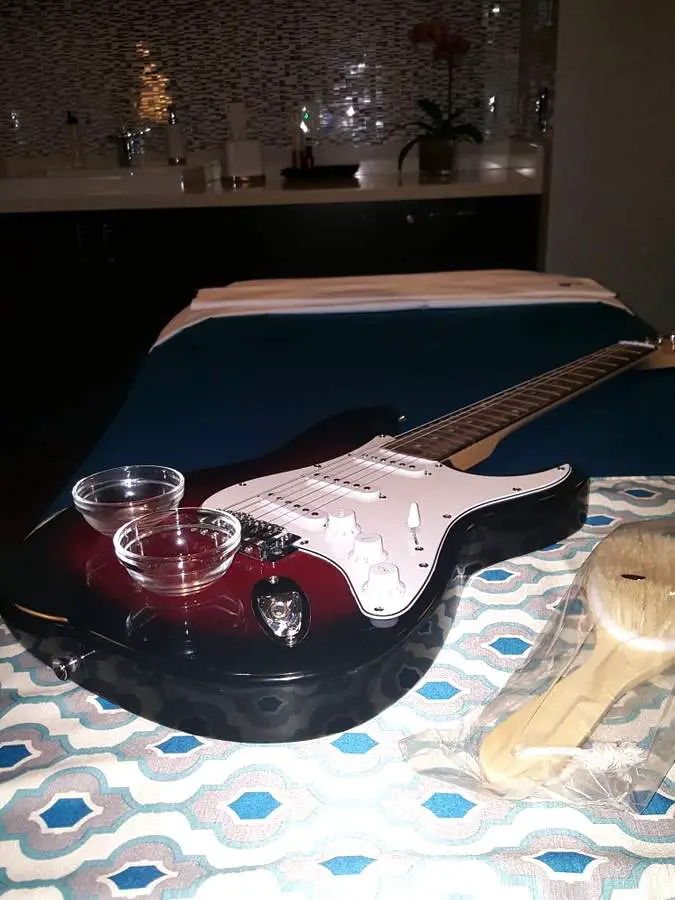 And for my service? Out of the various options, I opted for the Smooth Operator (maybe because of Sade? I don't know… the description sounded amazing and I went with it!) and HOMIGAWD. Let me share with you the deets:
Smooth Operator: Retunes the skin and rocks the soul with a two-part treatment removing impurities and invites new nourishing elements in. Starting with the rhythmical Sweetgrass inspired dry brushing, a ritual that softly sloughs rough skin away and closing with a soothing detoxifying wrap, to release toxins, hydrate, and smooth the skin – wrapping it up on a high note.
I mean, doesn't that sound amaze? Well, it was. The music pumped through this bulb speaker and the table subtly vibrated to the beat. It was funny and cool at the same time! After a few moments, I was in complete bliss. The brushing of the skin? This was new and weird feeling… but something I would do again! I am always here for exfoliation!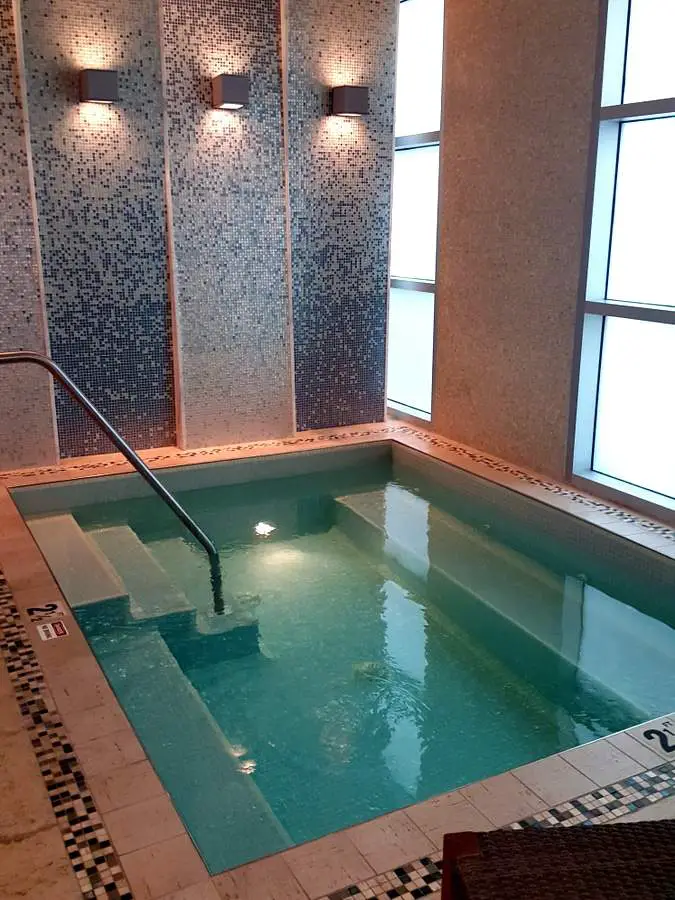 After our services were over, we received a shot of ginger tea to flush the toxins from the massage and Farrah and I soaked in the hot tub/pool. I did not want to move or leave. I was perfectly stuck and relaxed, but I soooo wanted to sit out in the sun a bit, so we made a dash to the pool!
But before we made a dash to the pool, we swung by the amaaaaaaaaazing Rise Kitchen & Bakery. I mean… I had both a mini banana pudding and a lemon meringue little desserts.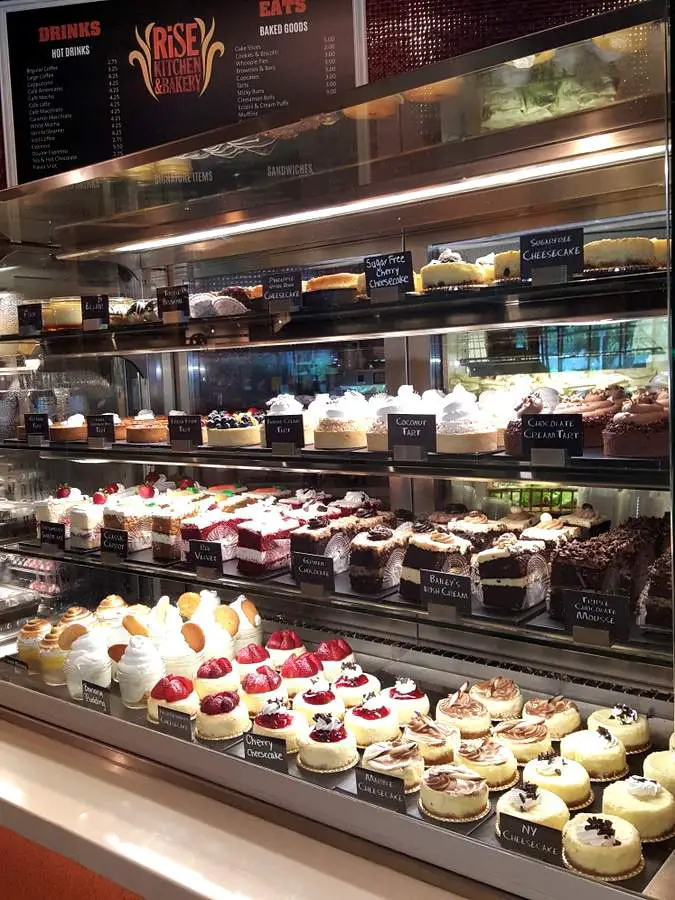 I could not decide and I was on vacay, so…
Sunbathing by the Pool at Rock Spa at Hard Rock
We must have had the same idea as everyone else, because every umbrella was taken and in true vacation style, I was like what the heck, let's get a cabana! Hehehe! And with that, our lazy day was perfect!
Of course we had to snap a few photos, because 1. Vacation and 2. Cabana! I rocked out with my Fleeps: uber fancy flip flops and my Lane Bryant three-piece bikini and shorts and got my life!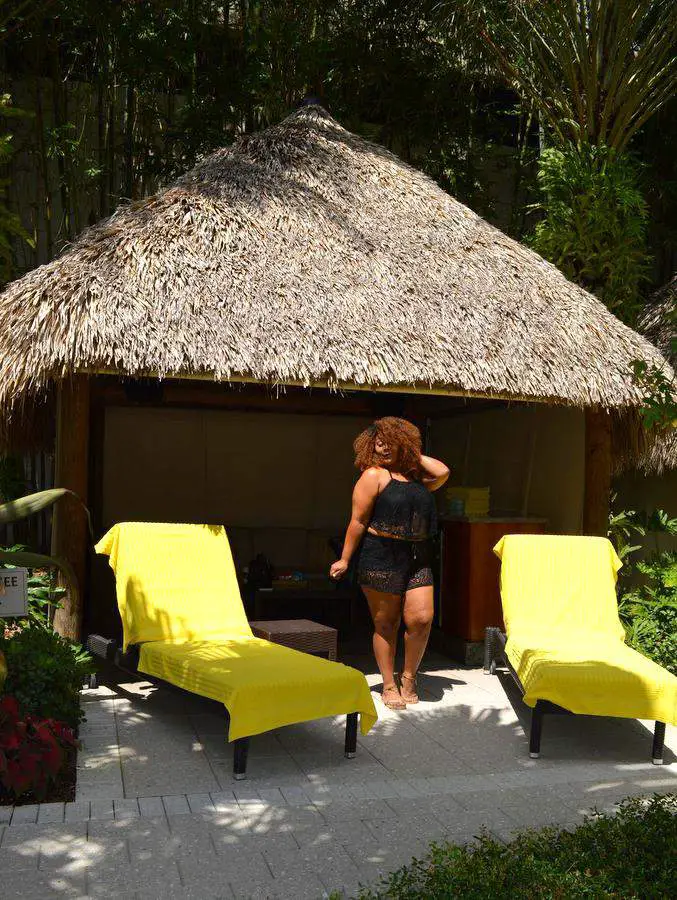 Outfit deets: Lane Bryant bikini top, bottom, and shorts; Shoes: Fleeps.com
Ending on a Full Note: The Council Oak Steaks & Seafood
And the perfect way to end our day? We dined fancily at the Council Oak Steaks & Seafood (that was named after the Seminole Tradition of signing legal documents and making binding agreements.) It was quite fancy and one of the most impactful visuals of the restaurant is when you walk up to it! Every cut of meat is displayed for your stomach's delight and pleasure.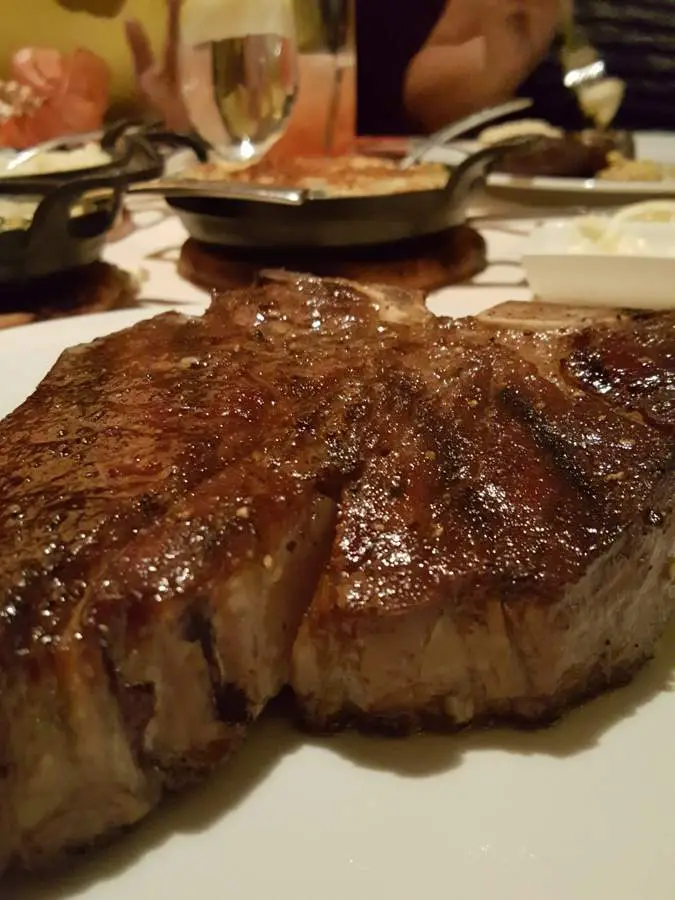 Now, for me? I am a steak girl! So I eagerly went in for the Porterhouse. I mean, why not? Although I could not finish it, because my steak was huuuuuuge and buttery tender!
Final Thoughts: I'll Be Back
I do wish my stay was longer. Next time. Even though I only stayed two days, this was just enough to break away from the day to day routine, escape, and relax- stress free! I know the next time I go, I will bring my mother, because she is a beast in the casino! Or maybe the boo friend, as he is a hard core music buff!
Make sure you check them out on Facebook: Seminole Hard Rock Tampa and on Instagram, @HardRockTampa for more social deets!
If not Tampa, they have other properties that I am curious and itching to get to for a longer stay! Like Hard Rock Hotel Palm Springs, Hard Rock Hotel Ibiza, Hard Rock Hotel Riviera Maya, Hard Rock Hotel & Casino Punta Cana, Hard Rock Hotel Cancun, Hard Rock Hotel Panama, Hard Rock Hotel San Diego, Hard Rock Hotel Macau, Hard Rock Hotel Penang, and the newly announced Hard Rock Atlanta (coming in 2018!)! I mean, give me a beach, a massage, and a great drink? I am there.
What did you think of my trip? Can you see yourself making a quick jaunt over to Tampa for a daycation? Let's chat!
Disclosure: This was a press trip, where my services and stay was comped,
but my experience and extra amenities purchased were my own.