Over the last years, we've seen a lot of announcements from brands, who are just so incredibly proud to share that they're "EXTENDING TO PLUS SIZES!!!" There's lots of exclamation points and self-congratulatory copy, but the "extended sizing" stops at a 16. This makes us wonder about the Size Inclusive vs Plus Size mindset…
Similarly, there are brands (or celebrity/blogger capsule collections with brands), that spend months hyping up their "inclusive" line that's about to drop, and well, when it does – it's 2-3 pieces that come in plus, in a collection of ~20 garments.
What's so frustrating about all of this, is that this story keeps playing over and over again. Brands show up, and expect to capitalize on the billion dollar plus market, and then are soundly bopped on the nose by plus size customers who are tired of this game. We see plus size shoppers sharing their disappointment and outright ire on public social media channels, private and secret Facebook groups, and in 1:1 texting conversations.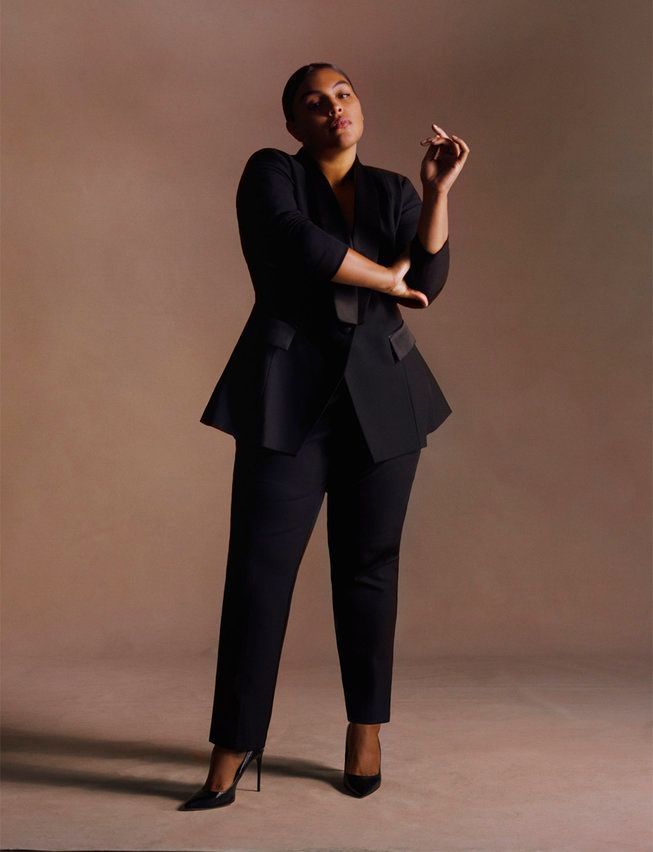 As plus size shoppers, we ask ourselves: "Are these brands doing any market research? Have they talked to any plus size consumers, bloggers or fashion analysts?"
Because they seem to be pouring a lot of money into bragging about their extended sizes or inclusive line, and it seems that money could be better spent actually, you know, making clothes in additional sizes.
Just a thought.
So, I wanted to take a moment to share what the plus size community expects when a brand says it has "extended sizing" or a new brand launches as having "inclusive sizing."
Extended Sizing – XL is Not "Plus Size"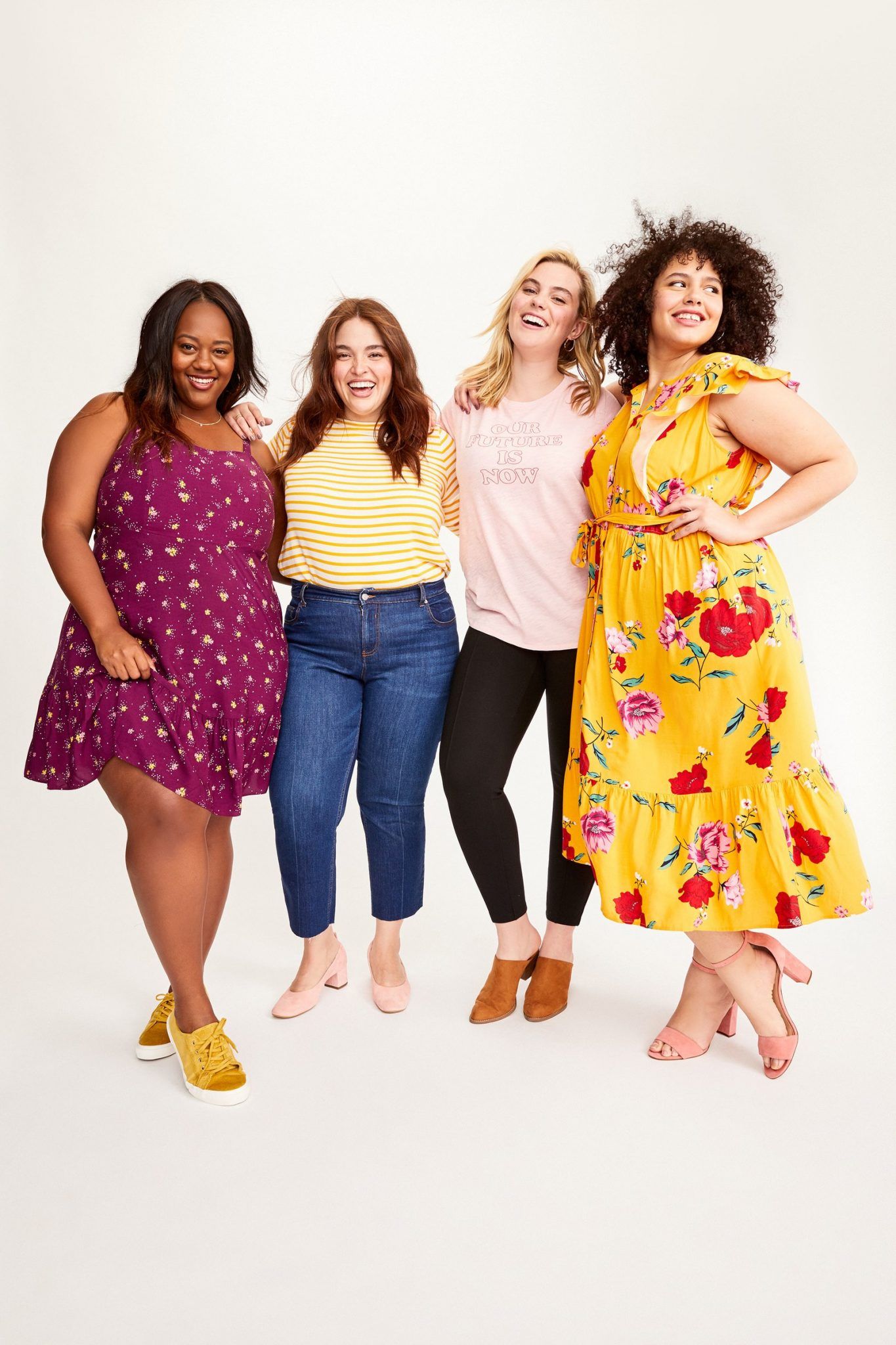 Oh, honey. How many brands have we seen announce that they've "added plus sizes" only to see that they've added an XL (maybe an XXL, if we're lucky), which brings their line to a US size 14?
When a brand shares that it is "now offering plus sizes," plus size shoppers expect to see the brand go at least to a US size 20. Personally, I expect to see it go up to a US size 24.
As a brand, you have one chance to capture the attention and loyalty of the plus size market. If you make a big to-do about offering plus, and we go to your website and see that you go up to a size 14 – we're going to exit that window, maybe sound off on Twitter – but, we will be very unlikely to show show up the next time you advertise adding additional sizes.
"We're on a Budget"
But, as a fashion designer, I get it. Sometimes, you can't add as many sizes as you'd like. If that's the case, reign your PR agency in, and advertise the new size(s) you've added.
Instead of saying, "[Brand] now offers plus sizes!!" say, "We're excited to have expanded our size range to a [#]."
That way, people who go to your website based on the announcement can actually buy from your new range.
It's not a good look to see a gigantic spike in online traffic, and low conversion, because people show up expecting to see a full size range – and leave with nothing, because you don't have their size.
Inclusive Sizing
Okay, so when we talk about "inclusive sizing," we generally mean that a brand spans both straight sizes and plus sizes. Let's talk about the expectations of plus size shoppers when this term is used:
All Clothes Should Be Available in ALL Sizes
If your brand doesn't offer ALL pieces in the FULL size range you're advertising, it's not inclusive. This story has played out so many times, it's sad. We most recently with the Blair Eadie x Nordstrom collab, where almost none of the pieces actually came in plus size.
Honestly this was so disappointing. Classic use of "inclusive" as a buzz word with nothing to back it up. @Nordstrom @BlairEadieBEE https://t.co/o2Tx23TMjg

— Brianne Huntsman ? (she/her) (@the_huntswoman) October 23, 2018
When a brand does this it communicates exactly how it feels about the plus size shopper.
You may as well show up and say, "Plus size people should be content with whatever we give them, and be happy! Where's our gold star for offering 1/3 of our collection in plus sizes?"
Cue facepalm.
The number of brands offering plus sizes, and the number of plus size brands launching really shows – we don't have to put up with castoffs.
If you're not going to include us, that's your mistake. You're leaving money (and authentic excitement and free press) on the table.
Going up to a Size 16 Doesn't Make Your Line Inclusive
As above, shoppers expect to see at least a an extension of up to a size 20, and, honestly, a size 24 is the best way to avoid a PR nightmare/Twitter hellscape. The plus size community will give you feedback, across all social media platforms.
We widely share brands we love, complimenting fit, color choice and style.
Aaaaand we widely share brands that are offensive in their marketing, discussing feminism, access and inclusion.
Jason Wu x Eloquii and Draper James x Eloquii both went up to a size 28. Universal Standard x J. Crew goes up to a 5X.
Which brings me to my next point:
To Be Truly Inclusive, Go Up to a Size 30
The word "inclusive" is defined by the Oxford English dictionary as, "Not excluding any section of society or any party involved in something."
People come in a variety of sizes. The "plus size community" is an actual community. As a size 20 person, when I see a brand launch and use the word "inclusive," I check to see if my size 24+ besties can buy from there. Excluding them is a form of bullying, and I don't want to shop places where my friends can't shop.
I loved pieces from the recent ModCloth x Anna Sui collaboration. But I decided to empty my cart, after seeing a teary Facebook status a friend shared about not being able to buy from it. And, y'all, I LOVE Anna Sui. It's a tough spot, because I want to show brands like Anna Sui that we want their clothes in plus, but I also don't want to buy pieces and leave my friends out.
Now, real talk:
Not all my purchasing decisions are made based off of a brand going up to a size 30. But I know I'm not the only one who has sadly closed a window because of a cap on sizes.
To read more about why it's important to go past a size 24, check out this article.
And, honestly, with brands like Universal Standard launching an offering up to a size 40, the bar has been raised.
Communicate When New Sizes are Coming
Brands have finite resources. I understand that not every brand has the startup capital or investors it needs to be "inclusive."
If that's the case, be transparent about it. CHROMAT, a luxury brand, has clearly communicated its efforts to add plus sizes.
From sharing new plus size dressforms, to putting out a call for plus size customers to book fit tests for their size expansion, the brand has created an almost textbook guide to expanding a size range.
Finally.
This article is a heartfelt piece. I'm not interested in writing articles for the foreseeable future on "brands who got it wrong."
I hope that if you're in a decision-making position at a brand that's trying to expand its sizing, or if you're trying to launch an inclusive line, you implement these strategies. Acquire new brand-loyal customers through truly inclusive fashion.
But we would love to know YOUR thoughts.
How do you feel about this topic? Is this something that rubs you the wrong way? Are you happy with where plus size fashion is?
Let's discuss this!