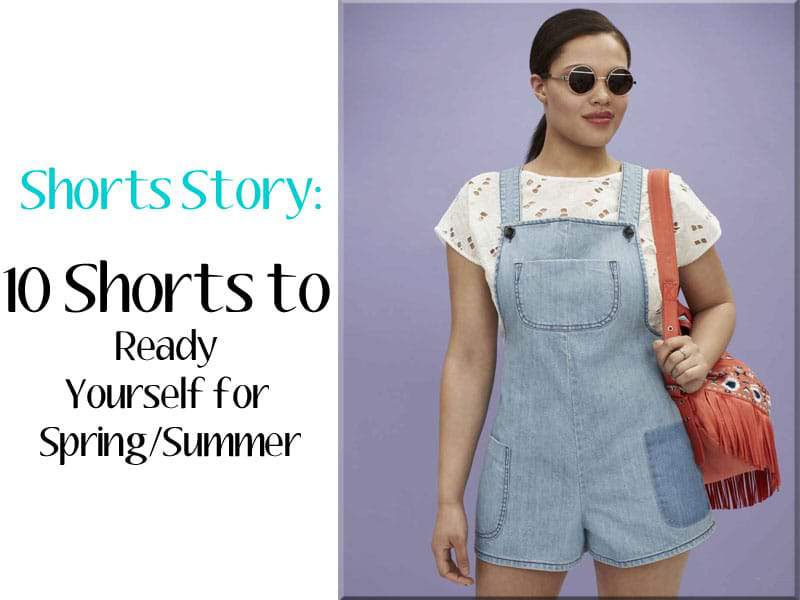 I love a great pair of shorts. They are definitely a tricky thing… last year, you and I had this conversation about shorts, the plus size woman, and if you could rock them. I have rocked shorts in a few outfit posts! My plus size cutoff denim shorts here, trouser shorts here, and rolled ones here. I must also share that I am quite spoiled by the California weather! Right now, in April, we have a high of 70. I will take that.
For spring and summer, this item is coming harder and I. Am. Here. For. It.
Today, I wanted to share with you a few pairs of plus size shorts that I am already getting excited for, for the spring and summer season! Are you ready?
10 Shorts to Ready Yourself for Spring and Summer
1. ASOS Curve Crochet Lace
2. Torrid Denim Vintage Rose Shorts
3. Forever 21 Lace Shorts
4. City Chic High Waist Shorts
5. City Chic Dip Dye Shorts
6. Gap Floral Shorts
7. Forever 21 Plus Size Camo Spiked Shorts
8. Gap Printed Front Shorts
9. Old Navy Denim Cut Off Shorts
10. Simply Be Plus Size Jacquard Shorts
In our conversation we had last year, I shared with you my personal tips when it comes to rocking shorts. Everyone has their personal comfort level, for me, it's fingertips! LOL But I wanted to share them again!
I buy a size up. It's hot. I do not need tights and uncomfortable shorts on top of the heat. To remedy this, I buy a size up. Room for my thighs to move with ease and to reduce the friction.
I almost ALWAYS abide by the fingertip rule. If it is shorter than my fingertips- chances are you WILL NOT catch me rocking it. Legs are sexy, but any shorter and I am wearing underwear (in my eyes).
I opt for darker rinses and heavier fabrics. Kind of contrary to staying cool in the summer right? However, a sturdier fabric (heavier cotton blends or denim) reduces the risk of the shorts riding up creating that inverted V. YOU KNOW what I am talking about.
Cool Wardrobe Wonder: Check out PSST, a shop that has iron ons that go inside your shorts to keep in place! 🙂
Are you a fan of shorts? For the warm weather, which ones catch your eye? How short will you go?