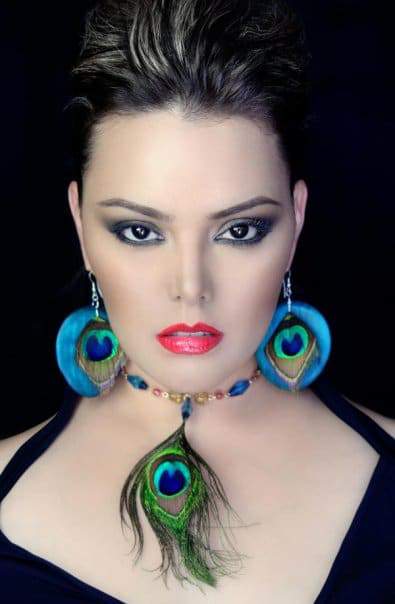 If you haven't noticed, Full Figured Fashion Week is only a few days away. The anticipation to see the latest and greatest within the plus size community is rising. Models from all corners of the United States are fiercely practicing their walks, photographers and videographers are preparing to take the best photos, designers are preparing to show you their latest trends and fads and Rosie Mercado, is preparing to represent the plus size community as the face of Full Figure Fashion Week.
Rosie Mercado is an entrepreneur, a fearless role model and a woman of beauty . Having been voted with more than 600 votes via the Face of Full Figure Fashion Week challenge, Rosie Mercado has now been accepted into the plus community and her following is fastly increasing. It was a honor and a pleasure to interview this lovely belle.
For our readers, can you give us a little background of your life?

I have been plus size all my life but I went thru deep depression after my divorce and I had gone thru a lot of verbal abuse and some physical abuse with my ex husband I would rely on food to comfort me and I just was not in a peaceful time in my life everything was falling apart. I hit rock bottom and decide that I was going to be a victor and not a victim and may the decision and committed to it!!!!

I was going to love my self regardless of rejection and all negative critics!! I was going to take the good and use the bad to be constructive in my life!!!!I decided to pursue make up artistry because there was something that gave me so much peace seeing women with a big smile and saying I have never felt so beautiful women of all ages!!! I understood then that it's so important to be a blessing to rec.

Blessings thru the talents that GOD gives us then I decide to be apart of the Miss Plus America Pageant and won several title Miss Nevada Plus America 09 Miss Plus America Runway Model and Miss Plus America Cover girl…. Miss Plus America Peoples Choice Award!!! I understood then that life offers so many possibilities and that I had to go thru all that to understand other women and found that even in the darkest moment God is with me and that I am Unique and I can accomplish anything I set my mind to with support persistence and always being humble!!!!!!!!!

Who were some of your childhood role models?

Oprah Winfrey she made her dreams come true she understands life she is focus has dealt with being plus size and understands the importance of being a blessing to others that's why she has been so successful its not about her its about who can she impact in a positive way!!!!

Have you always been a plus size woman? What was it that inspired you to love your body?

We have one life to live Our body is our temple we have to take care of it to have a good long life. So I decided to love myself help other plus size women understand that tomorrow might not come that we have to live like there is no tomorrow we cant use our weight as a obstacle if we do we will be jailed by our own depression and failure to find what make us whole and happy!!!

Now, from my research I see that you wear many hats! You are a known beauty in the pageant industry. How did you get your start in the Pageant industry? Or more so what inspired you to compete?

I wanted change, I wanted to know more about myself, what can I accomplish. I wanted adventure, I wanted to experience what it was like to be part of a pageant!! So I did it and it was so empowering and motivating to be part of an event that celebrates and honors plus size women of all ages and backgrounds that was something new for me!!!!! It's like my eyes were uncovered to the beauty of being plus size and uncovered to my potential and other women's potential!!!!!!!!!!

So please tell us about your company Bellisima? What is your favorite product?

Bellisima means beautiful and I believe all women are beautiful. I decide to launch the website 1 year ago and it has been a learning experience!!!!! With quick fixes we really bring out our best attributes! I love missbellisima.com pallets they are so helpful and sleek they come in a variety of colors the best part its mineral base so it's good for our skin!!

You are so similar to me in that I wear 3 different sizes. Have you ever had a hard time shopping? What are some of your shopping techniques?

I love shopping!!!!!!!!!! Two words that help so much when you have different sizes Custom Tailoring. Tailoring makes the clothes look good on any body type!! With that said and done, I have no problems shopping. I am also very creative so I work closely with Larissa Clothing to custom make pieces for me. I love trends and I am they type of plus size woman who loves to dress fashion forward!!

Inquiring minds would like to know, with regards to the fashion scene, who are some of your favorite plus designers right now?

I love Monif C. and I love Igigi, they are my favorite because they are fresh and fashion forward!!! Oh and I LOVE color— I am not a shy girl!!!!!!!!!

Now with regards to Full Figure Fashion Week- What will you be doing? Are you excited, nervous?

I am so blessed!!!!! To be part of a plus size movement and something that is changing history and breaking the doors down teaching everyone that we are all beautiful and deserve a chance to be represented and that we love to look good!!!!! I am excited ready for this new experience I will be hosting the red carpet event and talking to all the designers. I will also be attending Panel Discussions/Seminars that will be offered that week as well as the shopping excursion. I can't wait!!!!

It's not every day that you have the opportunity to be meeting the best of the best in New York!!!!!!!! I would like to take the opportunity to thank Devoe events, Igigi, Daily Venus Magazine, Curvesity, Fashion photographer Micheala Dalzell and all who voted for me and believed that I could win!!!!! This is a dream come true it's been a long journey but I am almost there!!!!

How will you fashion your curves at Full Figure Fashion Week?

I will be working with designer Larissa to create something classy and representing my true style and love for fashion!!!!!!

What advice could you give a woman if she wanted to pursue a career in the plus size industry?


I think the best advice I can give is: If you can dream it, you can make it happen !!!! With faith courage and persistence anything is possible … Don't let the journey there get you discouraged its not easy but the outcome will be a true blessing and a major teaching and a great satisfaction!!!!! Enjoy life and live it to the fullest!!!!!
Thank you Miss Rosie Mercado for this interview! Cannot wait to see you do your thing for Full Figured Fashion Week!