Though we rarely get lead roles, curvy women have been a part of film and television culture for decades. In recent times, as Hollywood's understanding of curvy women evolves, so do the characters portrayed in the films and television we consume.
From Amy Schumer's film; I Feel Pretty (2018) to television shows like Riverdale (2017) there are many examples in our current culture of how to portray plus size characters well and not-so-well.
Today, we're going to delve into how and why we're seeing the inclusion of curvy and plus size women more and more in the media and if the portrayal of these women is a good thing or counterproductive to the plus size movement.
Are you ready?
The Othering of Plus Size Characters & Protagonists in Film and TV
The Popularization of The Fat, Female Heroine
After films like Big Momma's House (2000) and Norbit (2007), plus size women in the early 2000's were positioned as a film device to be nothing more than a trope, prop, or stereotype.
This idea of bigger women only having worth if they're funny is something we've seen a lot in Hollywood over the last twenty years, when films featuring bigger women really started to first gain traction.
The first trailblazer film for plus size women of this time was Mo-Nique's; Phat Girlz (2006) which featured a plus-size protagonist who didn't have to change her body to get the man or the dream life she deserved.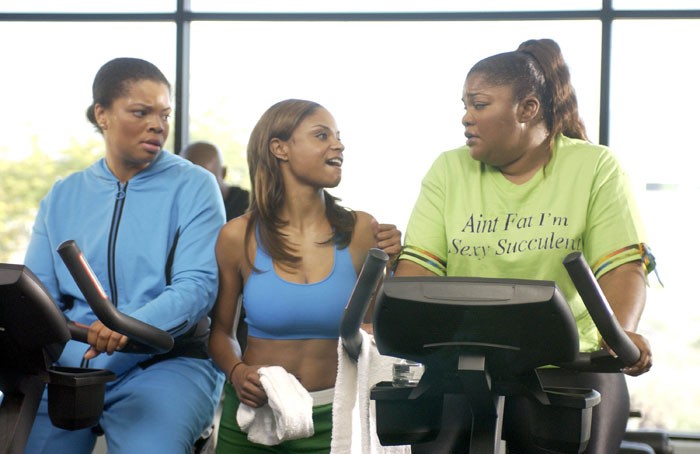 Though there are some issues with how thinner women are portrayed in this film, it stands out as a tale that is both empowering and comedic without having to rely on the protagonist's body as the sole comedy behind the jokes.
Despite Phat Girlz' success, not all film and television programs following seem to have evolved in such a positive way.
The Eyebrow Raising, Head-tilting, Counter-intuitive Progress
Before discussing all the progress Hollywood has made with accepting and portraying plus size women, it is first imperative to discuss where improvement still needs to be made in the industry.
The unfortunate truth about Phat Girlz is while the movie posted low ratings for the film, features such as Big Momma's House and Norbit performed better, according to IMDB.
Similarly, in today's culture, we still see television shows and films othering plus size women gaining more traction than programs offering a more realistic perspective.
Netflix is perhaps the biggest instigator of this issue by supporting programs like Riverdale and Insatiable (2018) where plus size women are either cast as the weird side character, (as we see with Ethel Muggs on Riverdale) or can't achieve their goals until they have lost weight (as with Patty Bladell on Insatiable).
To add insult to injury, Patty Bladell; the plus size protagonist of Insatiable, is performed by a slim actress (Debby Ryan) wearing a fat suit. Instead of casting a woman who was actually plus size, the program sends the message that we as plus size women have no place in Hollywood and therefore society.
Other Netflix-endorsed programs where plus size women are similarly portrayed include; Barbara Holland in Stranger Things (2016) and Sierra Burgess in Sierra Burgess is a Loser (2018). It is extremely damaging to plus size women consuming this media, who don't see characters reflective of their own experiences.
By casting characters who all have the conventionally slim body type and using plus size characters as strange outliers, new-media is contributing to an increase of stigma where plus size women are involved.
BUT! There are Positive Changes to The Industry!
Despite some poor representation of plus-size women, films like I Feel Pretty and Isn't It Romantic (2019) are heading in the right direction with plus size protagonists who aren't reliant on weight-centric jokes to get laughs.
Other notable television programs that portray plus size women realistically include; My Mad Fat Diary (2013) and Dietland (2018).
These programs authentically depict the struggle of being curvy and plus size in a way that makes you empathise with the protagonists, instead of seeing them as a caricature with little to no resemblance to the issues plus size women encounter on a daily basis.
While her prior comments caused quite a stir, Rebel Wilson's lead in Isn't It Romantic gave us visibility on a larger stage, thanks to actresses like Queen Latifah in Last Holiday and Just Wright, Mo'Nique, Nikki Blonsky, and Ricki Lake.
We did not even touch on the character Aidy Bryant plays in Hulu's Shrill and it's contribution… Nor did we touch on Chrissy Metz's character in This is Us.
These women have shown the positive growth and how far we have come, while also illuminizing how far we have to go.
There is still a lot of room for improvement when it comes to how plus size women are portrayed in Hollywood.
However, programs like the ones listed above give us hope that the future of plus size women in Hollywood will be a positive one. Here's to a progressive future that includes plus-size women and our authentic experiences; the good and the bad.
Who are your favorite plus size heroines? Who would you like to see more of on the big (or not so big) screen? We'd love to hear your thoughts!
As The Curvy Fashionista editors, we write about stuff we love and we think you'll like too. The Curvy Fashionista often has affiliate partnerships, so we may get a share of the revenue from your purchase.