Lights, camera, action! Catch our girl Jennifer Hudson as she stars in the new Aretha Franklin biopic movie, Respect. Jennifer was hand-chosen to play this role by Aretha herself and she did the damn thing!
We were fortunate to catch a private screening of the movie AND an exclusive round table interview with Jennifer to discuss her role in the movie and how she was able to capture the true essence of the Queen of Soul.
Respect find out what it means
The movie takes us through the life legacy of Aretha showcasing how she started singing, her strong Christian background, activism, and her breakthrough as an artist. Jennifer was able to study Aretha's past performances and mannerisms and truly tell her story with the help of dialect and movement coaches.
RESPECT not only took us on a journey back in time to the 1950s, 60s and 70s but had an amazing all-star cast including Marlon Wayans, Mary J. Blige, and Forest Whitaker.
Jennifer Hudson Talks To Us About the Aretha Franklin Biopic: Respect
When we got the opportunity to sit down with Jennifer we were able to discuss her more about what went into making the movie including her glamorous outfits, learning to play the piano, and more.
Jennifer says:
"I had to learn to play the piano and it was the most foreign thing to me. I only play a little bit. I peck, but Aretha plays."

Jennifer Hudson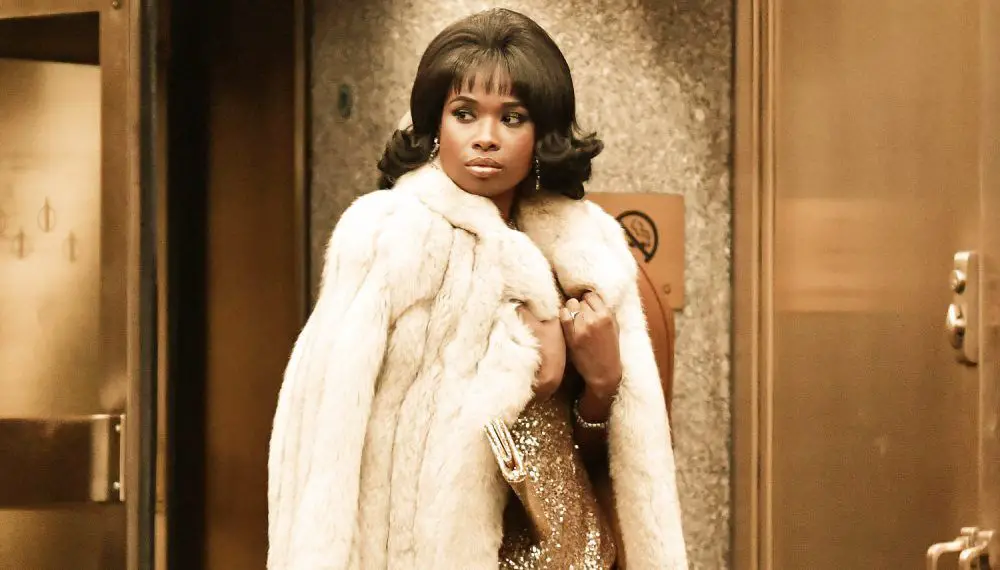 "I also had to learn the era, learn how women had to exist during those times and the conditions which were completely different. I'm very outspoken, take up a lot of place. A lot of us do. We don't have to second guess what we can say, what we can do. Where as what it was like for women during that time. And then learning how to translate that into more so through expressions than verbalizing things."

Jennifer Hudson
We were also able to ask some specific questions about the fashion and wardrobe that went into making the movie.
Q&A With Jennifer hudson:
TCF: How would you describe Aretha's fashion style in three words?
Jennifer: Royal. She would say "quality, quality, quality." Just glamorous. It was taking me on a journey just through the costumes alone.
TCF: A pivotal point in the movie is when Aretha takes a stand to her father saying "I want to sing what I want to sign. And I want to wear what I want to wear." What did that transition look like to you playing Aretha going from more conservative dress attire to a glamorous diva?
Jennifer: It was the arc of it all. If you notice she starts off very subtle and in many scenes, you can see where the men are taking the lead but as the movie carries on you see her take over and gain her own voice and charge of her own life which was a cool thing to play out and watch her.
TCF: What was your favorite outfit?
Jennifer: The one on the poster. It was heavy but it was so true to her. Very iconic. I like the one with the feathers from the Dr. King moment. And the gold birthday dress. That's when I felt like "now I feel like the Queen foreal."
---
Exciting right?!
And you already know that the fashion is about to be over the top!
Jennifer had 11 wig changes and 83 costume changes but unfortunately, she wasn't able to keep any of the wigs. She also mentioned that she loved working with Marlon Wayans (who plays her first husband, Ted White) saying her bought her chocolates, got staff to give her massages, and wouldn't let anyone else on set bring her her food but him. #workhusband
Catch RESPECT in theaters on Friday August 13th!
Are you ready for the drama, fashion, and the music?!
We are!