We recently covered plus size activewear and the varied places to shop for it. It is a nice list that has grown over the years, but what if your active life takes you beyond a walk or run? What if life takes you hiking? Skiing? And more? Then you are going to need a great mix of plus size outdoor clothing.
Over the years, it seems as if the world realized that plus size people exist and that we are layered and live life fully. A few years back we did a giveaway for Snow Country Outerwear, a company that focuses exclusively on plus size outdoor clothing. Recently, we've excitedly seen fashionable AND functional plus size ski jumpsuits!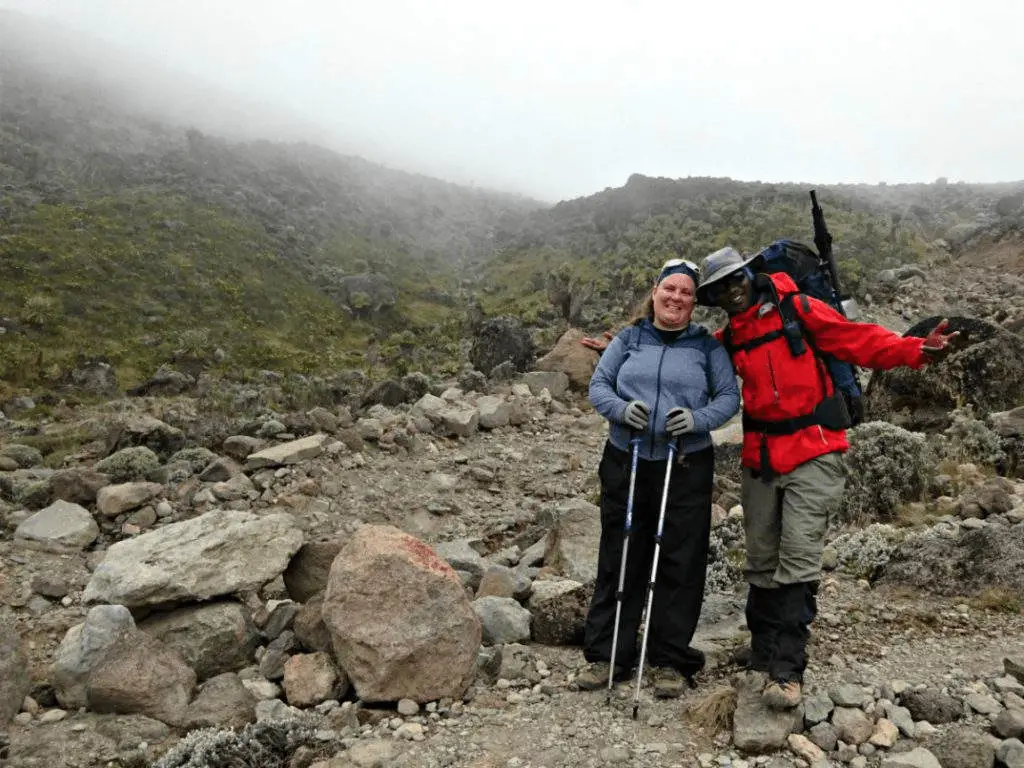 After we interviewed the Curvy Killi Crew, the plus size group who climbed Mount Kilimanjaro, our own interest in the plus size outdoor life was *even more* piqued. Did you know that the Curvy Killi Crew, just recently released an award-winning documentary called Kili Big? It is currently streaming on Crackle!!
We started digging a bit deeper and realized the multiple communities that center and champion the plus size outdoor lifestyle. So, before we could even think about doing a roundup of plus size outdoor clothing options, we thought we would share a few folks to know within the space and the communities who have championed this niche within the plus size space.
5 Plus Size Outdoor Communities to Know
"Making climbing more accessible for fat folx"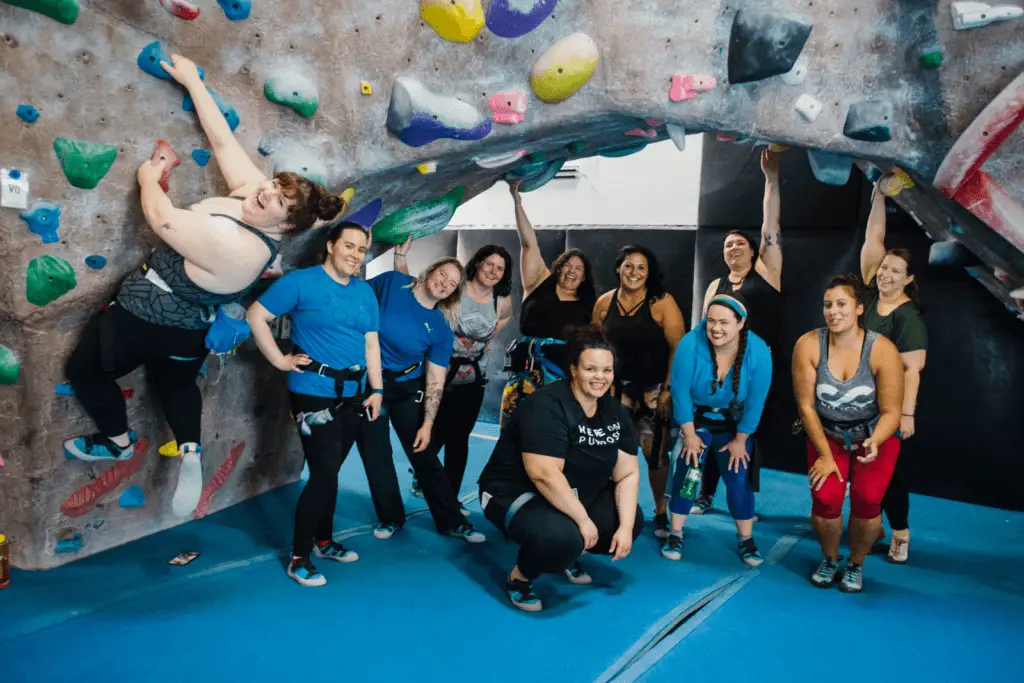 Created by Sam Ortiz based out of Washington, Climb Big (formally known as Big Girls Climb Too), started Climb Big to make "climbing more accessible after struggling to find a place in the outdoors, herself."
On a mission to make rock climbing and the outdoors "more accessible to fat folx," Climb Big tackles the representation, accessibility, gear and clothing needed to safely and confidently climb for plus size adventurers. Climb Big provides the help and support needed to do so, confidently.
"Trails Not Scales"
Fat Girls Hiking was created by Summer Michaud-Skog, a "self-identified fat queer woman, who loves hiking." For Summer, Fat Girls Hiking is about "fat activism, body liberation, and outdoor community."
Fat Girls Hiking has multiple FGH chapters across the US, in 22 cities. If you are worried about being a slow hiker or holding the group back, do not fear! They purposely set the pace to the slowest walker so that all can participate.
Summer is also the author of Fat Girls Hiking: : An Inclusive Guide to Getting Outdoors at Any Size or Ability, a book released last year, to rave reviews! If you want to read up on the what and how of hiking before you dive into it, this is the book for you.
"We want to create a space where fat and marginalized folks can come together in community to create safer spaces in the outdoors."
The group is slowly getting back to events again, if you are interested in joining them, follow their Eventbrite page!
3. Plus Size Backpacking
"We want to empower plus size people in helping them realize that you CAN backpack plus sized."
Plus Size Backpacking was created when Charlotte Buell (@basecampcreative) realized there wasn't a group on FB specifically for plus size backpackers. Charlotte wanted to "create a safe and inclusive space for plus size people to ask questions and share knowledge about anything related to backpacking JUDGMENT FREE!!!"
Join the other 6,000+ members of this group to ask questions, share stories, or to fellowship with other backpackers who are curious about the outdoors. Whether you're an aspiring backpacker, just beginning, or have years and years of experience under your belt, Plus Size Backpacking is a great resource for you.
"Trail Dames is a hiking club for women of a curvy nature."
If you love to hike trails, explore the outdoors, and do it with others who look and live like you, then Trail Dames is a group you should look into. Created by President Anna Huthmaker attempted to hike the Appalachian Trail, in 2003, she "took six months off from work, hiked 700 miles, broke my foot, and met more amazing people then I ever dreamed."
Realizing that she was the only plus size person out on the trails, Anna created this group knowing that she couldn't keep all the fun to herself, she decided she had to share and Trail Dames was created.
The Trail Dames mission is to "welcome, empower and educate women of all shapes, sizes, and experience and fitness levels to responsibly explore nature. Trail Dames offers safe and supportive activities that promote personal growth, friendship, self-confidence, self-reliance, and a love of the outdoors."
5. Unlikely Hikers
"You are welcome here.
Nature is infinitely diverse and so are we. We ARE nature."
Unlikely Hikers is a "diverse, anti-racist, body-liberating outdoor community featuring the underrepresented outdoorsperson," created by trailblazing Jenny Bruso. For the past 6 ½ years of Unlikely Hikers, Jenny has led more than 100 hikes in 17 states!
Not only that, but Jenny has had their hand in the creation of the first plus size line of backpacks with Gregory Packs, and even co-designed the Unlikely Hikers shoe with @Merrell in sizes beyond their standard offerings in both "womens" and "mens" fits and with a wider width option.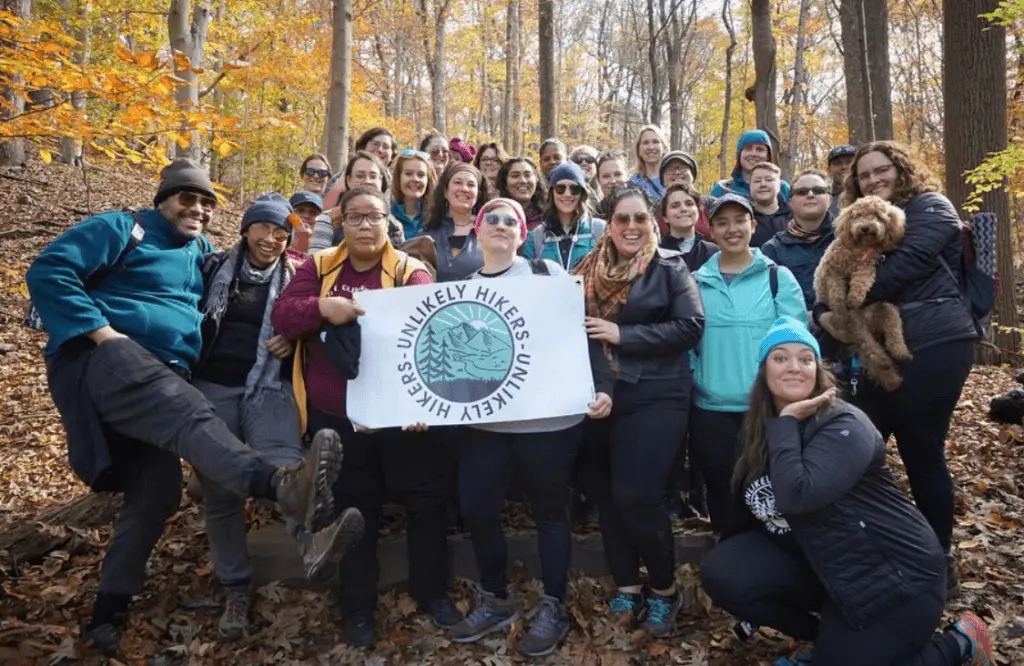 "Yes, the literal outdoors don't discriminate. We know the trail, the trees, the lakes and so on, aren't keeping us from going outside nor is anyone getting a handwritten invitation, but exclusion isn't always verbal."
At Unlikely Hikers, you can experience an Instagram community, a nationwide hiking group and an exciting hiking podcast.
---
Aren't these interesting and exciting plus size outdoor communities? For those of you who have been curious and have wanted to explore a passion for hiking, climbing, backpacking and more, hopefully one of these specific communities will assist you on your own journey.
If you are already a part of these spaces, make sure you drop a comment below to let us know what your experience has been!
And for those of you who are here to find some cute plus size outdoor clothing options, we got you! Some of the options we've found surprised us, coming from a few unexpected places.
But if you have been looking for jumpsuits, snow pants, or even plus size water gear, we have a few options to play in. Keep scrolling for 11 fun and functional plus size outdoor clothing finds!
11 Fun and Functional Plus Size Outdoor Clothing Finds
If your plus size active life takes you beyond a walk, run, hiking or even skiing? Then you are going to need a great mix of plus size outdoor clothing! We've found a few options and so much more.
Photo Credit: fashiontofigure.com
"This ain't your basic ski suit. You'll definitely be standing out in this gorgeous leopard print colorblock design that takes cold weather style to new levels. "
Up through a size 4X.
Photo Credit: www.gregorypacks.com
"With enough space and comfort to tackle summer 14ers, the Juno 30 H2O and it's 3D Hydro Reservoir, let you keep pace without stopping to hydrate. Moisture-wicking mesh on the VaporSpan ventilated suspension work to keep you dry on the way up."
"Plus Size fit is comparable to 2x-6x in apparel sizing and the torso sizing remains consistent with all other Gregory products."
Photo Credit: columbia.com
"These snow-ready bibs are waterproof-breathable and feature thermal-reflective lining so that every adventure is dry and warm.
READY FOR LIFT OFF
Fully articulated knees, zippered hand pockets, and adjustable leg openings are just some of the features that make these bibs primed for action."
Up through a size 3X
"That powder-fresh aesthetic"
Available up through a size 26.
Photo Credit: ullapopken.com
"HYPRAR Rose Print Ski Pants - windproof, water-repellent, breathable. Sporty cut with shaped knee area, welded seams, and contrast hem accents"
Available up through a size 30.
Photo Credit: thenorthface.com
"This leveled-up version of our classic Women's Freedom Bibs has light-yet-warm Heatseeker™ Eco insulation to go with easy-to-love features like adjustable suspenders and a side-entry zip."
Up through a size 3X.
Photo Credit: LaneBryant.com
"This LIVI ski jacket shows off scuba panels for a figure-flattering effect (and the faux-down will keep you warm & comfy -- on-or-off the slopes)."

Up through a size 24.
Photo Credit: missmayfly.com
"Our Moxie Breathable Chest Wader provides an exceptional and flattering fit for women of all shapes and sizes while optimizing performance with extreme comfort, ease of movement and durability."
Has brand specific sizing up through 63" bust
Photo Credit: www.alpinecurves.com
"If fashion is just as much of a priority as function, you need not look any further. The Insulated Statement Plus Size Snow Pants will ensure you are the envy on the ski or sledding hill. Not only do these Plus Size Statement Pants offer style they have you covered with numerous features to keep you warm against the coldest of winter."
Up through a size 6X.
"Made of tough-on-the-outside, cozy-on-the inside Polartec® Power Stretch® Pro™ fleece, the women's REI Co-op Hyperaxis pants are warm and comfortable for climbing, hiking and just hanging out."

Up through a size 3X.
Photo Credit: eddiebauer.com
"Built for comfort in the coldest weather. Ultralight, ultrawarm Premium Down insulation extends from head to below the knee. Fleece lining in the upper body, and at the collar and interior storm cuffs provides additional protection."
Up through a size 3X
Interesting and fun finds, right? We made it a point to include options and brands that carry a minimum of a size 3X. We've even found quite a few that go through a size 6X!
Do you explore life outdoors? Which options piqued your interest most?
When it comes to plus size outdoors clothing, where do you find yourself looking? If this is YOUR lifestyle, what tips or feedback could you share with us, to help out your fellow TCF Family member?