An interview with the vivacious plus model Fluvia Lacerda
I am so excited to share this with you!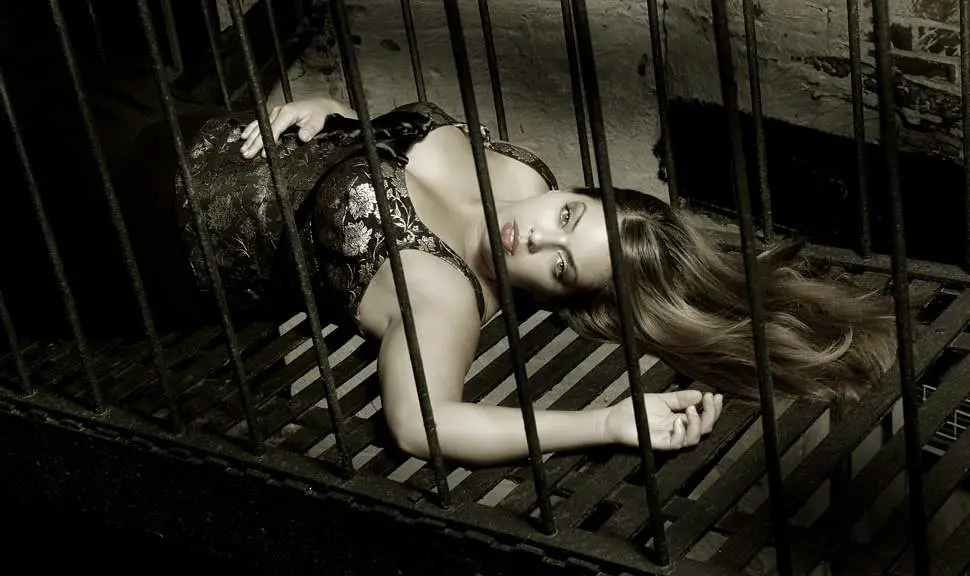 Eliza Parker, Igigi, Monif C., and Biluzik- these designers this sultry, sexy, and sophisticated plus size model, Fluvia Lacerda has been the face of. There is no denying the beauty of this Brazilian plus size model nor the brains!
After playing tag, I had the pleasure of chatting up Miss Fluiva! Chatting up her first bout with fashion, modeling tips, and fashion, please read on to learn more about the lovely Fluvia!
Thank you so much for taking the time out of, what must be a hectic schedule! I always like to know- Who and what are you wearing today?
Oh the pleasure is totally mine!

Well, weather is pretty hot in NYC lately, so I've been wearing a lot of light and summery pieces. I'm wearing Dorothy Perkins Bermuda shorts, a very light fabric top from Faith 21 and Aldo sandals.
We have seen your gorgeous face and sultry curves all over the place, but I would like to know, if you weren't modeling, what would you be doing this minute?
I'd either be working at the UN as an interpreter, because I love learning new languages. Or I'd be working for some non profit organization in a mission somewhere in Africa. I'd still love to do that next year, I'm working on it.
What was your very first memory of fashion? Better yet, when did you fall in love with fashion?
Oh, that love affair started even as a young kid back in my homeland, Brazil. Even though I couldn't find much that would fit me well, I would collect pictures from magazines, just because I craved to dress that cool but then I moved to NYC and it was love at first shop! I was in heaven and it's been a stable, solid love ever since! LOL
Growing up, were you always a curvy girl and how did this shape your thoughts about modeling?
Yes. Always. My work as model started accidently, but to me it has taken a turn for something far more meaningful than just modeling.

I've always been a curvy girl and even though I've never felt the need to wage war against the very healthy body God gave me. I remember always longing to see someone who reflected my body shape me in the media, someone who didn't feel the need the shrink in order to have a sense of worth by society, someone who could exude confidence through her personality, a fearless woman, powerful, happy, content, and successful.

With time I figured that in a way those were the reflections of how I felt with myself, with how I dealt with the world around me, I had all that inside of me, but it was disappointing to never be able to have that role model in the spot light.

Not that we all need that person in the spotlight as a role model, I did have my mother who was all that and some to me. But as a young kid, as you see the world around having those figures to look up to, I felt left out.

So when the opportunity to give modeling a shot came my way, I saw it as more than just a way to make some side money. To me, it was a chance to bring this confidence and sense of self worth to the images I produced and perhaps inspire as many women as I could- To see that you don't need to conform your looks to whatever is dictated by God knows who to be happy, content with and respectful to your body, to have all the things you've always dreamt of.
You know what? It Shows! So, tell us about your first campaign- Who. What. When. and Where
Geez, I honestly don't think I can remember. But I think it was in NYC.
LOL, no worries, let's talk about seeing yourself in print. What was it like?
It was pretty awesome!!!!!!!! I guess up until that moment I wasn't so sure how the whole thing was going to turn out to be and then I kept getting rebooked. It was a great feeling.
Asides from print modeling, do you do fashion shows? If so, when will we see you for Full Figured Fashion Week? 😉
For most part the majority of the work is print only. I'm hoping I will have the chance to participate of FFF week one day.
(Do you hear that Gwen?)
I so hope so! So as the icing to your modeling career, who is one designer that you are dying to work with?
Carmakoma, Jibri, City Chic, Evans.
That would be amazing! I think you, Heidi, and Jasmine need to talk! So, fashionably speaking, what trends are you loving this Summer?
Loose, off shoulder tops and tanks with colorful bras under, so it looks like layers. Bermuda shorts in navy, white, and denim paired with plain t-shirts and vintage necklaces.

Dresses (always an empire waist) and nude colored heels. Oxfords are still my favorites, winter or summer.

I'm obsessed with see-through blouses and tank tops under. High waisted skirts work well for me too.
Its 6pm and your girls call you to meet for drinks, what do you wear?
Skinny denim or back jeans, nude heels and silk top. A combination of my tribal jewelry from Africa, Mexico, Brazil and golden vintage pieces. I love mixing styles.
Okay, okay… Plus size and its existence have been in the news every other day, what are your thoughts about the evolution of plus size fashion- especially this year?
It's so fantastic how far we've come!! It's been awesome to see the industry gaining its rightful place in the mainstream media, after all we are the standard considering we are the majority.
Ooh, I love that! So tell us, where can we find you next?
I'm shooting the next campaigns for Eliza Parker, including one we will be doing in Paris. I'm very excited about that. And then there are the jobs overseas, like Barcelona and in Brazil, which I can't disclose much about yet but I'll share once it's out. 🙂
Brimming with anticipation! I will be looking for that email! Moving onto modeling, what tips can you share with aspiring models?
I can only speak about my personal perspective and experiences. I do believe there are different spectrums of the industry and no one can really set rules that will apply completely and totally for everyone. So I don't pretend to know everything, or that what I know are the "golden" rules.

It's a sure thing that at the beginning, as you attempt to get your feet wet, you will work for tears/exposure and often times that means you won't be paid. I do believe beginners should be selective with what they will do for free. Magazines, TV, or positive publicity in the mainstream media are hardly ever a paid line of exposure, but very worth it for your own experience and for your book.

With that being said I don't believe anyone should work for free, and when I mean work, I say modeling for companies. Obviously you won't make the same rates at the beginning as a veteran or experienced model and you should not expect to. Some models may hit the ground at that speed, but that's not always the case from what I've learned.

Modeling is a business, treat it that way. It's a career you're trying to build, not a charity. I've personally made that mistake before to later find out the client was making tens of thousands of dollars off my work on just ONE dress and yet they were still crying pennies and dimes to me and trying to keep me working for free. I was naive; inexperienced and thought this was something you did because you needed to get your foot in the door. Not true. Although at the very beginning one won't make the rates of a veteran, you should still get paid a fair rate. The work is not easy (although it can be fun) and you must deliver what the client expects. So, like every and any line of work, everyone should be rewarded.
The truth is, your image will help a brand/line sell clothes and you must put a value to your talent. Even if you're freelancing or trying to get your foot in the door, keep in mind that no company will approach you if they don't think you suit the purposes they're looking to achieve. Place a value to your talent. When you do work for free not only do you diminish your value as model, you also diminish the value of an entire industry of models. Be professional about it.

Don't presume because everyone's saying you have what it takes to be a model, that it will come to fruition in reality. I've seen many girls come and go, some had it all and some lacked one thing here or there, and eventually abandoned the attempt or got dropped by agencies. Being a model is a whole package of things and that isn't always a mathematical calculation.

Know that having an agency doesn't always mean you will work like crazy or work at all for that matter. It definitely helps to have an agency, but it doesn't always guarantee anything. I meet girls with 20 different agencies that are still puzzled about why they're not booking work. On the other hand, I know freelancers who travel nonstop and are making a good living from modeling. If you don't sign with an agency, keep testing, put a website together and network. This does not mean to stalk clients or industry people on social networks; this is a huge turn off and you will pick up a "reputation" really quickly. Keep in mind- this is a small industry.

Most importantly, if you do sign with an agency, READ YOUR CONTRACT FIRST! Don't get blinded by the glorious idea that an agency can possibly be as described by some. I often talk to friends who sign contracts with agencies to later see their wages completely taken away by fees that they were not aware they would have to incur. Unfortunately this happens more often than most people know, and once you're in such a bind, it's hard to get out it. Remember, not all that glitters is gold!

Of course, that's not to say this is the experience for all; again, these are personal experiences of mine.

Lastly, remember that everyone is entitled to his or her opinion and if you ask, some will give it to you raw and rough. Opinions aren't what will set your career in motion, unless it comes from clients or bookers. You have to test the waters and see what happens. Take clean snaps, submit to agencies, and see what they have to say. If you don't land an agency and would still like to be a model, do your testing, be professional, be polite to people and try your best. Be realistic on your expectations as far as booking work; we are going through a rough economy and many models I know have another income. The reality is, your look may not be what clients are looking for at the moment. Building a career takes time, grooming, experience, and knowledge.
Girl! You just dropped invaluable information! I hope they were paying attention! Okay, these next questions, you have to answer fast! You ready?
Silver or gold?
Gold
Chocolate or vanilla?
Chocolate
Dresses: short or long?
Short
High heels or flats?
Heels
Elle or Marie Claire?
Marie Claire
Favorite place to shop?
Dorothy Perkins, Faith 21, H&M, NewLook
When nobody's watching?
I sing out loud (I have an awful voice for it, believe me!) LOL
Favorite song?
Hypnotized, by Simple Minds

Not Enough Time, by INXS

If You Wear That Velvet Dress, by U2

Tribes at War, by Damian Marley& Nas
Dream vacation spot?
Any island in Greece
Lastly, what is your definition of Curvy.Confident.Chic.?
A woman who doesn't feel the need to apologize for her looks, who lives her life by her own rules, and been respectful to her own beauty is one of them.

A woman who is at peace with her body because is the most awesome gift God gave her. Consequently, she enjoys dressing herself well, knows her value as a consumer, and demands to have the same amount of choices as any other consumer out there.

A woman who knows that there will be bad hair days, an occasional pimple in the forehead and that we're not completely happy, and that life is amazing 365 days a year; knows that's the true value of life lays in the fact that she has a loving family, a love life (or knows she can eventually have one), awesome friends who are supportive and caring and that her ultimate path in life is written by herself and no one else.
Thank you so much Fluvia for the smiles and laughs!
I am still on a cloud after chatting with her! So beautiful!
You can keep track of Fluvia by visiting her website and following her on Twitter!
Did you enjoy?