Taking Canada by storm as a finalist for Project Runway, and now designing TWO capsule collections with Addition Elle and MXM, designer Jessica Biffi has quickly risen as one to watch in the fashion arena.
I had the pleasure to chat with this vivacious and passionate designer, whose love for gold trickles down into her eponymous spring collection! Please read on to take a glimpse into this designer's eclectic and fashionably gifted mind…
Well, hello there! Thank you for taking the time out to chat with me! How are you doing today?
I'm awesome! Thanks for asking!
First things first, fashionably speaking, what are you wearing today?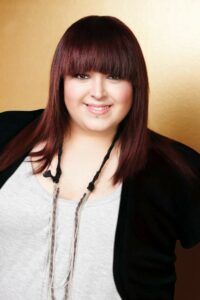 Well, today is a serious work day – I am sewing pieces for my fall/winter collection shoot that I am having in two weeks. It's all about comfort on days like this. I've got on cozy yoga pants, a white cami and this great olive green hoodie that's worn in, in all the right places.
I do have a movie date later with some of my girls – and I'll have to fashion myself up later for that!
When did you discover fashion?
I was very young. I remember being very little and making Barbie clothes with my grandmother. I didn't know what fashion was back then, but I knew that I loved drawing pretty clothes and my attention to clothing was always strong.
As I got older and realized that all clothing was an idea that a person had that was then taken from an idea into reality – I fell in love.
In my grade 8 yearbook it says "Future Profession – Fashion Designer" – fashion has always been what I felt I was meant to do.
Growing up, were you a curvy girl? How did this affect your outlook on fashion?
I have always been curvy. Like every young girl, I've dealt with my share of body issues, and for a while wished that I was "skinny" like my friends. I found it very difficult to love fashion on a personal level because I always felt that my body type wasn't seen in the fashion world.
I found it very hard to find clothing that I wanted to wear, and because of that didn't really have a personal style and fell into a default jeans and T-shirt phase.
But as I matured I started to love my body. I started shopping everywhere and not just plus size stores.
As I started to experiment with my personal style, it was clear to me that fashion can be amazing at any size, it's just about choosing what works best for your body.
It also helped that the plus size clothing had started to get trendier and more youthful.
You've married your love of fashion with a career as a fashion designer, was this a natural progression, or did you stumble into it?
I always knew that this is what I would be doing with my life – I just didn't know that it would be happening at such a high level this early in my career.
My experience on Project Runway Canada opened up huge doors for me, and gave me a way into a difficult industry.
I'm fast approaching my 27th birthday, and I've already done so much in just 2 years. I feel very fortunate to be on the path that I am on now.
Happy Early Birthday!!!
With fashion, where do you go to for inspiration?
I get inspiration from everything! I listen to music constantly, I'm a people watcher, I love art and other forms of design as well. It could be a necklace that I see that inspires a piece or it could be a story of characters that I've created – I'm all over the place, and I think that's what keeps my creativity fresh.
Fast forward to Canada's Project Runway! how was this experience for you? I can imagine amazing…
Project Runway Canada was one of the craziest things that I've done so far – but for sure the most rewarding. I took a risk by applying, and obviously wanted to make it on – but I had no idea it would be such a life changing experience.
I learned a lot about myself on the series, and really cultivated my skills.
It helped me find my voice as a designer and really tested my limits. I also made lifelong friends on the show. It was a ton of work, but so much fun at the same time.
It's an amazing part of our lives that only the cast and crew can really understand because we were there – like a special bond.
I have drooled at your line showcased for Project Runway (especially the sheer floral gown), now although it was shown on straight size models, do you have plans to extend the sizes?
Thanks so much…that piece was a big hit with a lot of people. I've always seen plus size as a goal of the Jessica Biffi label. The amazing partnership with Addition Elle and MXM really came at such a perfect time.
My plus size followers have been asking for it, and I am very proud to be partnered with such leaders in the plus size market to put out two incredible lines that I am also very excited to wear personally.
Okay, so Bold Biffi for MXM and Jessica Biffi for Addition Elle, I know you must be excited! How did this collaboration come about?
Yes! I am very excited! Before I launched Jessica Biffi, a year ago, I worked as head of visual at Addition Elle, here in Toronto. The teams at Addition Elle and MXM contacted me after the show ended, and we went from there. The fit was so natural between Addition Elle, MXM and myself.
With my background with the company and the customer, and the fact that I am a plus size customer myself, it was a perfect match.
You are working on another line, correct? Please Share!
I'm working on a few different things actually. Aside from launching Jessica Biffi for Addition Elle and Bold Biffi for MXM, I am also working on fall/winter for Jessica Biffi. I am also expanding Jessica Biffi into accessories this fall. It's a jewelry line that accents my fall collection.
I love it! So from watching your video, you LOVE to be draped in gold (Me too!) From one Curvy Fashionista to another, what Spring trends are you dying to fashion?
I do loves me the gold! I think it's just so warm and fun.
For spring my must haves are a super cute top, skinny jeans, a great pair of flats (of course I have gold ones) and a fantastic belt. Top that off with a chic jacket and it will carry you from day to night.
Also, you must have a flirty, fun dress that you can pair down with leggings or dress up with heels.
Speaking of trends, and plus size fashion, lately plus size models, fashion, and the respectful existence of the two have been in the news every other day. What are your thoughts about the evolution of plus size fashion?
I think its amazing! I think for too long people have ignored the fact that the average woman is not size 0, and we need to embrace the different body types that exist.
Every body can by fashionable and it's great that the industry is starting to embrace that.
I am also so fortunate to be launching two plus collections in a time when the industry is finally paying attention to the curvy woman.
If you were not designing, what would you be doing?
Hmm…that's a tough one – this is all I've ever wanted to do! But, I think that if I weren't designing I would be in a creative field. I think I would be an artist, or an actress. I would be creating no matter what.
Lastly, what does Curvy.Confident.Chic. mean to you?
I love that! To me, it means that we need to embrace ourselves instead of hating ourselves. As long as you are healthy, love yourself and take pride in who you are. When you look good you feel good, and when you feel good you look good!
Jessica Biffi left me with nothing but smiles!
Catch Jessica's sneak peek at the Addition Elle collection here, Bold Biffi for MXM, blogging on the 1PlusBlog, and tweeting on Twitter!