Did you catch our most recent Fashion Blogger Spotlight? We featured the lovely Georgina of Fuller Figure Fuller Bust! This week, we head to the O.C. to get to know Tracy of BRXTRMN! Do you remember the clothing line Domino Dollhouse? Then, you're already familiar with her work as a designer!
While she no longer runs her indie fashion company, she still blogs her cool alternative style while living the mom life! Seriously, her pictures with her kids are the best! If you're into edgy, alternative fashion or just want to see a different point of view in plus size fashion, Tracy might just be your new go-to blog! Tracy of BRXTRMN is a plus size blogger YOU NEED TO KNOW!!!!
Meet Plus Size Style Blogger, Tracy of BRXTRMN!!!
Blog: BRXTRMN (formerly Chubble Bubble)
Age: 35
Height: 5'9″
Location: Orange County, CA
How long have you been blogging? 7 years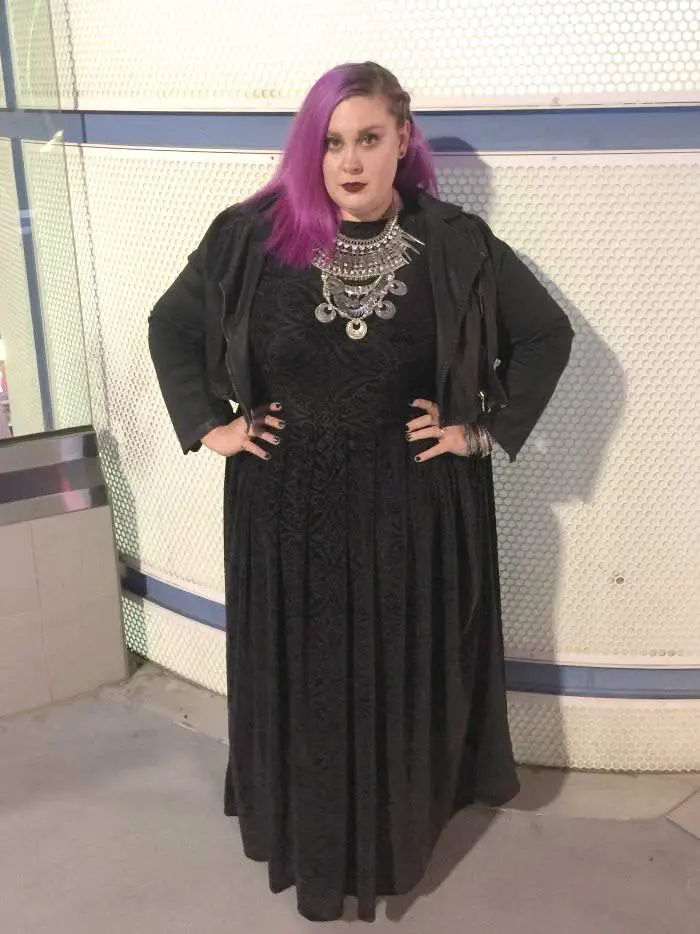 What or who inspired you to become a fashion blogger? What led you to it?
I knew that I wanted to start a plus size fashion line at some point in my life, so I began blogging as a way to get my style out into the world before opening my store, Domino Dollhouse. I did some research and was instantly inspired by Gabi Gregg, Nicolette Mason, and particularly Christina of Musings of Fatshionista.
Do you blog full-time, for fun, as a hobby? Share your evolution!
I blog currently as a hobby. I am a stay at home mom to two small girls and it provides a fantastic creative outlet in the midst of motherhood. I also wanted to continue blogging after closing up my store as a way to stay in touch with my customers.
What is your favorite asset? Your legs, arms, waist? How do you play that up?
I think my height is actually my favorite thing. It allows me to layer and play with proportions, sometimes out of necessity (too short dresses, tops, etc).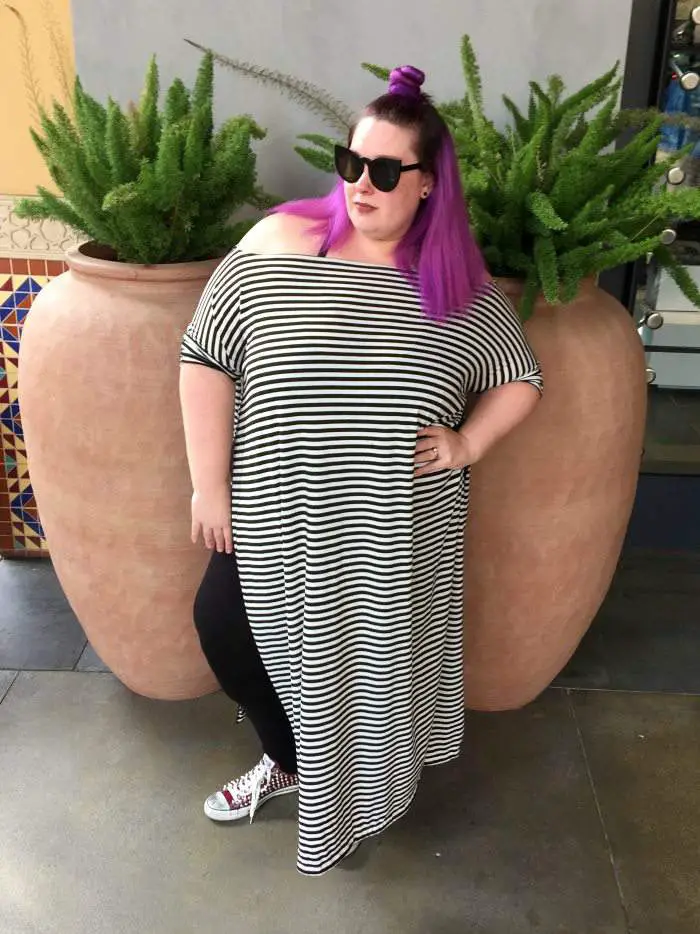 What are the challenges, if any, you face regarding being plus size?
Being interested in alternative fashion means that you've added another challenge to the mix. Finding things in my aesthetic that work on a tall woman on the higher end of the plus size spectrum is so difficult. Access to new styles is probably my biggest gripe.
What's your favorite thing about being plus size?
I feel like being plus size has really made me work harder for my individualism and appreciate personal style. I have had to search and fight and scrape to express myself. If I had access to everything that straight sizes have, I may not have really had to push to find myself.
What's your favorite thing about being a blogger?
Blogging allows me to share a part of me that otherwise I'd have no way of sharing. I enjoy being able to show women that there is a different option to the traditional plus size style and that it looks just as good as our thin counterparts.
Who/what are your favorite designers/brands?
I am in love with Aakasha (an etsy seller) for truly unique looks, but my favorite mainstream plus size store is ASOS…so great for basics! I love Chubby Cartwheels and Re/Dress for quirky pieces as well.
Describe your personal style.
Edgy comfort with a twist of futurism. I love soft jersey, anything in flowy shapes, but with hard metal accents like spikes and studs.
Which bloggers inspire you? Plus or straight size! Any bloggers currently on your radar?
I love Margot Meanie! She is a fantastic plus size blogger with an edgy style. Ushshi of Dress Carcass is my total style soulmate. My favorite straight size bloggers are Dirty Flaws and Stephanie of Faiiint.
What do you think about where plus size fashion is today versus a few years back?
I think there are more affordable options than there were when I started (before Forever 21, ASOS, etc. existed!) which is great. I think now we need to start supporting independent designers who speak to our aesthetics to encourage unique styles and growth for all plus size women. Stop settling, but also stop expecting every designer to cater to YOUR style and realize that there is a need for all types of clothing.
What do you think or hear from readers, is one of the biggest myths about plus size fashion?
That we do not want to stand out. The myth that every items needs the traditional "plus size" elements is just not true. Sleeveless is OK! Spaghetti straps are OK! Bralettes, shorts, crop tops…all are wanted and needed by plus size customers.

Are you working on anything or have anything to share?
My current favorite project is my on-going Pinterest board, BRXTRMN.STYLE. I pull the freshest pieces from the web that coincide with my personal style making it easy for fans to shop without wading through pages of tan stretch pants and dowdy florals. It's basically like having me as your stylist, but for free! You can view it here: pinterest.com/BRXTRMN/brxtrmnstyle-plus-size-%2B/

Anything else you want The Curvy Fashionista's readers to know?
Wear what makes you happy! At the end of the day, you don't owe anyone anything…how you feel in your clothing is what matters most. Do not wait to wear all of the things you want. Life is too short to be unhappy.

Lastly, what does Curvy.Confident.Chic mean to you?
To me, it encompasses a plus size woman who is happy with herself and takes the time to care about herself. That can look completely different for different people…and that is what makes it great!

Do you dig her style? Which look is your fave? Let's talk about it below!!
Want to be featured?
Make sure you fill out your deets here,
so that we can feature you!
Looking for more plus size blogger style inspiration?
Make sure you check out all of the other plus size blogger spotlights!