Are you ready for more fashion inspiration? Last week, we shined the light on veteran Indian blogger, Ragini of A Curious Fancy. This week, we bring you bad ass babe Margot of Margot Meanie.
Margot offers up rebellious style, both through her personal aesthetic and her eagerness to break the rules about what plus size women should wear (and y'all know what we think about that!). Margot shows her readers how to develop a wardrobe of purposeful, meaningful items that aren't just clothes but that share with others who we are. She is a plus size blogger YOU NEED TO KNOW!!!!
Meet Plus Size Style Blogger, Margot of Margot Meanie!
Blog: www.margotmeanie.com
Age: 34
Height: 5'5″
Location: Vancouver, BC, Canada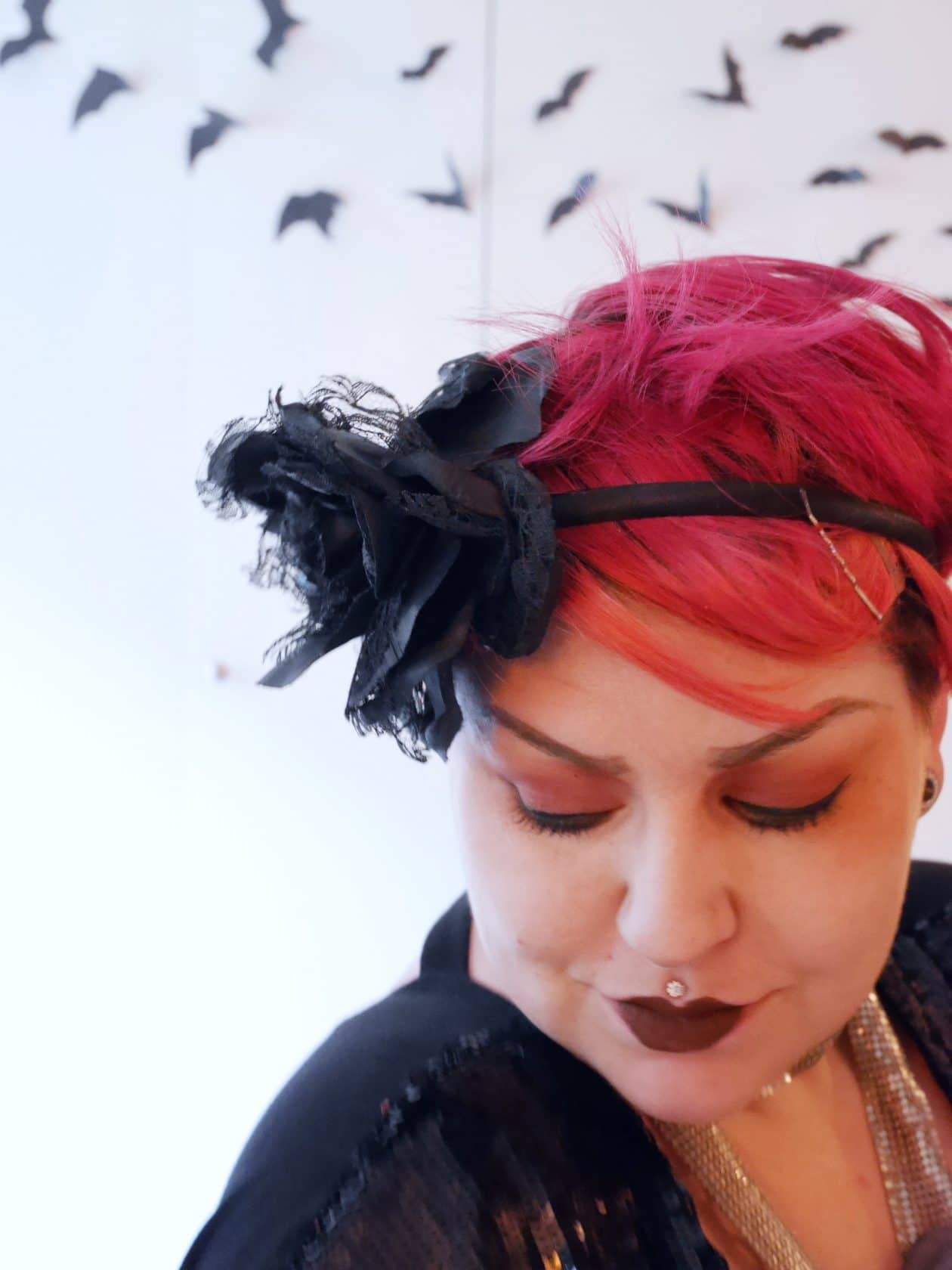 How long have you been blogging?
I have been blogging for 3 years now, but obsessed with the internet my entire adult life and have been participating in various communities online since I was out of high school! (I'm older, and thank the powers that there was no internet when I was a young dumb teenager!)
What or who inspired you to become a fashion blogger? What led you to it?
Honestly? Pinterest! I have a wee bit of an infatuation with Pinterest and I was completely enamored with all the stylish people who were capturing their outfits so well. I desperately wanted to be part of that, but it had never dawned on me that these people were bloggers.
Once that revelation came to light, I was researching which sites were the best sites on which to blog. I signed up for every single one of them and started to putter around and finally settled on one I liked working with best. Since then It's been a match made in heaven!
Do you blog full-time, for fun, as a hobby? Share your evolution!
Technically, yes, I blog full time. though it's not like all I do is put up a couple posts on the website and direct them from social media. Really, blogging has opened up my horizons to become a freelancer. I do social media management for some local small businesses, I consult brands from time to time, I write for online and print magazines, I provide an online personal shopping service, I basically have a million little jobs that wouldn't have been possible if I hadn't put myself out there and engaged with like minded souls across the globe!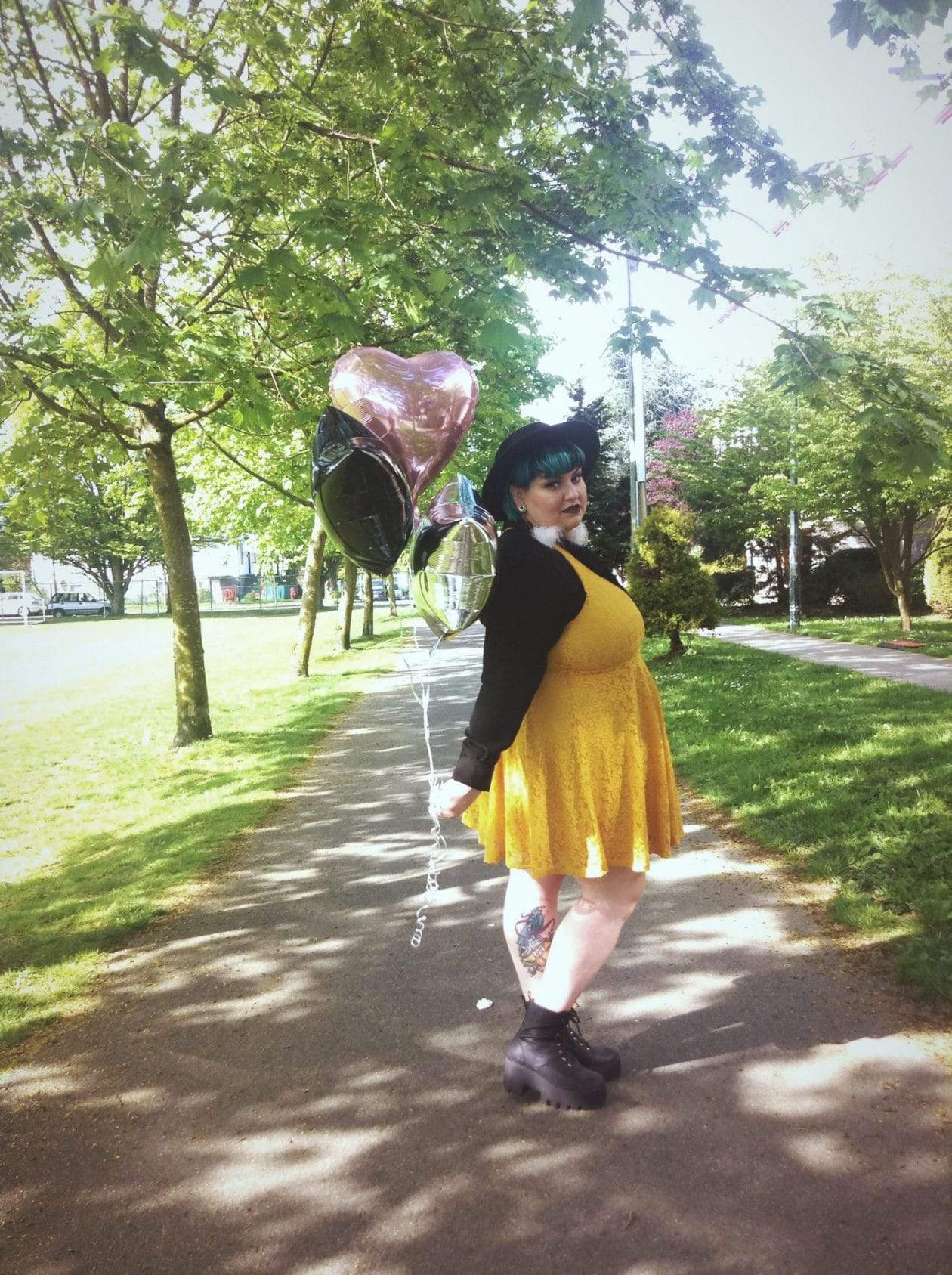 What is your favorite asset? Your legs, arms, waist? How do you play that up?
My rebelliousness. I love learning the rules so I know exactly how to go about breaking them. It's honestly best that I am my own boss now, I used to put up too much resistance when I was working under people.
I had too many free flowing ideas that were too out of the box for my employers to swallow and now I get to try and test out my ideas and see how each one works and where they take me. It's been liberating and empowering. Rebelliousness is something I try to instill in my readers.
What are the challenges, if any, you face regarding being plus size?
I will never stop being mad about the fact I can't just "go shopping". Either to spend an afternoon with friends trying things on or to get something for a last minute event, it's just not possible. I live in a large Canadian city and it has 5, that's right FIVE shops that carry my size and they are all niche shops. Either retro pin up, gothy rockabilly, earthy old lady, or too high end for my wallet.
I hate to admit it, but I sometimes get resentful of my straight size friends who get to go shop around to try things on, see how items fit and touch the fabric before purchasing. That is an experience most plus size women just don't get anymore. So when there are shops and boutiques offering a place for plus size women to go shopping, that offers that extra boost of confidence from the sales staff when trying something on and they cheer you on, it's something really special and not enough of that is accessible.
Instead, we're relegated to shopping online and hoping it works out for us in 7-21 business days.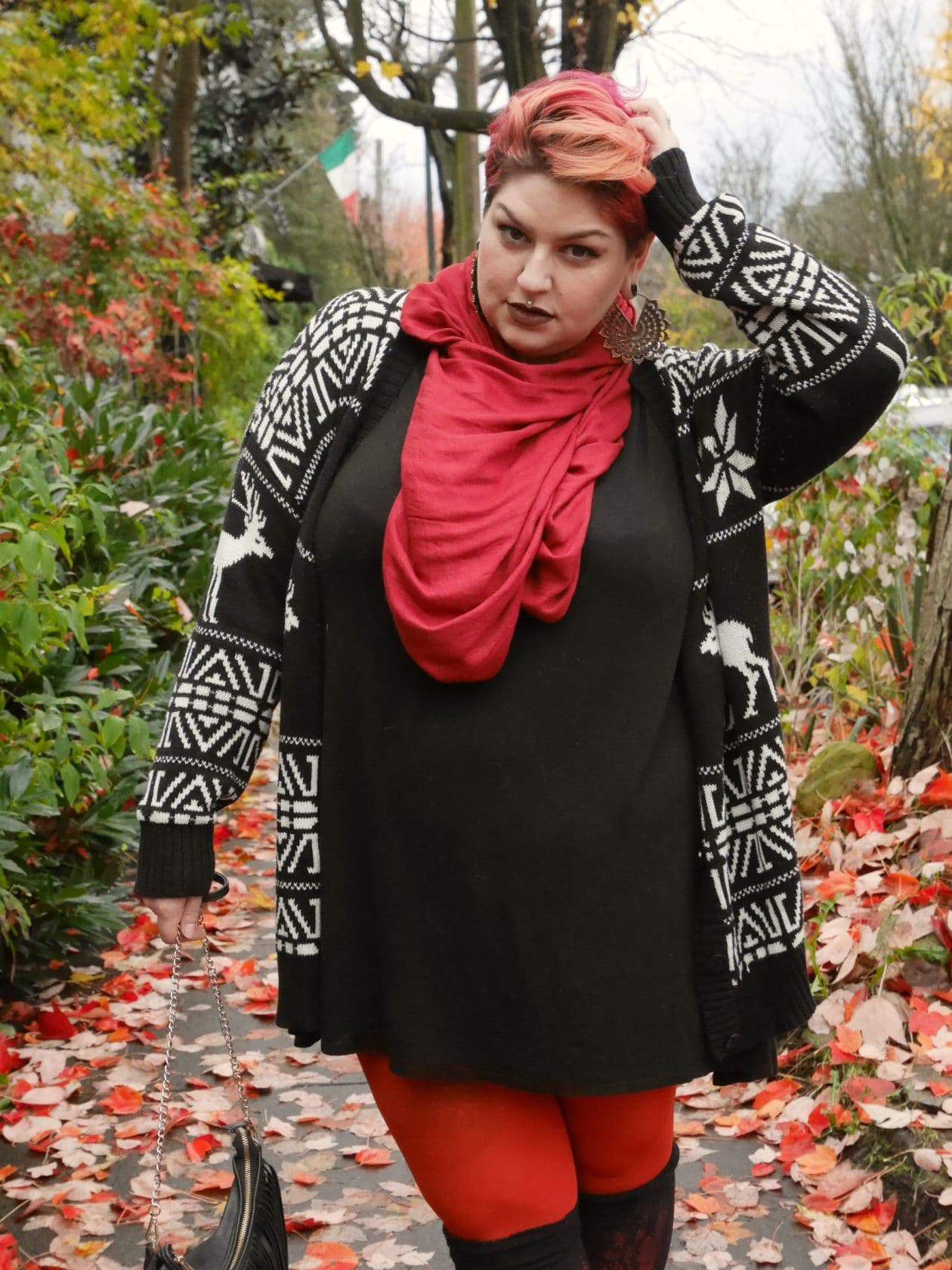 What's your favorite thing about being plus size?
All complaining aside, since we do have to hunt and struggle that much more for a piece that works out, there is that much more satisfaction in creating a look you are digging. Some straight size people can go into a single store and by an outfit off the mannequin and get photographed for a sartorial blog.
But *we* have to build our aesthetic from scratch, because no single plus size retailer will cover your particular style, so it's just that much more satisfying when you find *the* piece you've been hoping for. I also love coming across plus size babes on the street, they stop to ask me where I shop, I feel like I'm giving out hope.
What's your favorite thing about being a blogger?
I love inspiring others who are pushed down and told they are not worthy. My style is not for everybody, but I hope it helps encourage those to know that even if they think their personal aesthetic doesn't exist in their size, they can actually probably find it if they are willing to hunt, and if they're not willing or unable to give that time towards it, I am willing to hunt for them.
I have also met the most beautiful, kindred spirits through blogging. Some of these people are now best friends who I have traveled to visit and spend time with in person. It's been life changing and affirming in the most transformative ways.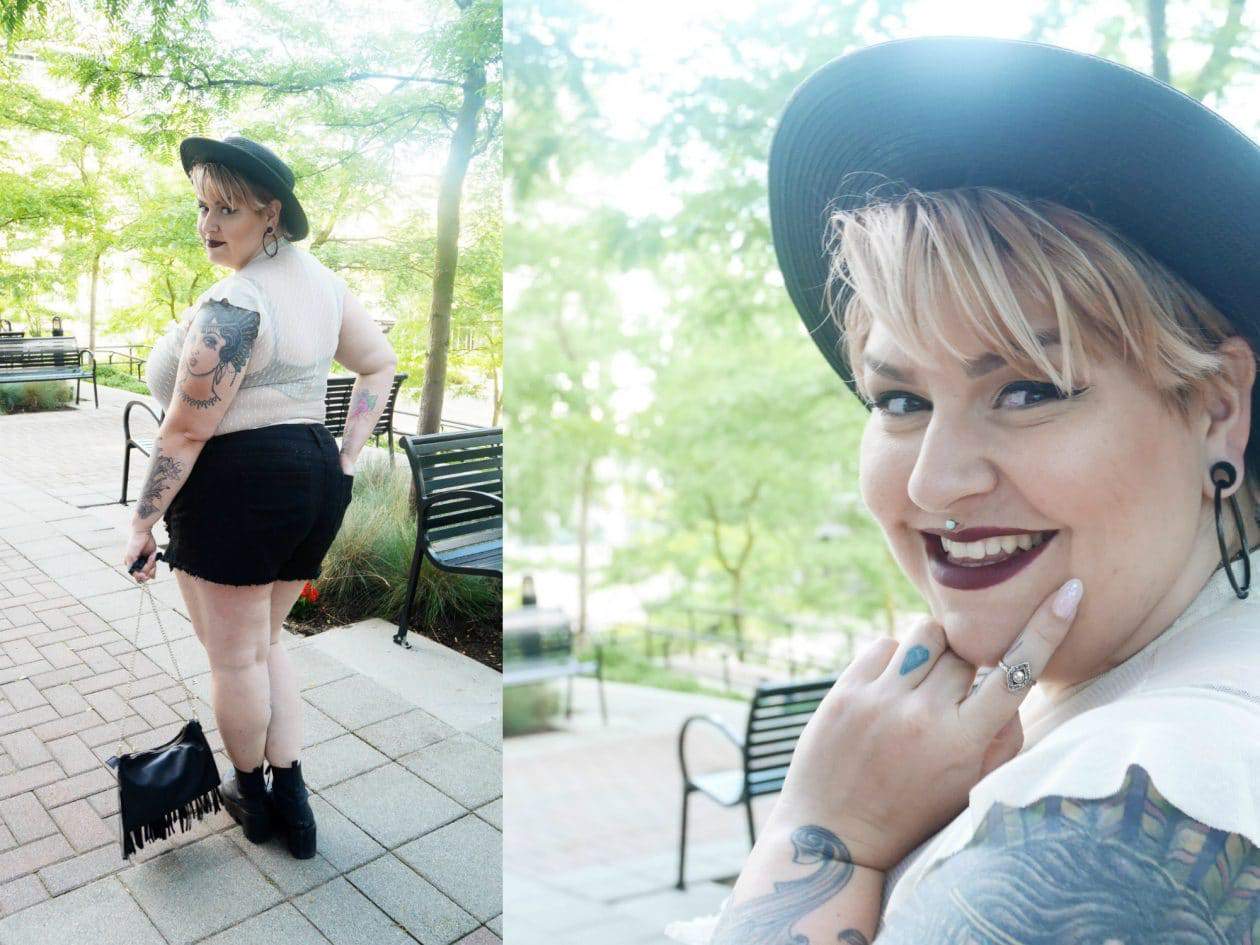 Who/what are your favorite designers/brands?
If you go by my closet, it'd be ASOS and Forever 21+, which I do love. They are on trend, and the price point is most accessible. But I lust after JIBRI, Universal Standard, and Beth Ditto,
I'm also bowled over in awe of what independent designers are doing for plus size fashion. Because these babes are plus size themselves, they are giving us EXACTLY what we want because they want it too. So I am in constant support of Chubby Cartwheels, Copper Union, Proud Mary Fashion, Ready to Stare, Witch Worldwide, and I'll keep holding out hope for the return of Domino Dollhouse, I loved her last two collections so much. They were so in sync with my style. I'd love to design with her someday.
Describe your personal style.
I generally describe myself as a style chameleon. I may be on the alternative side of fashion, but I really like to pick and choose as much as possible from all over. I have some strong nu goth tendencies. I wish I had the commitment to stick to a minimalistic black wardrobe, but I just can't. I like to play with pops of colour, and I like the quirky girl aesthetic with peter pan collars and cardigans.
But then some days I want an androgynous look, or hyper femme fatale, or I'll be inspired by an 80's movie. I'm all over the place, but somehow it all still comes together. I think fashion is a tool to tell others without speaking who we are on any given day.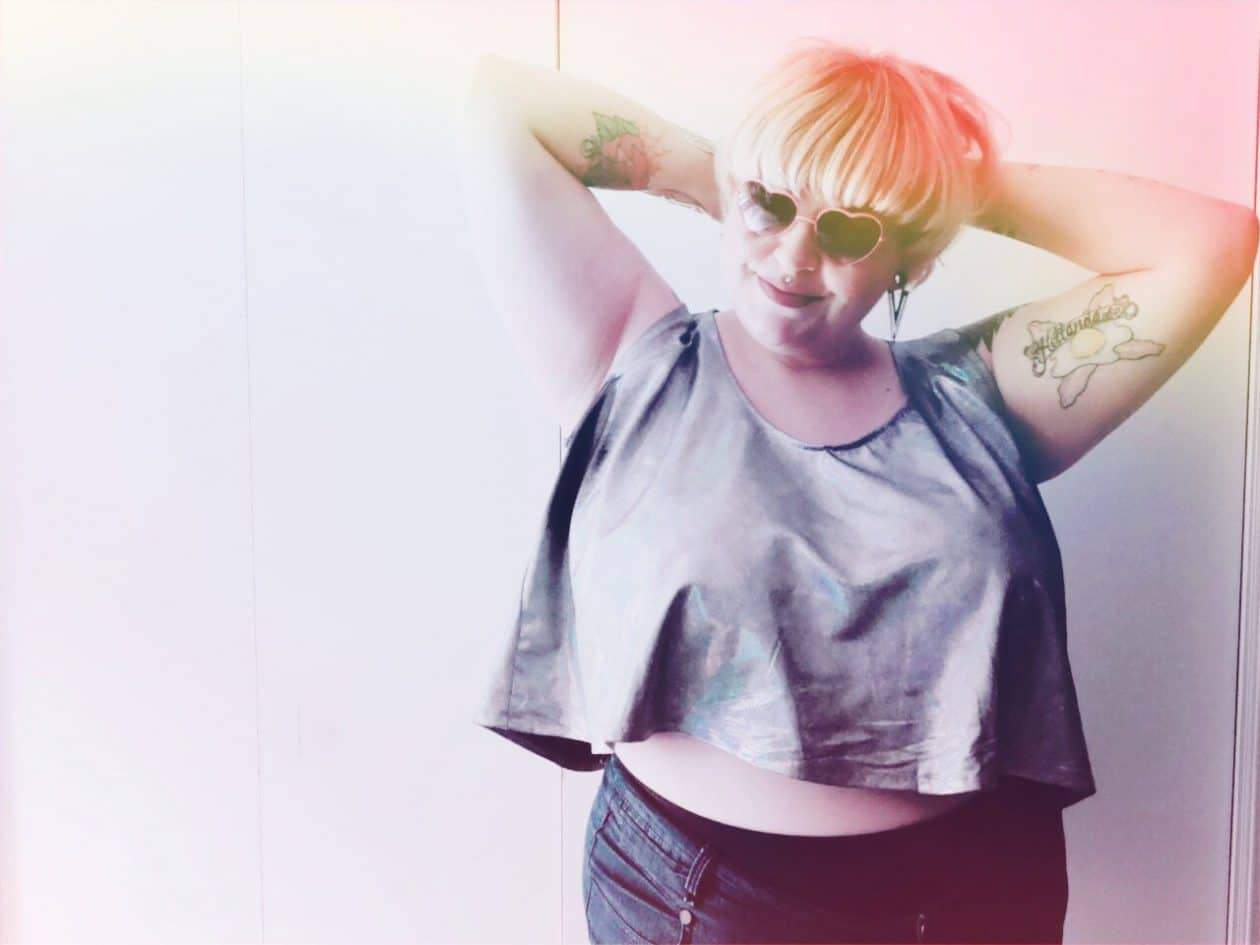 Which bloggers inspire you? Plus or straight size! Any bloggers currently on your radar?
I am in constant awe over so many plus size babes. I could easily list 100+, but I'll keep it brief. I just really dig the vibes these babes give off: Isabell from Dressing Outside the Box is cool, modern and edgy in business chic attire, Natalie of nataliemeansnice has the really badass cool girl next door vibe covered, I mentioned Tracy that used to run Domino Dollhouse, well she's still blogging under BRXTRMN and her style is everything I wish I could commit to, Natalie of Shameless Cr3ature is killing it edgy luxurious looks, and Ragini of A Curious Fancy gives me all the Wes Anderson whimsy I could hope for!
As for straight size fashion, I follow Faiiint who is rocking an almost entire all black wardrobe 24/7 and shows how you can build a beautiful all black look with textures, layers, and draping, I swoon. I also follow A Clothes Horse, her photos are like a fairy tale, and she's cute as a button to boot! And then there is Lazy Kat, a French blogger with the most fun aesthetic, it's like melted ice cream on sunny day at the carnival, which sounds weird, but I adore it.
I truly think you can spin straight size looks for plus size bodies, it's just a matter of finding the right pieces. So I like to see the direction people take their style regardless of body type.
What do you think about where plus size fashion is today versus a few years back?
A few years back, we had about 6 options to shop from online, the number is growing every day it seems lately. We have so many more options at our fingertips, and thanks to the internet, it's only a couple of clicks away. I wish we had those options in person, but at least we have them online now so we're not all showing up at the big event in the same frock.
But something that really needs to be addressed is the size range that is being offered. Plus size bodies do not stop at an 18 or a 24. Larger bodies need clothes too and they should be offered the same options to create their own unique style.
What do you think or hear from readers, is one of the biggest myths about plus size fashion?
That we have no options. A large part of that is there are a lot of people that are still very weary to get involved in shopping online. I don't blame them for being cautious, sizes run all over the place.
It'd be really nice for a universal size chart to come out and it be adhered to. But in the meantime, it's worth measuring yourself and comparing your measurements to the ones offered on each site. There are oodles of options out there now, be bold and try something out! And if you're really nervous about dropping money on a new brand, dip your toes in when they have a sale or items on clearance. That way you can get a feel for their cuts without breaking the bank.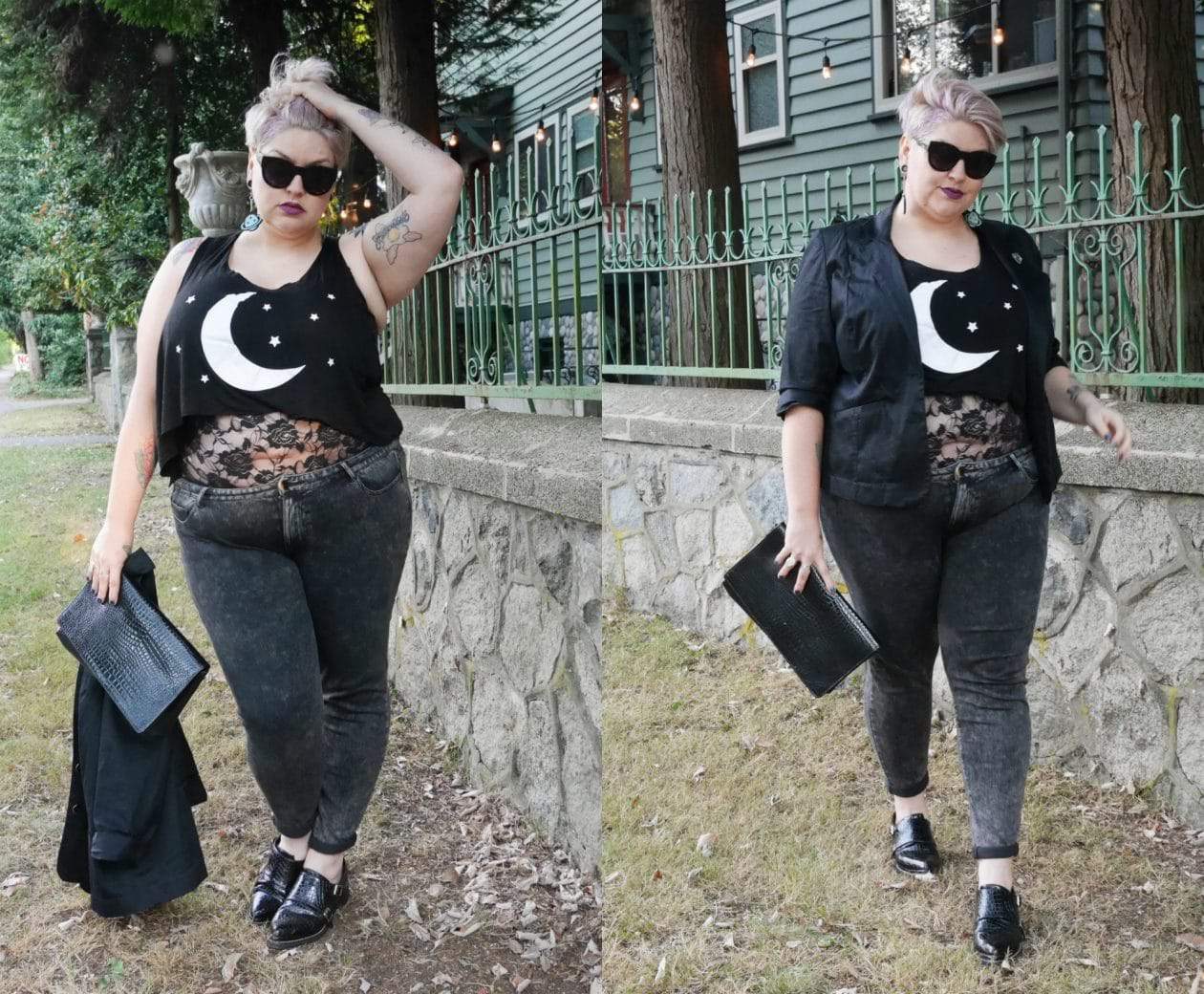 Are you working on anything or have anything to share?
Yes, I am about to launch a new round of my Instagram challenge called "Rebellious Self Love", I used to run it as a month long challenge, but I found I would get burnt out after a full month. So I've revised it and it will be 4 week long challenges that run for each of the winter months.
Since the winter can be a hard blow to many of us and our self worth with holidays, stressful family time, diet culture that whips into a frenzy after New Years, and the shorter, darker days, etc I wanted to bring about a way that we can lift each other up during a time the world wants to beat us down. I'll have the details up soon, but feel free to use the #rebelliousselflove hashtag in the meantime!
Anything else you want The Curvy Fashionista's readers to know?
I just want to thank the plus size community. It has been welcoming and a beautiful place to learn. I have become a better person by opening myself to each person I encounter, how to be a better advocate, a better intersectional feminist, a more thoughtful thinker, more critical of my language choices, more open to seeing from other perspectives. It's been life altering and I would never take it back for the world!
If you'd like to see what I'm up to online, you can follow my blog via bloglovin. or check me out on instagram, pinterest, facebook and tumblr and you can follow my community account on IG, @alternativecurves for non mainstream plus size fashion inspo!
Lastly, what does Curvy.Confident.Chic mean to you?
To be curvy is to be alive, confident is to not care what others think and holding your own opinion of yourself in the highest regard, chic means you feel good in your own skin and you don't mind showing it off with your style choices.

Do you dig her style? Which look is your fave? Let's talk about it below!!
Are you a plus size personal style blogger? Want to be featured?
Make sure you fill out your deets here, so that we can feature you!
Looking for more inspiration? Make sure you check out all of the other plus size blogger spotlights!
Aaronica
One dope woman/mom/wife/entrepreneur learning to conquer the world one cute outfit at a time.