While August was the transition period, welcome to September, the start of fall fashion (where the weather actually allows it) and in my eyes, one of the most important seasons! Fall season is where we see the birth of new trends, silhouettes, hues, and influences that carry into spring 2013! With plus size fashion moving forward and giving us fashion ON TREND, now is an even more exciting time to bring this trend report!
This is a guide and in weeks coming up, you will get your 'where to buy' roundups soon! Make sure you continue to check back, as I will link to roundup posts relating to each trend!
You Ready?
Let us start with 2012/2013 Colors for Fall:
Pantone tells us: From love potions and the magical hour of sunset to witches and warlocks, fantasy and illusion are inspiring designers this fall season.  With an unexpected mix of darks, brights, and neutrals, they cleverly manipulate reality to transport consumers to an enchanting place, free from the stresses of everyday life.
"By playing to consumers' practical side with versatile neutrals, and boosting their confidence with bold, spirited hues, this skillfully balanced palette has something for everyone," said Leatrice Eiseman, executive director of the Pantone Color Institute®
In addition to this palette, there are a few key item colors that include oxblood- dark blood reds and shades of them. This extends into the cousin of red, Purple and deep shades and variations of them, including eggplant!
The Fall 2012 Trends leaving its influence:
Gothic Chic
I am really excited about this one. For the longest black has been associated with boring and bland, BUT this Fall, black is nothing BUT boring! Vamp, goth, noir all lend its influences here with a strong play on textures and mixed media! AND for fall 2012's gothic chic look, black isn't the only color that gets to play. Think shades of dark reds, purples, and deep rich blues (almost midnight)!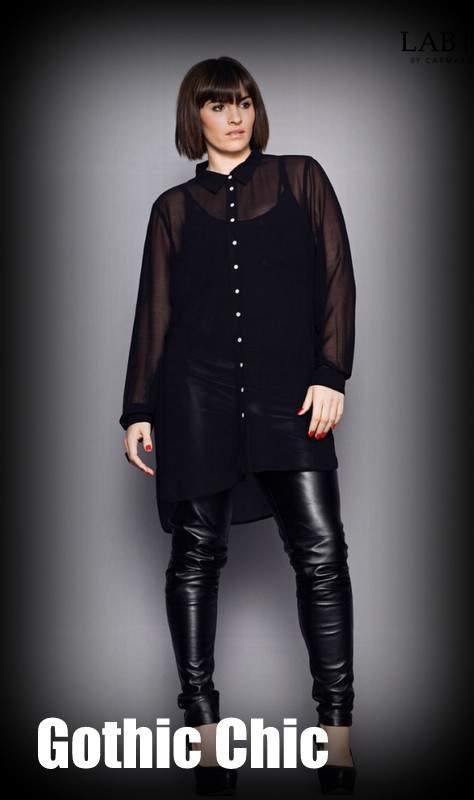 How to rock it:
If you want to tip your toe into this trend, think leather accents. Sleeved details or contrasting panels! Start with a fitted sheath dress in lace or leather!
Texture, texture, texture! This adds interest and depth amongst your dark frocks. It is all about the drama: velvet, fur, brocade, embroidery or leather.
Play up the hard and soft by mixing in a bit or sheer or lace for a dramatic contrast.
Fall's drama of decadence does not skip this trend. Opt for drama with embellishments like beading or sequins for a subtle interest and contrast.
Peplums
This spring trend has taken off for fall. Not only for the sweet and sophisticated, peplums have infiltrated the edgy styles as well! You will see this trend in blouses, jackets, and dresses. In leathers, lace, beaded, and ornate! Some designers (Etro has a fierce one!) for the fall even rocked peplum belts!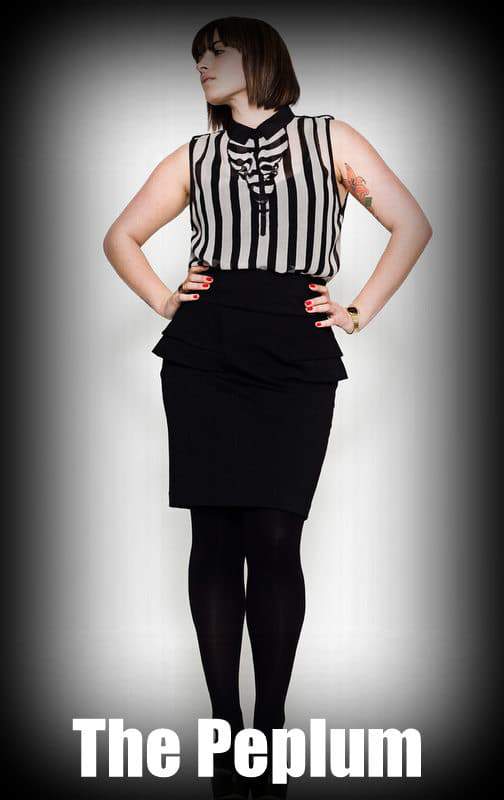 How to Rock It:
Peplum jackets are quickly becoming a fave of mine.  They are quite flexible and the easiest way to play in this trend. Paired back to a slim bottom is quite a chic look!
Structure and textured peplums are a great way to take your peplum from sweet to edgy and chic.
Think outside the box when playing in textures. You can find this trend in leathers, wools, lace, or brocade details new ways to play up your peplum desires.
 Click here to see some of my fave peplum pieces for fall! 
Leather Skirts
Ahh, excitedly, I have already tackled this trend here with 5 skirts to play in, but the leather skirt is far from being the staple or classic we know it to be. The leather skirt has become the STAR piece of the outfit.
How to Rock It:
While the pencil skirt is still a strong silhouette, switch up your shapes with pleated and a-line cuts! Pair your skirt with a feminine blouse to keep it sweet or a tailored jacket for a modern sophistication.
Don't just think Black. Leather has found itself in a variety of hues! From Oxblood, Metallic finishes, deep purples and blues, to a neutral sand hue!
Wrap around leather skirts take its cue from fall's school girl influence or a nod to the early 90's. Paired with opaque tights or layered with wool coats, definitely not for the shy!
Suiting
Fall, as I have noticed seems to inject life into menswear with a fashionable and modern twist. This time, while giving the nod to menswear inspiration, fall suiting has pulled inspirations from a variety of places. One thing is for sure, when you do rock your suit, make a statement! Wide legged cropped, classic tailoring, head to toe patterns, leather suiting, wools, lace, sheer, plaids, you will find a suit to tickle your fancy!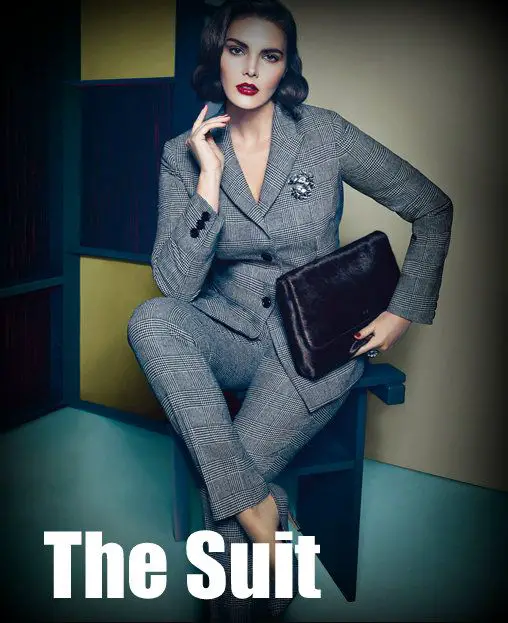 How to Rock It:
Instead of black, step in to fall's suiting with a bold hue or playful head to toe pattern! Think plaids, deep reds, blush tones, and even a metallic hue!
Give your suit a new shape. The pant legs have new details! Opt for a cropped wide leg (right above the ankle), a slim leg, or a floor grazing wide leg!
Suiting is all in the details! Collared blouses in varying textures, pocket squares, ascots, suspenders, and belts polish off your look!
The jacket will be either single breasted or double, but one thing here is that it is tailored! Do not be afraid to visit your local tailor to give your look that sharp and crisp edge!
Capes and Cloaks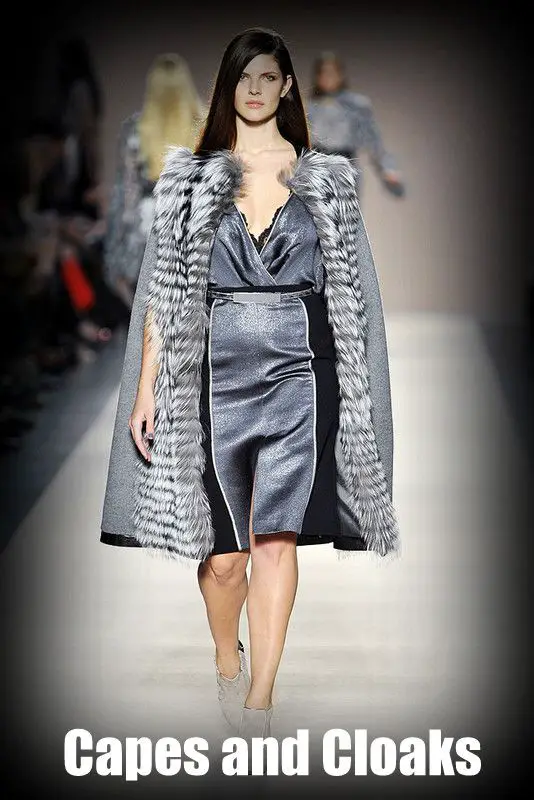 Sharp. Clean. Edge. Relaxed. This season's capes and yes, cloaks have come back home taking inspirations from the military, fairytales, and superheroes. One thing is for sure, the cape and the cloak bring in drama and attitude. For fall 2012, tailoring is key here.  We have covered the breakdown of outerwear here, make sure you bookmark for your viewing pleasure!
How to Rock It:
This season's more tailored capes bring attention to the waist and sans the arms, giving the look of a trench. Worn over fitted feminine frocks, you'll see these tailored capes in wool or leather.
Belted capes offer a sportier or daytime option that was paired on the runways over suiting, pulling in the menswear trend together, perfectly polished.
The gothic inspired cloak made its debut on the runway this fall in both black and hues of reds and oranges! Leather pants or knee high boots accentuate this gothic trend and bring the drama for the extremely bod and daring.
For more of an Americana look, belted shawls in blanket patterns made its way into fall's cape trend. The trick is to keep the rest of your look streamlined!
Lace Dressing
As in your closets from spring and summer, lace has returned for fall and this time a bit more dramatic and sweet and everywhere! Lace has found itself in neon overlays, dark and gothic, boudoir inspired, in sheath dresses, skirts, jeans, pants, and accessories! Literally, lace is everywhere!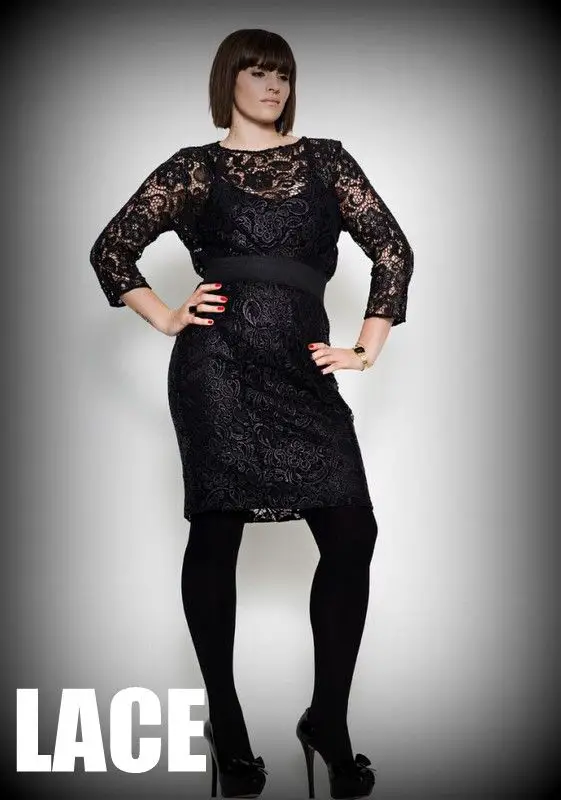 How to Rock It:
The statement lace top can be worn a few  ways but for the season's more goth look, pairing it with a leather frock will give your sweet blouse a little edge. Or, if you are sweeter, your lace blouse can be a great layering piece under a suit jacket!
The lace print has found itself onto denim! YES! If you are loving one of the fall's trend of printed pants, then this will be just where you want it! Whether more muted or a stark contrast and boldly printed, you will find this as a fun way to make you way out on the town!
The new shift. Lace has found its way onto one of the classic silhouettes of fall: The Sheath dress. In jewel tone hues, the lace sheath easily becomes a classic that is easy and a classic that you can wear to work or a night on the town!
There are quite a few more micro trends for fall, but I have highlighted ones that easily have and will be seen in plus size fashion! Some of those are furs, plaids, baroque detailing, school girl inspirations, and oriental trends.
But for the most part, these are some of the standout trends for fall that you will see!
**Most of the images are from the CarmaKoma Fall 2012 Collection! With the exceptions: Suiting and Capes!**
Did I miss one of your favorites? Sound off and I will update to include it! Which trends are you loving and not liking so much?