Hello all of you lovely Curvy Fashionista readers! I'm Kirstin from Kirstin Marie. Marie has so graciously asked if I would share what to wear down in Florida, where I live, as if you were escaping to a resort style location. I hope you enjoy my post, and thank you so much Marie, for the amazing opportunity to share with your fabulous readers!!
Winter is here. It's chilly and down right cold in most places during this time of year. Escaping to a warm, tropical location is one of the most sought after dreams during winter. Anxiously awaiting summer, you've had enough of layering and layering to keep yourself warm, trying to keep the icy wind chills off of your skin.
Enter sunny South Florida. Winter in South Floridararely dips colder than 50 degrees, and generally hangs out in the upper 70's & low 80's – what some would say is the perfect & most desirable temperature. It's the one place where you can appreciate the early signs of Spring fashion popping up in the stores in the beginning of January.
What's one to wear in this tropical paradise?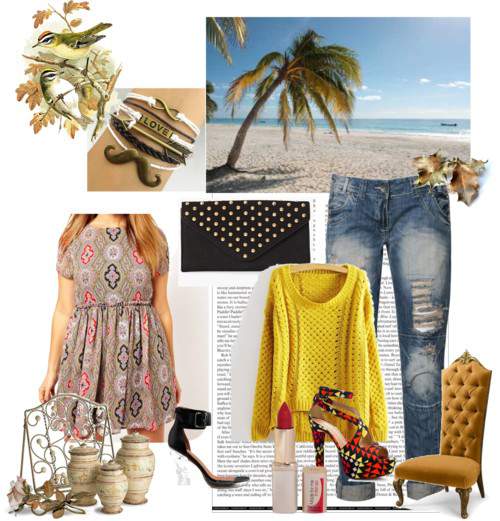 Want these items in your closet? Find them here!
Infinity, Love, Arrow, & Mustache Bracelets
Sammy Dress Open Weave Loose Fitting Sweater Zara Printed Sandals (OnSale!) ASOS CURVE Skater Dress in Paisley Print Jeffrey Campbell Soiree Platform Blonde & Blonde Ripped Jeans Nasty Gal Armour Envelope Clutch L'Oreal Colour Riche Lipstick Burning Rose 286
Since it's sunny & warm all year long, bright colors, fun prints, and mixed textures are quite abundant. Feel free to go wild!
Transition easily from a daytime look of a casual chunky wide knit sweater, torn jeans, and bright colorful shoes to a pretty, flowy, patterned dress and sexy sandals in the evening. Tie everything together with a cute studded envelope clutch, fun bracelets and a bright lip, and you'll be saying to yourself, "Winter who?"
Do you get away for the Winter? What items are your must haves when vacationing or living in warmer weathers or Resort?
Thank you so much Kirstin for sharing! Make sure you get more of her on her blog,
Kirstin Marie
and her Twitter,
@kirstinfoley
!