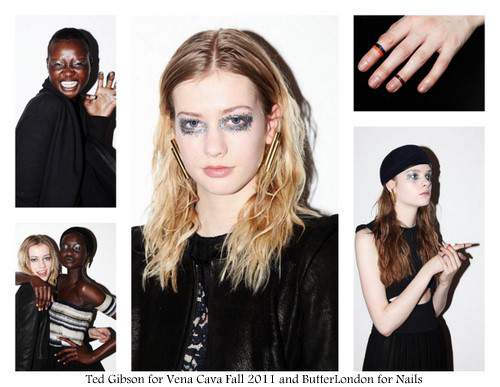 A nod to the 90's with Vena Cava was only complete with the help of hair guru, Ted Gibson, for Beauty.com and an innovative use of nail polish- Nonie Crème for butterLONDON.
Hair:
Channeling Christy Turlington's 90's grunge look, Ted Gibson created a laid back cool look to complete Vena Cava's Fall 2011 Collection. To achieve this look, Ted Gibson dampened the hair with product and scrunched to create a carefree and casual appearance.
Score this Hairstyle:
Ted Gibson Tame It Shine Lotion
Ted Gibson Fix It Gel
The Nails:
Thinking outside the box, Nonie Crème crafted "Finger Bands" for the Fall 2011 Vena Cava show. Nails left bare yet the fingers were painted with small colorful stripes to create a look that was out-of-the-box thinking that created the perfect 90's grunge look!
The Nail Colors:
butter LONDON Royal Navy
butter LONDON Scoundrel
butter LONDON Tramp
butter LONDON Union Jack Black
butter LONDON Flouro Orange