When it comes to getting ready for fall and transitioning your wardrobe without breaking the bank … I love a leather jacket. In fact, I love them so much I own 3 (okay … maybe 4). I have them in multiple colors and styles, and as plus size shoppers, so many colors and styles have not always been available to us, I know. Today, we already talked about the Lafayette 148 New York Leather Topper, and today we keep on this trend for fall!
But let me tell you – leather jacket season is just on the tip of the seasonal iceberg, and I already see some real winners out there available. Here's my rundown on my Top 5 Plus Size Leather Jackets that will get you totally ready for fall.
5 Plus Size Leather Jackets to Ready Your Wardrobe for Fall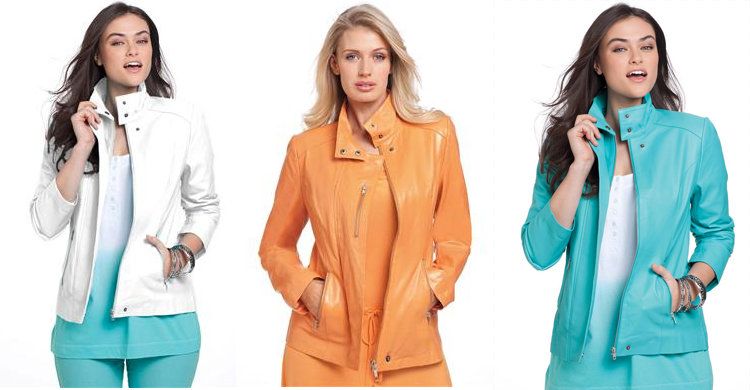 1. This leather motorcycle jacket form Jessica London is on my list. It comes in several different colors, and it would appear to already be on sale. White, bright orange, and a cool teal blue. This is the kind of jacket you wear over and over again for its classic lines and its ability to add a pop of color to any outfit. I would wear this on top of a sheath dress on my way into the office, or I'd wear it as the models are styled – t-shirt and jeans. Such a versatile piece!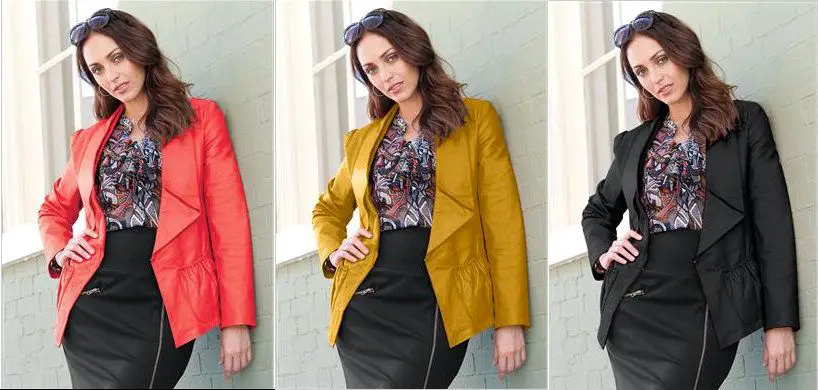 2. We just talked about the color of leather jackets and how they can add something to your wardrobe, but what about the shape of a leather jacket? That can be really important for a lot of ladies, too. I love the shape of this leather jacket that has what they describe as a "shawl collar" going on. You see that tie detail at the waist? That's the cinching power that we usually see with a belt, and this is a great jacket to wear open or to wear cinched closed – just like you would with a trench or a cardigan with a waterfall collar.
3. If this is your first foray into leather jacket land, then I'd highly recommend a standard black leather motorcycle-style jacket. And that's exactly what we're getting from this Evans black plus size leather motorcycle jacket with detail stitching and zipper pockets. This is the leather jacket that you will wear completely to pieces given the chance. It's not real leather, so if that's a concern for you – this jacket works. That also means the price is more affordable. And listen, everyone looks cool in a black leather jacket. You kind of can't go wrong here!
4. Now, let's say you have change to slang or you're REALLY trying to make an investment here. Michael Kors has a leather jacket that is also a motorcycle style that might be just right for you. It has that attention to detail, and, to be totally honest with you, if you're going to go with a plain black leather jacket – I recommend going with the investment piece version. The reason? You're going to wear it forever. It never goes out of style, you can put a sweater on under it, you can wear it with a dress and no tights, you can layer, layer, layer if it's really cold. You really just have to take care of it, and you'll get your money's worth within a few seasons. There's also a heavier version of the motorcycle jacket also by Michael Kors if you're looking for something that is definitely for a colder climate.
5. If you're a total and complete badass … or just want to make people think you are, then this spiked moto jacket from Forever21+ is the lady for you to buy! This is an edgy piece to add some edge to your wardrobe. I'd recommend this one for the younger lady who wants that tough feel to add to her feminine look. Think lace dress with spiked moto jacket. Yes ma'am! Loving the asymmetrical zipper closure, as well. Very on trend! Other good news: it's totally washable in the washing machine because it's made out of polyurethane.
How are you wearing your leather jackets this upcoming season ladies? Do you work one in to your wardrobe when the weather gets cool at night?
xoxo nettaP