Atlanta's plus size fashion scene is so on fire and one of those who has been giving it to us is plus size fashion designer duo, La Krisha and Sherry Baker, the women behind Lavender's Jungle.
And perfectly timed for the spring season, Lavender's Jungle gives us more than a few fun contemporary plus size fashion finds to keep our curves fashionably dressed and I am here to share with you all of the deets!
On the heels of an amazing power shoot, held at Primetime Studios, we had the chance to take a peek at the collection, see how the times move, and drool (lust, covet, admire) over our new favorite spring pieces, Lavender's Jungle not only launches their newest collection, but gives us a fresh new website that you can shop from, learn more, and see her collections from season's past!
But, fashion first… right? Do you want to see the collection? I know you do! So let me share with you a few of my favorite pieces from the Urban Prep Collection!
First Look at Lavender's Jungle Urban Prep Collection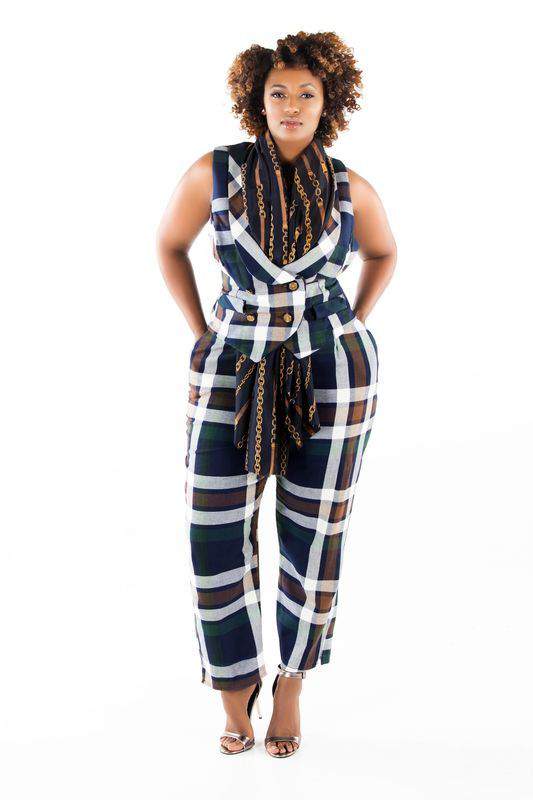 [tps_footer]Okay, exciting right? I need more than a few items from this collection, like the plaid number- I would rock both together and separately! LOLOL and then I need this paint splatter peplum skirt honey…
NEED.
If I could get it slightly longer? In love. And then there is this halter and pant combo, which I thought was a jumpsuit at the shoot? The tulip leg has me enamored and it moves so amazingly in real life!
So, I need to save a few coins, obviously! But what I do dig, is that the collection is at a great pricepoint! Not too pricey, especially for what you are getting! I am here for all of this plus size contemporary goodness.
Who is Lavender's Jungle?
Now, I fell in love with her at the 2012 Full Figured Fashion Week Indie Showcase, when she debuted her collection a few years back, but La Krisha is no stranger to the sewing machine. Nope!
Classically trained by her Great Grandmother, a master seamstress, she refers to her technique as "old school."
"If the seams of a garment didn't line up, no matter how long you worked on it, my great grandmother would rip it apart. It teaches you to put your best work forward the first time," La Krisha explained.
Oh and her work has indeed been on point! Since her debut, La Krisha has produced 11 collections!
Are you ready to shop? Loving what you see?
You can shop the collection NOW, at LavendersJungle.com
For those who are curious, Lavender's Jungle caters up through a size 28/4XL! YES, she does deliver and ship internationally!
Woot! You can peep all of those details on her site!
What are we thinking? Are you digging more than a few of the pieces too? Which ones speak out to you? Let me know!