I went to Fashion Week.
I know, I couldn't believe it either.  A blessing and a wonderful opportunity.
You know, when I found out I had the opportunity to go, I was over the moon.  Then I was nervous.  I mean, are you ever really ready to absorb the inspiration?  I mean, I had to pull it together.  Seriously.  It's more so fear of the unknown.  It won't matter who tells you about what's going to happen or what you will encounter – you're going to to have a different experience.  The experience is also different as a plus size woman.  Sitting first or second row, we still worry about how we look, how we'll be photographed – maybe even more so.  It's real.
I'm going to give you one lesson I carried with me all week:  Be yourself.  The best version of yourself.  It will serve you well in every step you take.
There are so many different things happening.  Different looks, different styles, different opportunities.  By being yourself you tend to run into the best people, the best conversations.  It's not a race to meet as many people as possible.  It's more important to connect with a few people and have lasting conversations.
So many people will ask why and wonder why a plus-size woman would go. In other words, why are we there?  How do we fit in?  Where is our place in all of this?  Of course my answer is why not? Because you can't paint, does that mean you don't head to museums?
There is relevance in being everywhere.  First of all, it's important to show up. One of my favorite quotes by Woody Allen says that "80% of success is showing up."  That being said, it's important to make an appearance.  Not to mention, plus size in the designer world is often a 12 and above.   It isn't realistic to think plus size women aren't interested in trends, fashion and being beautiful.  I'd like to think quite often we're even more concerned with it because of how quickly people are to judge us – just on size alone.
I went because I was invited by Marie and I trust her outlook on fashion and trends.  I went because I love beauty.  I love clothing.  I love style, fashion and all of the ways we choose to adorn ourselves as humans. I love watching people get credit on the streets for being stylish.  Mostly because they are expressing their unique style. Often runway style is influenced by street style.
There's something to be said for watching trends and being able to
show how things can translate.
It doesn't mean you have to be trendy.  It 
does
 mean as you see white pants in the winter, you have an understanding of why it's ok to wear them.  Are they on trend?  Were rules relaxed? What happened?  Maybe you don't care what's on trend and you wear what you want.  That's ok too!  It's what style is about.  The ability to express yourself as you choose to.  It's about the way you want the rest of the world to see you when you step out of your doors.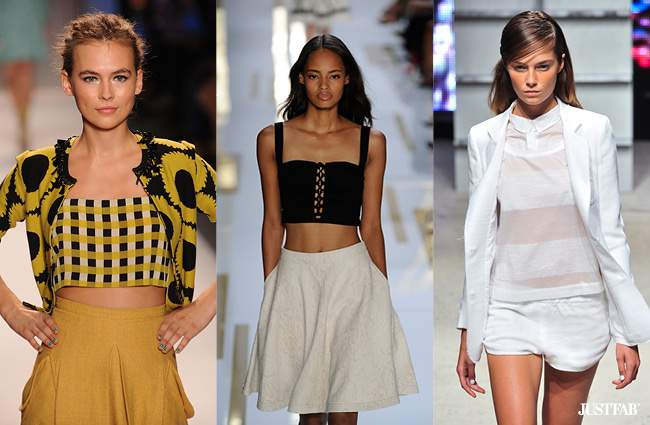 from JustFab.com
Other reasons you should make it New York Fashion Week (or London, Milan, etc):
Being visible and stylish as a plus size woman lets the industry know we're here, we're present and we're a force to be reckoned with.
You gain new perspective and insight on what's coming down the line.  This also allows you to style yourself (and others as a stylist) ahead of the curve.
Inspiration.  I left NYC inspired and invigorated.  Ready to write, create and do new things.  It gave me the opportunity to think about the things I want to do and how can New York NOT inspire you?
It's about more than fashion.  It's about where all of the disciplines come together at one time.  Music, art, creativity in various forms of expression.
Additionally, all of the various looks with hair and make-up – I love seeing what's on the stylists palette for the year.
Don't be afraid to talk with people. There are so many great and amazing people.  From designers, to actors, writers, producers and artists.  You can meet some of the most amazing people.
Attend more than fashion shows.  We headed to Lianne Farbes's amazing panel and networking event – 'Cocktails and Couture'.  The panel discussion was fortifying.  Make sure to mix your events up and get some variety in there.  Dinner with friends, go and head to a museum, head to various events.
While at times we are still seeking a greater diversity ON the runway and in the designing world, it's key to still make ourselves known and seen.
Fashion Week
is about creativity.  It's about the love of expression and adornment.  It's always relevant.  Who knows, when attending, you never know what you'll be inspired to do.
Did you head to Fashion Week?  How were you inspired?  What are some of the take-aways?