Looking for fun and functional plus size activewear? As I am on a mission to be a bit more active, walking, stretching, and yoga, having the clothing to match my life and many moods has gotten so much better, thanks to technology and innovation! One of those designers leading the curve here, is Just Curves! You may remember them from a successful campaign on Kickstarter a few seasons back, but guess what! They have a new collection, new technology, and have improved upon their patent- pending ONEder Suit!
"We are runners, yogis, triathletes, strength trainers, and overall badass women! We deserve fashionable active apparel to fits our lifestyle. That activewear is finally here…"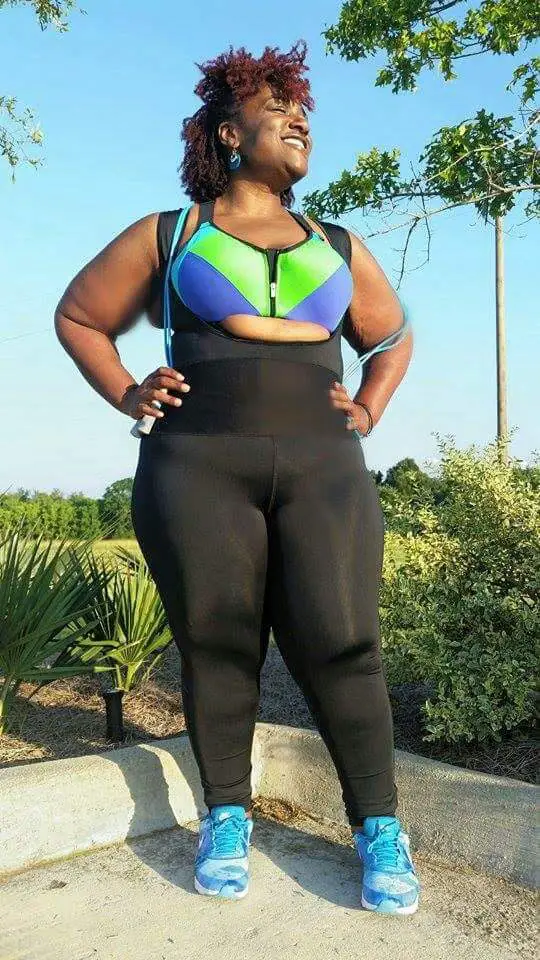 Newly REDESIGNED, the ONEder Suit has been designed with our curves in mind! Part top and pant in one, the ONEder Suit is a "one-piece, open bust unitard that keeps your PANTS UP and your CONFIDENCE HIGH!" Just Curves introduces the FIRST and ONLY active apparel that combines active bottoms with this open bust top! Even better? It is all made in the USA! They manufacture the ONEder Suit right out of Los Angeles, CA!
Take a watch at the teaser!
What does this mean? Well, no more waistbands that roll, pinch, or shift! You know, you lean over too long or lounge too deep and the top of your pants roll down or the crotch needs to be readjusted… I cannot be alone here! The ONEder Suit "keeps your assets covered during your toughest workouts or while running around town."
Just Curves gives us more than a few fashionable plus size activewear options in sizes 14-28 and now with tall and petite inseams, so you no longer have to sacrifice quality for fashion, girl!!! You can have both! The original ONEder Suit is already a gym staple for curvy women around the world and now O.S. 2.0 is even better! They took feedback from the Just Curves Community, took notes, and have added all of that feedback to the ONEder Suit even better!
Let me share with you how:
About the new ONEder by Just Curves:

RACERBACK DESIGN: The new racerback design makes O.S. 2.0 easier to get into as well as cooler and more comfortable to wear.
INTEGRATED WAISTBAND: They nixed the mesh insert but kept the waistband so your back and stomach get the support they need during your hardest workouts without pinching or rolling.
NO FRONT CENTER SEAM: No front center seam means you can just say no to the dreaded camel toe.
UPGRADED FABRIC TECHNOLOGY: Our fabric compositions have been chosen to provide distinct functions and allow a fit that will sit flush against your body, no matter your body shape. Features include 4-way stretch, amazing compression, and maximum moisture-wicking properties.
NOW AVAILABLE IN TALL AND PETITE LENGTHS! You asked for it and it's here! O.S. 2.0 will be available in Plus Size TALL and PETITE inseams!
COMFORTABLE AND SUPPORTIVE STRAPS: Built-in straps combined with the open-bust design makes it easy to pull on and take off. The best part…your pants will NEVER fall down, so you can work out without worry.
Sound amazing? Sound Cool? Are you curious?
Well, if you are all about your activewear life, then please head on over to the Just Curves Kickstarter page to snag yours and pledge!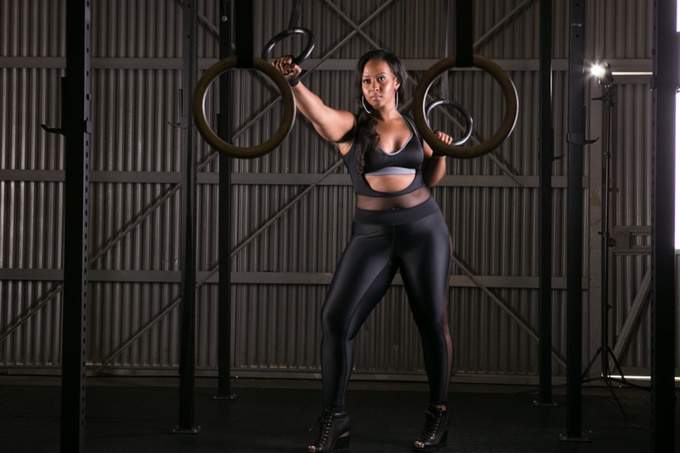 I kind of want this mesh one… I mean, I can work out and be cute too, right?
Right.
How much fun is this! I am excited for Yolanda and the team!