I am not sure if I told you, but I have been working with City Chic for a while now, and am so happy about them entering into the US Market- both virtually at NOW physically! Over the past few weeks, we have opened Culver City and Brea Mall and for my Inland Empire folks, join me THIS SATURDAY at the Galleria at Tyler City Chic Grand Opening!
YEP. That is right! Tomorrow, I will be at the Galleria at Tyler (this was my first mall I worked at!!!) City Chic Grand Opening, playing in the dressing rooms with you and the guests! The dressing room is my second home and how I got into the retail business side of things! So it is a special place for me to get in the dressing room, daring you to try silhouettes, colors, and styles that you haven't before!
So how about a little dress up?
Let me give you the deets:
Galleria at Tyler City Chic Grand Opening: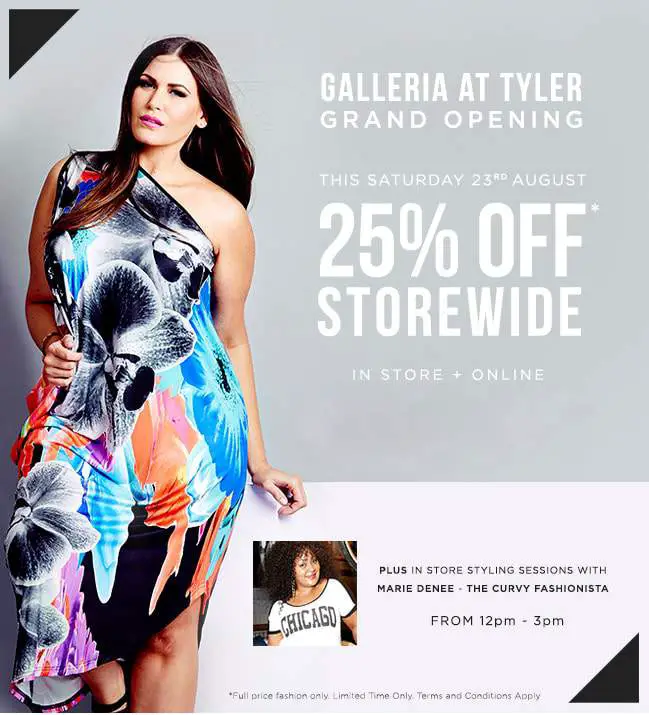 Located right across from Torrid, you will find us quite easily! I will be there from 12-3pm playing, dancing, talking, and having quite a blast! I know I will, the question is, will you?
(not mandatory to RSVP, but hey- why NOT make it a girl's day out of it!?!)
Are you familiar with City Chic? They are Australia's leading contemporary plus size brand who recently was picked up by Nordstrom online and in store! Fashion first, this store is sexy, gorgeous, and the clothes match. I cannot tell you enough, YOU KNOW, how cool it is and how cool it is to be able to walk into a store that has such a CHIC and edgy, and fashion forward vibe!
To give you a better idea, check out their latest look book: Sportsluxe
AND YOU CAN SHOP the SPORTSLUXE Range online and in STORES NOW!
If you want to know what other stores are coming down the road, check out their list here!
It really means a lot that they opened this store at the Tyler Mall. I have spent many a day working, shopping, and trying to be cute here when I was a weeee kid. HAHAHAH. It feels like I am coming home!
Will I see you there? Are you excited about the openings? Have you been? Let me know!