I remember when I first met her. It was at the ESPY Awards Beauty Suite. She called me out, and was like "Hey, aren't you The Curvy Fashionista?" I screamed inside. Literally was beyond myself. I mean, I am just a blogger and here is Shirley from Community: Yvette Nicole Brown, recognizing little ol' me!
I mean, I had been following her on Twitter and I didn't want to overwhelm her, especially since I was at an event with various stars… !!!!!! Since then, I have been interacting even more on twitter, following along her escapades and career achievements!
So, when she agreed to be interviewed for my blog, I was over the moon! Take a read and see why!
 Up Close and Personal with Yvette Nicole Brown
We know you best for your current role as Shirley from Community (Yeah to another season!), but before we get into your work, tell me how the word "serendipity" has played a role in your life?
I feel like every opportunity I've been blessed to receive, even long before I was an actress, has been a magical unfolding of circumstances beyond my plan or control. I can look at things and go, "Dang, if my car hadn't've broken down, I wouldn't have been on that bus and I wouldn't have met that nice lady who introduced me to her cousin blah blah blah". It's all the hand of God, this I know, I want to be clear on that! Lol! But the way He had it all work out for me in every way has been serendipitous. 🙂
Growing up as the baby in the family, were you always a plus size woman? Was size ever an issue for you?
No, I haven't always been a curvy girl. I was pretty skinny as a kid until about 5th grade. Then I chubbed up (lol!) while I was in about 10th grade then I was tiny again until my mid 20's. At every stage it was a non-issue for me. I always thought humor, intelligence, and kindess were more important than my pants size. And I still see it that way. I feel like I'm more as curvy than plus-sized… though Hollywood and their size zeroes would surely disagree with me.  Still it has never been a problem for me or even a concern of mine. Mainly because back home in Ohio where I'm from, thickness is desired over stickness. Lol!
As a child, did you ever have aspirations to be an actress?
I grew up watching Carol Burnett. She made me want to be a performer and make people laugh from a young age. So acting was totally on my radar; but music was my bigger love. I always thought I'd be a singer. And though I had some early success when I was teen, acting was the creative endeavor that "stuck"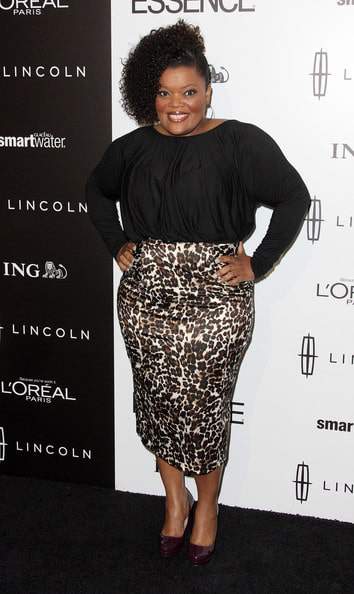 Who do you think influenced your style and confidence?
My mom definitely. Fashion has always been a big deal to her. Even on a budget, she could put together an outfit that would turn heads. I'm also a huge fan of Cece Winans. She's always modeled faith, grace and modesty to me. I wanted to grow up and be a lady just like her.
You use humor quite cleverly, who are some of your influences?
Carol Burnett, early sitcom stars like Penny Marshall & Cindy Williams (Laverne & Shirley), Phylicia Rashad were HUGE in my world, as was Bea Arthur. All were fearless, talented, and full of equal parts comedy and gravitas!
You have chosen some amazing women!!! Let's talk fashion! Your first red carpet, tell us all about it! Who you wore, how you felt, etc…
I felt so unprepared. I didn't expect anyone to take my picture and I dressed accordingly. If I remember correctly it was a pair of jeans, a white tank top and a pink corduroy blazer I had gotten from The Gap. I barely had on make-up. I hadn't yet learned how to apply it for the carpet! And my hair was in an unruly, curly ponytail on the top oft head. It was a MESS! And it lives online forever. Lol!
Oh no!!! But things have changed, as you are quite the fashionista now! Who are some of your red carpet designer favorites?
I love Ralph Lauren green label dresses. ANYTHING Sofistafunk makes and all of Rachel Pally's beautiful skirts and tops.

I LOVE me some Rachel Pally! Tell me, In Hollywood, there is such an obsession with size and looks, how do you navigate through this?
I deal with it by not dealing with it. 😉 Someone's opinion of my size and "looks" don't matter as long as I don't buy into it. And no one's opinion has stopped me from working. So what's there to worry about? 😉
Alright! I see! So… Confidence has to be one of the strongest qualities (or at least faking it) that one would have to have in the entertainment industry, how do you stay body positive?
I remember what that Bible says about me and every other person on this planet, "I am fearfully an wonderfully made." Not hard to stay positive when that stays in your spirit.
AMEN! Loving this!! Okay, what type (if any) obstacles have crossed your path as a plus size actress?
Not really any. Praise God! I've never been told to lose weight by an industry professional. I have never lost a job because of my size. In fact I've lost a few "big girl" roles because though I'm a size 16 I'm also very short. I usually don't fit the description they're looking for if size is an initial consideration.

How do you feel about the current place of plus size fashion and its acceptance?
I think it is a BEAUTIFUL Thing! I can't wait to come out for Plus-sized fashion week, one of these days!
When did you fall in love with fashion? (I understand this is an assumption, but in my eyes, you are always cute when I see you! )
Thanks, girl. Fashion has been  important to me since high school. I got my first job so I could help my mom and buy my own clothes. Now I'm into fashion out of necessity more than anything. Pictures on the internet are FOREVER so I try to look my best on every carpet I step onto.
When it comes to fashion, who are some of your fashion influencers? Those who you look too or draw inspiration from?
Jill Scott, Janet Jackson, Cece Winans, plus-sized fashion bloggers like YOU…the list goes on and on!
!!! You better stop it! Thank you! So, what is the definition of your personal style?
Comfort. No matter when you see me, comfort would have been a consideration for the day. 🙂
If you could costar with one actor, who would it be?
Sandra Bullock. I always heard she is a wonderful person to work with. I think we'd have fun!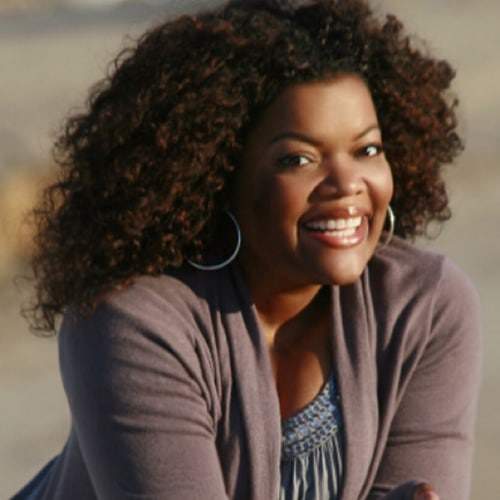 I am a HUGE Sandra Bullock fan! I'd love to see that! Okay, in addition to Community, what projects are you currently working on?
I do a voice on a cartoon called the New "Pound Puppies" on the HUB network. I play a dog named "Cookie"  and I filmed a role in the "Percy Jackson" sequel which comes out next March. It's been a busy summer so far. 🙂
Think Fast:
Silver or Gold? Silver
Heels or flats? Flats
Chocolate or Vanilla? Vanilla
Spice Girl Reunion or New Kids on the Block? NKOTB, baby! Lol!!!
Lipstick or Lip gloss? Lip gloss
Jeans or leggings? Leggings
American Idol or The Voice? The Voice…it's the chairs!!
Real Housewives or Love and Hip Hop? Pass 😉
Hahahah! NICE! Nice! Can you tell us, where can we find you online?
You can find me on Twitter, I am @yvettenbrown and Facebook. I also have a website, Yvette Nicole Brown!  www.yvettenicolebrown.com
Lastly, what does Curvy.Confident.Chic. mean to you?
Being comfortable in your genes…see what I just did there? 🙂