Who is Choklate? She is a talented neo soul singer who has collaborated with the likes of Drake, Blacksheep, De La Soul, and Eric Roberson- Seattle based singer, Choklate is a Curvy Fashionista to watch and most definitely listen to! She infuses her sultry voice with hard, progressive beats and very open and honest lyrics. She give you music you can FEEL.
I had the pleasure of chatting with her and she is such a gem! Sweet, sassy, and goofy, Choklate is amazeballs!
Please read on to learn about Choklate and what makes her quite fabulous…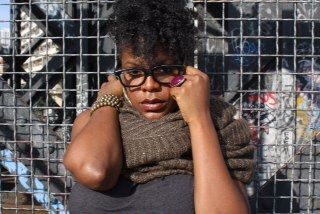 "All of the music that I make is from my soul."~ Choklate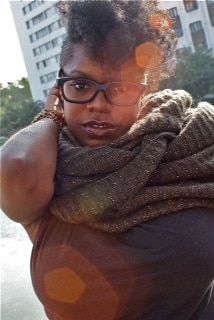 Hey darling! Thank you so much for taking the time out to chat with me a bit! How are you today?
I'm so awesome today! Some days are tough but today is a good one for business and relaxing and the sun is out! We here in Seattle CELEBRATE when the sun comes out. It's awesome.
So, I always start off my questions, what are you rocking today?
I'm rawkin a pair of Calvin Klein Boyfriend jeans, a Gentlefawn v- neck blouse and my rosette flats from Report. Accompanied by my favorite Skunkfunk 3 quarter inch trench…their line is AMAZING.
Okay so, before we delve into your soulful music, let's talk fashion! Are you ready?
I LOVE fashion! LET'S DOOOEEETTE!
Growing up, did you and fashion have a love or hate relationship? Please share!!!
Nah, I was pretty homely and subsequently quite the tomboy. I would rock a lot of FILA, Adidas, Nike etc. Sweat Suits and tennis shoes was my steeze. I was into dance a lot and drill team so this attire was suitable for those environments…I didn't get into fashion until much later.
Oh, okay! Miss Choklate, can you share who you are as an artist both musically and fashionably?
I am truth personified. I try to be as transparent as possible both musically and fashionably… I do what I feel when I feel it musically and fashion wise? I am rebel. I will make anything work. Anything that reflects the mood of the day.

Sometimes casual…sometimes glam, sometimes casual glam…depends on what I'm in the mood for. Musically I am very similar. I am ALL OVER THE PLACE! Sometimes I do r&b, rawk, folk, dance…just depends on what I'm into at the moment…

I love all sorts of fashion and musical styles so often I will try something or a new trend and put my own little twist on it. I enjoy playing around w/ it all.
With your love for soul music and your musical influences, how did this affect your personal style and fashion?
It didn't really. I don't believe truly that one has anything to do w/ the other. They are both honest forms of artistic expression and whatever you want or need to express at the moment is what you should do. Never deny the urge to express yourself in whatever form most accurately captures what you are feeling and want to convey.

I might be in a rocker chick biker vibe, but be singing soul music and I don't think one has anything to do w/ the other…they are both very independent and free expressions.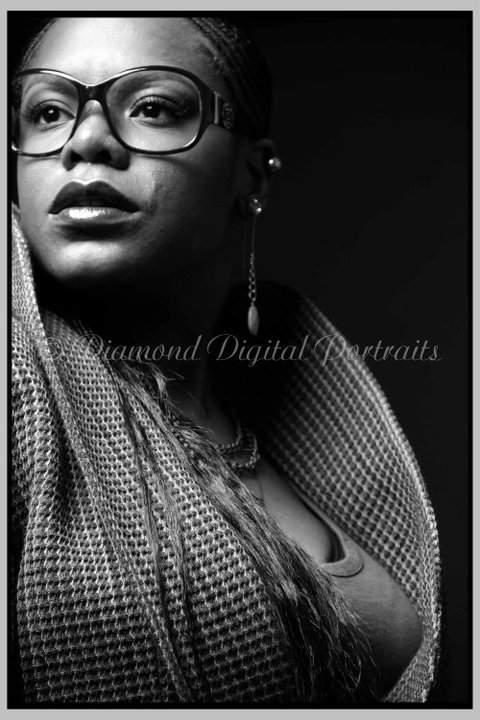 Now as Choklate, the ever so sultry and smooth soul singer, curvier, and as sweet as ever, how has your style evolved?
I've begun to delve into more high fashion looks, vintage and exclusive pieces. I like to stand apart from the crowd and define my presence w/ things that are understated yet bold. I've graduated from tennis and flats to pumps and stilettos… I LOVE a good quality shoe that makes a statement.
If you had a dream outfit or look, what would it be?
There are so many! That's impossible to answer. My favorite look now though is empire waist ensembles w/ a bad 6 inch stiletto or a cinched a line look… dresses and skirts and pretty girly fringes are my current fetish. Or I like hard lines, asymmetrical cuts…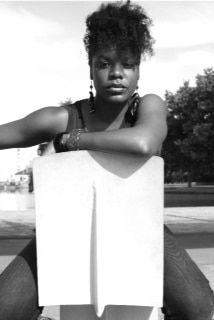 Hehehe, do you have a favorite designer?
I don't. I like them ALL.
Well! Okay! So, which plus size and curvier celebrity's style inspires you?
I would go w/ Queen Latifah. She is ALWAYS stuntin on them. Whether she's casual or glam, I love her style. Tocarra is another that usually nails it though she's slimmed down quite a bit since she first started.
Talking about inspirations, you have been in the game since 2006! First as an indie artist and now you have crossed over into mainstream with a track with DRAKE nonetheless!!!!! OVERDOSE is speaking to me right now!
LOL!!! yay! I'm so happy you like it.
Okay, so musically speaking, you grew up singing in the church. What musical influences do you draw from for your music?
I love Curtis Mayfield, Sam Cooke, Willie Hutch, Marvin Gaye, Donny Hathaway…the great men vocalists…I have a lower voice than most female vocalists, so I tend to like listening to and am inspired by these gentlemen…they are amazing.
On the soul end of the music, how do you think fashion as a curvier woman plays in the industry? Do you find it more accepted or welcomed in the soul genre?
I think so long as you look good and feel good and are confident, that in today's world works. We want to see strong and powerful women who are embracing themselves in whatever state their bodies are in at the moment. Just proud and happy and healthy. That's sexy.
In addition to Drake, what artists have you also worked with? AND who would you just DIE to work with (I know such an open question!)?
I've gotten to work w/ De La Soul, Chali 2Na, Blacksheep, and Eric Roberson. My dream list is always changing but it'd be awesome to work w/ CeeLo, Andre3000, Mos Def, Bilal, The Roots, Adele, Amy Winehouse (even tho she's got a bad rep she makes great music and has an awesome voice) Raphael Saddiq…I mean there are lots whose music I enjoy that it would be an honor to work with. Those are definitely a few.
Can you share what projects are you currently working on?
I'm pretty much done w/ my next record and still recording as much as possible. Whenever I can be writing and singing that's what I'm doing. Lots of music has been done and will be seeping out and being released here and there. We are hoping we'll have a fall release for the new record as well.
Where can we find out more about you Choklate and your adventures?!?
I am definitely an e social site junky… here are a few of my sites:

Choklate Online, Tumblr, Me Music, Facebook, Twitter, Reverb Nation, and Soundclick
Lastly, what does Curvy.Confident.Chic. mean to you?
It's those who walk in their individual shoes not trying to do and be anyone else but themselves and those embrace their curves unapologetically with passion and conviction. These are those who are Curvy.Confident.Chic.
With that. I am in Love all over again! Please check out the video above AND check out Chokolate's Links!
I hope you enjoy her as much as I do!