Last week I featured the lovely Tara Lynn for H&M's BiB collection, and happily I have more news from the fast fashion powerhouse JUST for the fashionably full-figured- if you can get your curves in them! HM Plus Size Fashion range, Inclusive!
Thanks for the love and tip from Pippa of Curvesmart, she shared with me the capsule collection sold only online (NOT IN THE US!). However, this does NOT draw AWAY FROM the divine beaute of this dreamy, floral, sweetness of H&M's Inclusive line featuring plus models, Lauren McKenzie and Robyn Lawley.
From H&M:
This spring H&M presents Inclusive – a one-off collection of colourful and feminine fashion with lots of attitude in a wider than usual range of sizes. The twenty pieces will be available in sizes 32-54 and will be sold exclusively through H&M Online from early March. The collection includes figure-flattering party dresses in 50's styles with large polka dots and rose patterns, as well as skirts, tops, cardigans and lingerie following the same theme
It looks like I need to make some pen pals in the UK quick (any takers?) in order to get my hands on a piece of this collection! AND FAST! Here is a tease of their collection coming in March: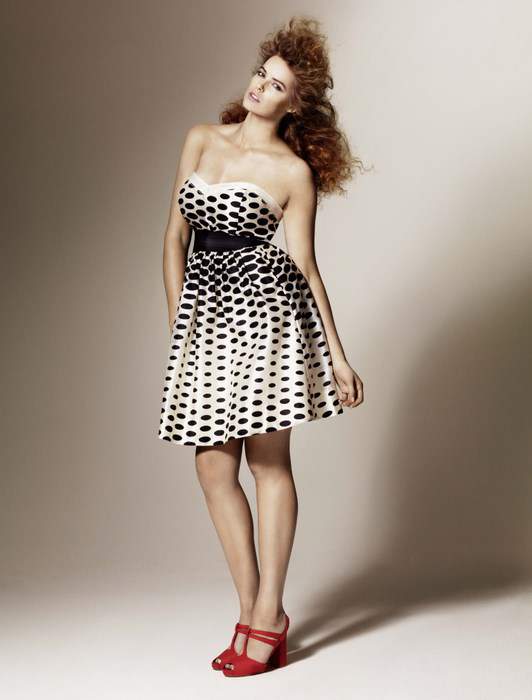 No word yet on H&M having their online collections available in the US- but for all you readers of The Curvy Fashionista overseas… you lucky ducks you! Which pieces are you a fan of? The items paired with this imagery have us curious and excited about what could come our way.
What do you think?
If this line was available in the US, would you be clamoring to get your curves in it? Would you buy it? How do you think HM plus size fashion would fare in the US? If done right, they could give quite a few brands a run for their money.