Can you believe it has been NINE years? YES. NINE. Monif C has been delivering to us contemporary plus size fashion forward options for NINE YEARS! WOOT! That is a feat that deserves a standing ovation and a round of applause!
The designer who consistently brings us inspirational editorials, lust worthy swimsuits, and dresses that call for your body to be in them is celebrating a milestone and I am honored that The Curvy Fashionista is here to help with this!
And to celebrate, what better than to do a giveaway right?
But this is not your basic win a dress giveaway- this is Monif C's biggest yet! Are you ready for this?
One lucky reader will score $900 to shop at Monif C Plus Sizes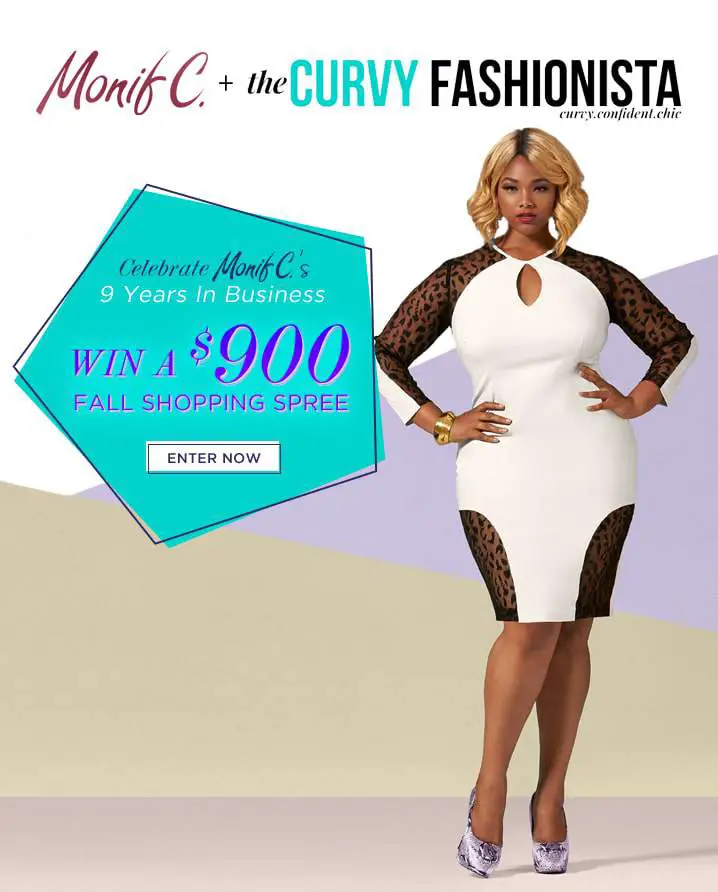 Yep. You heard me!
NINE HUNDRED DOLLARS!
Perfect for the start of fall season and for wear to work options or that perfect stash of fab dresses to have on deck- there is a lot that you can get on with $900  to spend on plus size fashions from Monif C! What does this look like? Well… Take a look:
VERA DRAPED BACK JUMPSUIT+ NORA SHAWL COLLAR BLAZER + BRENDA COLORBLOCK JUMPSUIT + ABIGAIL CROPPED RUCHED FRONT DRESS + HEIDI STRIPE YACHT DRESS
 
238 + 188 + 208 + 168 + 84
= $886
OR
GENEVIEVE ANIMAL PRINT MESH DRESS + MILA CROP SET + COLUMBIA CRISSCROSS STRAP SUIT + MONA BATWING DRESS + JANE DRAPED COCKTAIL DRESS + VIVIAN ZIPPER FRONT DRESS + MARILYN RUCHED CONVERTIBLE DRESS + 2" METAL PLATE BELT

188+ 198 +51.20+ 94 +84 +78 +161.25 + 46.50
= 900.95
Basically, you have choices and decisions!!!
How do you enter? Well, it is VERY easy! All you have to do is to do the steps on the form below! Each action earns you points! Are you ready? The giveaway will last ONE WEEK! Are you ready to enter? What are you going to list out? Let me know!
Good Luck!