Despite their $16B in retail spending, mainstream fashion has long ignored the plus-size customer.  As one yourself, which I assume you are since you are reading this blog, you understand that this is incredibly frustrating.  With thousands of different brands on the market that cater to women size zero to size 12, there is a gaping hole in the offerings for the curvy consumer leaving us wanting more and settling for less.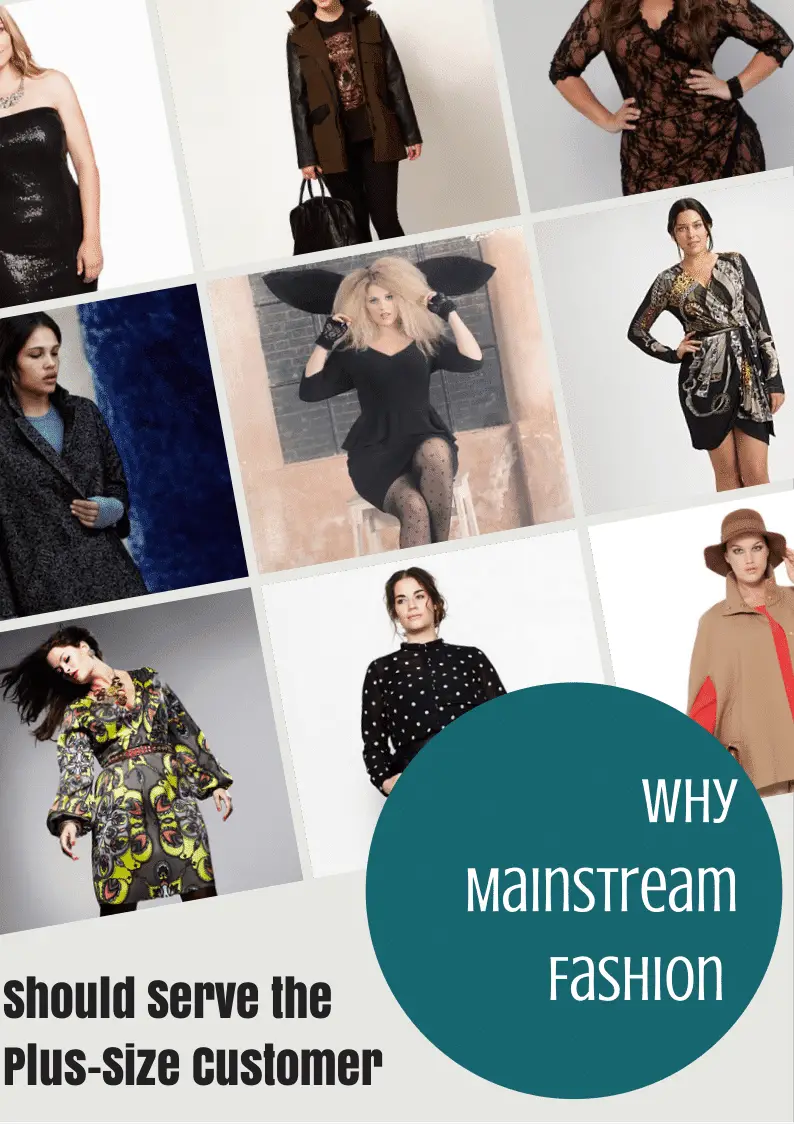 Though there are many tried and true brands, as well as emerging ones from the US and abroad, this is an issue of capitalism and not only has this has created resentment from the consumer; it has given the companies who have embraced this clientele's pocketbook an advantage.  Catherine Moellering, Executive Vice President at TOBE, a fashion-consulting group, put it best when she said, "There's a chunk of this market that is up for grabs."  Moellering went on to say, "There are a lot of dollars in these consumers' wallets that aren't getting counted. If you build it, they will come."
Statistics show that "Plus-size sales are poised to jump 5.2% annually in the next five years while overall apparel sales will climb a modest 2.7%, according to research firm IbisWorld. The category is expected to hit $9.7 billion by 2017, up from an estimated $7.5 billion this year and $6.6 billion in 2009".  ModCloth, which if you don't already know, is INSANELY AMAZING, recently received a major investment of $25 million, clearly an indicator that some people within the venture capital space believe in the power of our money.
Why Aren't More Companies Targeting Us, the Plus-Size Customer?
We may only make up nine percent of the fashion pie right now, but our business is growing.  With many plus-size lines available online as well as the newer online "malls" like Sonsi.com and OneStopPlus.com, we live in an age of options.  Long gone are the days where big box stores were the only ones that offered larger sizes.
The stores that have incorporated space to give us the brick and mortar experience are reaping many benefits.  Stores like Lane Bryant, Ashley Stewart, Torrid, Forever 21, Avenue and Fashion 2 Figure are serving us with a great hands-on experience.  While online shopping has opened many gateways and allowed smaller businesses to thrive and provide specialty garments, we want instant gratification and often feel more comfortable purchasing something after we have felt it in store.
I would highly encourage you to adventure with online shopping if you haven't already, though it can be stressful with returns, the options that are out there are amazing!  From lingerie to novelty items, ball gowns and more, there is nothing that isn't available online for us curvy gals.
One area that needs growth is the plus size luxury market.  With evidence like that of luxury brand Marina Rinaldi's and Elena Miro's successes, it is clear that there are customers willing to pay higher prices for quality and finer goods.  It would seem as though many of us can afford higher end pieces, but with Forever 21, Ann Taylor and Kohl's offering in store options in a wider size range that are trendy and affordable, we've become accustomed to paying less.  Lines like Jibri, Belle Rene, and Cult of California fight to make it in the competitive market, even though they are fashion forward, well made, and leaps and bounds above some of the other options out there.
How many of you prefer to settle for shopping at a lower price point simply to have that in store experience the skinny shopper has, as well as, the instant gratification of leaving with a package in your hands?
The Recommendation on Why Fashion Should Serve the Plus-Size Customer:
As someone who understands this industry, it is my recommendation that companies wanting to break into the plus-size market should look to the success of companies like ASOS Curve, ModCloth and H&M– whose sales figures are not public but are confirmed to be doing well, and the failures of companies like the Limited's Eloquii (though I am anxious for its resurgence).
Start small with this customer.  Offer us a blouse or two, a dress, even just a few pieces in a collection make her feel she is important to a business; it makes her feel her dollar is valued.  It is also important that we as consumers become educated on the fact that it isn't just about making the clothes bigger, there is much more to the equation of providing larger clothes to the masses.  There are patterns, grading, and samples that need to be made that are very different from the regular sized clothes.  This can be very costly for smaller companies and an area that even more seasoned companies do not want to spend in.  If more retailers could accomplish these two factors in a wider variety of sizes, they would be growing their customer base and financial portfolio.
While there are many challenges to doing a full collection or opening a store, if companies can hone in on what they are best at and work on developing it for us, there is much room for success. Wider size ranges mean a wider customer base.  For stores that only offer plus-size clothing, this is an advantage for us, who have been discriminated against in the past or told nothing will fit them.  Have you ever had a negative experience in a straight sized store?  Having a storefront or a plus size boutique dedicated to us helps make it an easier and less stressful shopping experience for those of us who are so often marginalized.
Wet Seal, a formerly straight size only company launched plus-sizes this year and even opened up a tester store of only plus-sizes.  This is a fabulous example of a retailer seeing this opportunity and maximizing it. Overall, it is important for brands that recognize the potential this market has to realize that a relationship is being developed.  Lena Bryant understood that when she agreed to make a dress for a young pregnant woman, that dress led to the empire Lane Bryant is today.  The power of one small action can have plus-sized results.
Which stores would you like to see branch out into plus?
Marcy Guevara is a fashion stylist, plus-size style expert, and the charming on camera personality helping women of all sizes feel amazing in the skin they're in. You may have seen Marcy hosting, "Big Girl in a Skinny World," the YouTube series from Marie Claire or Lane Bryant Fashion TV. As her influence and power is transpiring in the world of plus-size fashion, you may also see her on shows like Rachael Ray and The Dr. Oz Show.  Keep up online with Marcy at www.themarcyminute.com or online @themarcyminute.