I don't think you are ready for this. Not for this amazing Isabel Toledo for Lane Bryant Collection. Nope you aint ready…. Or are you? A few months back I shared with you my excitement about this announcement, the news, ideas, and thoughts I had about this collection! And guess what???
We got a tease of what is to come! And it is nice… soooo nice.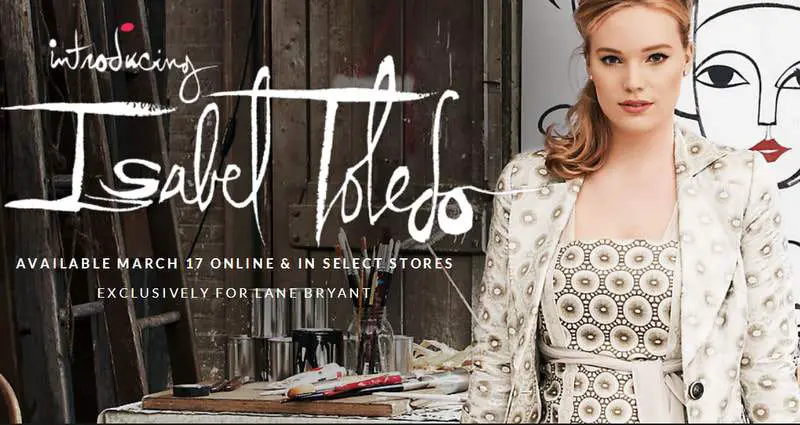 I first saw the People Mag layout of the collection knowing that it was going to stun, but ummmm this? I am quite impressed with them. Think ladylike, sophistication, reminiscent of First Lady Michelle Obama, all with a little bit of an edge… or I see the edge in this. (I think I try to find the edge in everything though) Full of spring trends, metallic, lace, and black, it is good and I cannot wait to see in real life.
Any who, let me show you!!! Thanks to the tip from Plus Model Mag, I am able to share this with you! I am soooo damned sad that I could not be in New York for the Fashion Show (having less than a 10 day lead to buy tickets, don't make it possible) that I was looking forward to! (I have a few thoughts here, I will share more)
First Look: Isabel Toledo for Lane Bryant Collection STUNS
See what I mean? How gorgeous is this range? How amazing is this collection that has us daydreaming of fancy work attire, high tea events, or you know, whatever!
The full capsule collection, Isabel Toledo for Lane Bryant Collection launches on March 17! That is just in …. Days!!!!
You can check out the collection now, at Lane Bryant! They have a teaser and a full preview! You are going to love it!
Visit Isabel Toledo for Lane Bryant Collection Here
HOMIGAWD. Available online and in select stores, we have two days for the collection to go live! Maybe I will make a trip out to the store on Sunday! I think so!
I am really hyped about this range! Which pieces are you waiting for and HAVE to have? Make sure you share this with all your girls looking for fancy options!