"TREAT YO SELF"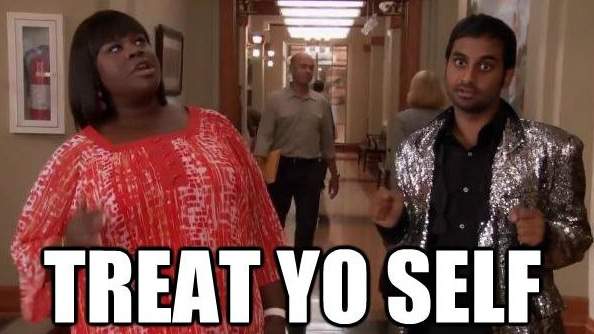 A phrase that has echoed across the internets ever since Donna Meagle so colorfully exclaimed on Parks and Rec. A character so vivacious and memorable that she now has tumblr page dedicated to her. But who is the woman behind the ever so sassy, playful, bold, and confident Donna Meagle?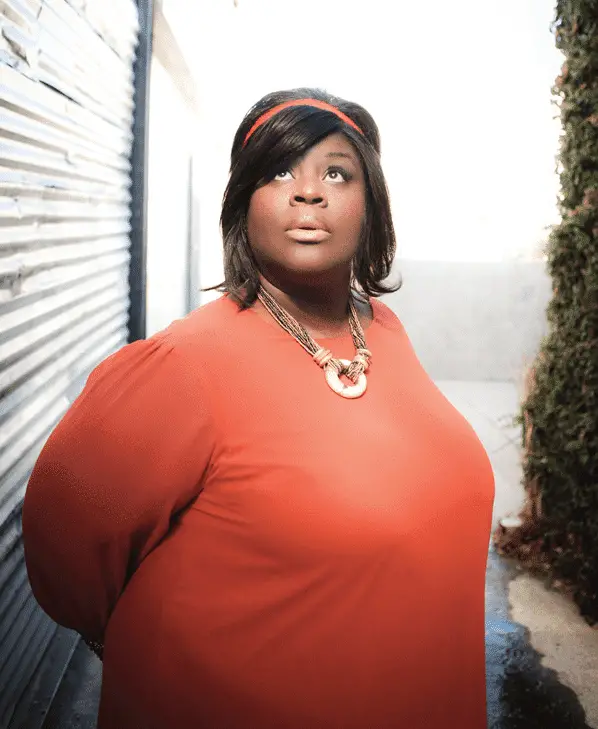 Meet Marietta Sirleaf, affectionately known as Retta, or @Unforettable on twitter, the stand-up comedian and actress who keeps us laughing and giggling on TV and on social media. We recently had the PLEASURE of interviewing Retta and I am really excited to share JUST a bit more about the woman behind Donna Meagle…
Before I go on, I have to share the most recent and hilarious clip from Retta on Conan, JUST in case you are unfamiliar with her funny ways…

HILARITY. Right???
Please read on to get up close and personal with Retta from Parks and Recreation:
Thank you so much for taking the time to chat! First, let's kick things off with who and what you are wearing today?
I just got hip to Asos.com. I ordered about 12 dresses a few weeks ago and kept 7. I've also been very into Simply Be as of late. There are some really cute designs from there.
Your twitter feed is hilarious! I love that you interact with your fans. What's the craziest tweet someone has sent you?
A few years ago I received 2 different tweets which included photos of tattoos that said "Treat Yo Self" This was not long after the "Pawnee Rangers" episode (which introduced, Treat Yo Self) and we knew that the phrase had actually made it into the zeitgeist.
You are hilariously known on Twitter for your TV show recaps. On what TV show, other than Parks & Rec, would you want to be a character on? And Why?
I get this question a lot and couldn't possibly limit it to one so here are a few of my top choices:
I'd like to be a rival fixer to Scandal's Olivia Pope. Clearly she would kick my ass but it would be worth it if I got to chew on a monologue that was comparable to those of Joe Morton's.
I'd like to play Hannah Horvath's co-worker on GIRLS where I get to react to how insane I think she is but I give her advise she can use. At first the audience thinks she's just one of the stock "magical negroes" we find in films, but you eventually find that my character has a great deal of depth and a rich full life. And I get to be funny as shit.
Lastly I'd like to play Will Gardner's love interest in 'The Good Wife,' who is a diva to destroy allllll divas. She loves sex, designer labels, 5-star resorts and has passion for expensive sports cars.
BWAHAHAH! I love it! Well, here's to you and your aspirations! We are rooting for you! Okay, so tell us, how did you get into comedy? How and when did you first know you were funny?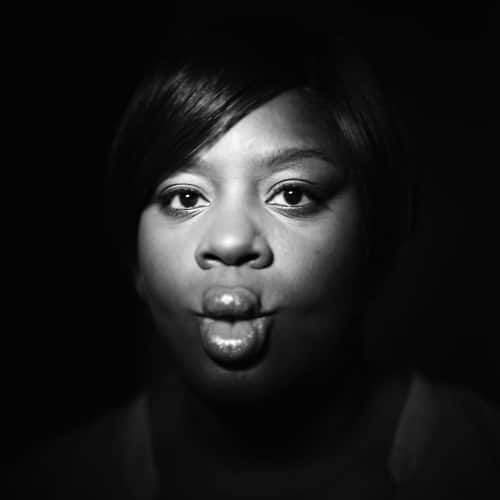 I was always funny ,I guess. I loved to make people laugh. It started when I was in grade school. I was always a good student and all about school. Good grades were the most important thing to me. It wasn't until after college that I realized that performing was kinda what I really wanted to do. I decided I wanted to have my own sitcom. At the time all I knew was that stand up comics got their own shows, soooo I started to do stand-up as a means to an ends . . . that end being The Retta Show. Ha! (Still working on it)
Hey! Get it!!! I love it! Okay, soooo where has this comedic road taken you? Where have you performed?
I have mostly toured the colleges. I've performed at the Montreal Comedy Festival. I won the 1st Comedy Central Stand-up Competition. I've done stand-up on Comedy Central's Premium Blend as well as my own half hour special. I've done stand-up on The Late Show with Jimmy Fallon and appeared on Conan O'Brien, Arsenio Hall Show, The Soup and Comics Unleashed.
Yeah. You are hilarious!!! But you had to be inspired by a few greats! Who were some of your comedic influences? Or who have you dreamt of opening for?
When I first started to do the open mics, I used to watch Chris Rock's Bring The Pain as inspiration. I eventually had to stop doing that because I found myself mimicking his cadence/speech pattern. I emulate Chris's career as well as Jim Carrey. I'd love a combination of their careers. I don't really want to open for anyone anymore. Strictly headliner status.
Claim it!!! When you first got to Hollywood you were doing stand-up. Do you still do (or want to do) shows?
This is the first year in forever that I've been able to get back on the road. My tour schedule isn't what it used to be, just because I simply don't have the time to be on the road. BUT I've been able to do a few colleges and it's been cool. I've got 2 more shows coming up. March 24th at UPenn and April 22nd at University of Kansas.
Okay, okay, tell us, do you prefer stand-up or acting?
I prefer acting because I like to work off of others and I like staying put. Life on the road can be lonely, tedious and tiresome and I ain't 'bout that life no mo'.
Let's talk stereotypes. How have you dealt with what comes along with being plus size and a woman of color in Hollywood? Hollywood is known for throwing shade on both.
Ha! Life as a plus size actress CAN be a shade-ful one. But as far as I'm concerned, everyone's got their struggles. There are people overcoming greater adversities than I. It's my job to find my happiness in whatever situation I find myself. If I get bogged down in "poor me," I'd never get shit done. I'm already a slacker as it is.
You are speaking truth here. What is it like working on Parks & Rec with such hilarious and talented people? I imagine lots of takes due to joking around on set.
Parks is definitely the most fun job I've ever had. I like the show. I love my coworkers. They are funny and talented. We definitely have a good time. It's also a great learning experience. I'm not really an improver and working with such great improvers (especially Amy, Chris Pratt & Ben Schwartz) has been my own personal master class in this specific field of comedy. We sometimes laugh until we cry and those are the sweetest tears one can experience.
Your character. She is a hoot! In what ways are you like your character Donna?
I am like Donna in that I know what I like. I have expensive tastes and I'm slightly boy crazy. We differ in that Donna has had much more success in acquiring her favorite things.
Hehehehe. I get it! I know you have been quoted in wanting more love for Donna, can you share your dream or ideal situation here?
I feel Donna has sowed more than her share of oats (wild or otherwise) so I'd like to see her actually find love. That crazy "I don't give a shit what y'all are doin' cuz I got me this MAN rightchea" love.
Ohhh? Who would be your dream on-screen love interest?
My dream on screen love interest is taller than me and helluh sexy. I think Donna would do well with someone I like to call chocolate magic: Your Idris Elba's, your Boris Kodjoe's and the like.
MMHMMM. I am right >>here<< with you! Let's switch gears into fashion! When it comes to plus size fashion, what are your thoughts on its growth and evolution?
I'm not exactly sure of the growth and evolution of plus size fashion because I never really knew "fashion" per se. I only recently (within the last 4 years) started wearing DRESSES. I never thought I could look good in one. Once I realized I had way too many red carpet events to rely on my jeans and track pants, I had to pay attention. I'm alittle disappointed in the decline of plus size departments in department stores. It's really self-defeating to stand among all those gorgeous clothes in Bloomingdales, ask for the PLUS dept and be told (in not so many words) that we don't really service your part of the population. It's depressing. I am however grateful for all the online opportunities I've encountered. There are some really good designers out there. I just need access to more high end designers cuz sometimes big girls want their princess moment too damn it.
SAY IT! Designers, are you listening??? Okay well, who are your go-to designers for red carpet events?
I have worn a variety of designers on the red carpet. Rani Zakhem did my Emmy dress and I have bought & worn many Igigi gowns. I got my first Marina Rinaldi for HBO's Emmy party last year. I would love to have something made for me by David Meister and Christian Siriano.
You have some great picks there! How would you describe your style?
I think I have a classic style. I'm not that adventurous in my clothing choices but I do love bright colors. I think I look good in bright colors but I also like to wear white. I JUST got into black. I now get why some people wear so much black . . . it's just so easy to match and it goes with errrrrrrthing.
Okay, what is next for you? Do you have any upcoming news to share?
I've got a few irons in the fire, but nothing that I can really talk about due to contract reasons. BUT!!! As soon as I know so will yoooouuuu. Hahaha.
YESSS ma'am! We will be anxiously waiting to hear! Well, then, where can we catch you?
I am @unforettable on Twitter and Unforettable on Instagram and my FaceBook fan page is Facebook.com/unforettable!
THANK YOU SOOOO MUCH RETTA for taking a few moments to chat it up! I seriously adore her and cannot get enough of her!
What did you think of the interview? Are you a Parks and Rec Fan? A Donna Meagle Fan? A Retta Fan? Leave your thoughts and love below!!!