If you haven't heard of Elle Baez yet, you will definitely a new fan after hearing her latest single- and The Curvy Fashionista has the exclusive music video premiere!
Before we get into the music and shaking our booties with her new single "Better With You" all weekend long, let's learn more about this talented Latina powerhouse!
Elle Baez on her new single, Latinx upbringing, and what's next!
Mayra Mejia: Okay, so let's get right into it! Tell me about your new single-is it based on like true story?! *laughs*
Elle Baez: The song's called Better with You, And it's definitely femme power narrative, like where I'm telling the guy that I'm better for him than a girl that he had just broken up with -which is a true story! So I said screw this, I'm gonna write this song to get my feelings out, and it's basically what I should have said to him in real life. *laughs*
But yeah, I always write all my songs from real experiences, and I usually write them very much at the moment, while I feel that raw emotion.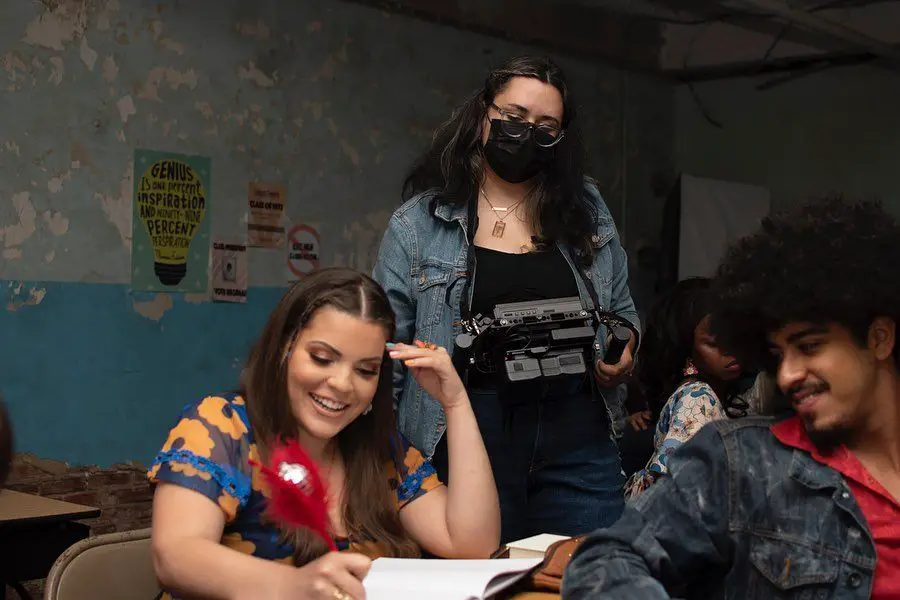 Mayra Mejia: So I want to know what made you want to become a singer/songwriter. Is this something that you've wanted ever since you were a kid?
Elle Baez: So, I have been singing since I was like a baby. I grew up in a very musical family. My dad was a DJ in the 70s, and my mom is an artist. She did mainly fashion design and stuff like that, but she also was so into the arts so she would sing and dance.
My whole house would listen to literally every type of music under the sun and dance to jazz, disco, and Latin music. I just grew up around so much music, and my Abuela was a singer too. Unfortunately, she passed away before I could meet her (before I was born), but I heard that she had an amazing voice. My older sister sings, and my older brother plays drums, too!
Mayra Mejia: Omgosh! You come from such a creative, artistic family! That's amazing. I'm sure they definitely support you and are like your biggest cheerleaders right now, too!
Elle Baez: Yeah, I would say my parents are huge, huge supporters and like have believed in me and have allowed me to follow my dreams my whole life, which I'm really, really blessed for. And, yeah, I started getting into performing into theatre, mainly as a child I would do fun shows all over the place like anywhere I could perform I was auditioning and doing it. And I was taking classes for singing and dancing and acting.
So I ended up going to NYU for musical theater, and I did theater there for four years. And I mean… my whole life, especially at NYU, I just dealt with a lot of fatphobia very consistently. And through all of that, I just decided that I didn't know if the theater world was where I was going to be able to be because I wasn't going to continue to shrink myself to fit into their boxes.
Mayra Mejia: That's awful! Unfortunately, I hear that a lot. There's so much fatphobia in general, but especially in spaces like musical theater and opera. It's terrible.
Elle Baez: Yeah! I was like, you know… I write my own music, and maybe I can do this on my own! That's when I discovered the indie music world, and I started recording and putting out my own music, and I decided to make my message body positivity and make that my goal with what I'm doing. Because if I had that growing up, I would be in such a different place right now. It just became kind of like my calling, and I think I had to go through all of that to get here now.
Mayra Mejia: I'm glad that you were able to turn that experience into a positive one and use it to motivate you! Speaking of positives, let's talk about your latest music video and the story behind it! It's a super 70s vibe, super playful, and fun! Where did you come up with the concept?
Elle Baez: Yeah, so it's actually funny because my director Gabriella Concepcion, she's one of my best friends in the whole world. She and I had a plan to do a music video that was gonna be like a club, a 70s disco. Then we had a meeting, and I was just like, that's amazing, but I want to do something more unique and something that has more of a storyline, and that has more of a surprise.
I was like looking at my lyrics, and I felt like many of my lyrics had references to teaching. So like I literally say like, I'll teach you, and I say it in Spanish too. So I was like, I feel like we could set this in a classroom and make it fit in that world. And then if it's a 70s classroom, we can then transform it into a disco at the end!
Check out the talented performers involved in Elle's latest music video!
The Curvy Fashionista Prremiere For Elle Baez's "Better With You"!
This song is definitely gonna be on our summer jam playlist! Wanna download the song for yourself? The song is now available on all streaming platforms, including Apple Music and Spotify!
Wanna hang out with Elle? Follow her on Instagram! She will go live on July 9th to celebrate the release of her new single and even sing a song or two live! It sounds like the perfect way to bring on the weekend to us!
Let us know if you're loving this song and music video, too!