Absent her regular showing at Milan Fashion Week, Elena Miro still delivered. The collection brought high fashion to the sophisticated, discerning, and fashion forward plus size woman. With a fall collection true to her core, Elena Miro showcased during Milan Fashion Week. The Elena Miro Fall 2011 Collection gives us all of the feels. For those of you who love a dark mood, you are in for a treat!
This season, however, Elena Miro changed things up a bit with their new social media presence. Presenting a live feed of the collection on Curved Italia with Elena Miro, they allowed YOU the chance to give feedback about the collection. Not only that, you could chat with other fashion fans, vote for each piece, and tweet your favorites!
If I were a high powered executive, a lady who lunches, or a blue blood socialite (read: UBER SOPHISTICATED and CLASSY) these would be some of my go to looks…
Our Favorites from the Elena Miro Fall 2011 Collection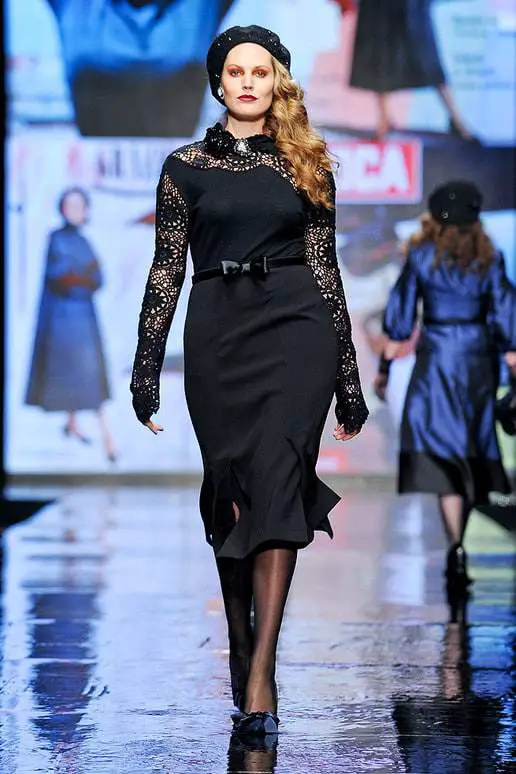 For Fall, Elena Miro opened up with hues of blue, gray, and wine all accented with lace, fur, sequins, and sheer. Tailored suits, ladylike coats, mid calf skirts and high-waisted pants drew elements and inspirations of a lady-like era. As one of our leading designers who have crossed over into mainstream fashion, with exquisite execution and a distinct perspective, Elena Miro's Fall 2011 Ready-to-wear designs inspire.
Elena Miro is only available in one place in the US! Where?
Lisa Todd! A boutique in Coral Gables and Boca Raton in Florida! This Boutique specializes in "Casual to Couture" from sizes 12- 24! They ship worldwide and offer personal shopping services! I am not sure if they STILL sell Elena Miro, but they are the only place I KNOW of that HAS carried her collection!