Oftentimes, brands think of inclusive beauty, and there's only one perspective. But Denise Bidot's Olay commercial seeks to change that. More and more faces of color are seen in major beauty campaigns.
But it's high time size inclusivity be recognized, too.
On Jan. 13, Olay unveiled its newest commercial. The ad features plus size model Denise Bidot who shows how she uses the brand's Olay Wrinkle Correction Serum. While the ad discusses (and addresses) Bidot's "tired skin" with the serum, the model's ad spot means so much more than a simple skincare solution.
Bidot's Olay commercial is part of the brand's Face Anything campaign. Plus, it's a prime example of pushing the envelope forward for inclusion.
More often than not, when we see plus size people in campaigns, its typically within the realm of fashion. Now that brands are paying attention to body types, its high time, we shift fat visibility into other industries.
Denise Bidot's Olay commercial is another milestone for the model. Bidot's been making history since 2014 when she was one of the first plus size models seen during NYFW. She set off an inclusive campaign "Beach Body. Not Sorry" Campaign with Swimsuits for All in 2015. Plus, she's been a player in Target's designer collaborations with Lilly Pulitzer, Adam Lippes, and Marimekko.
Plus Size Women in Beauty Is Rare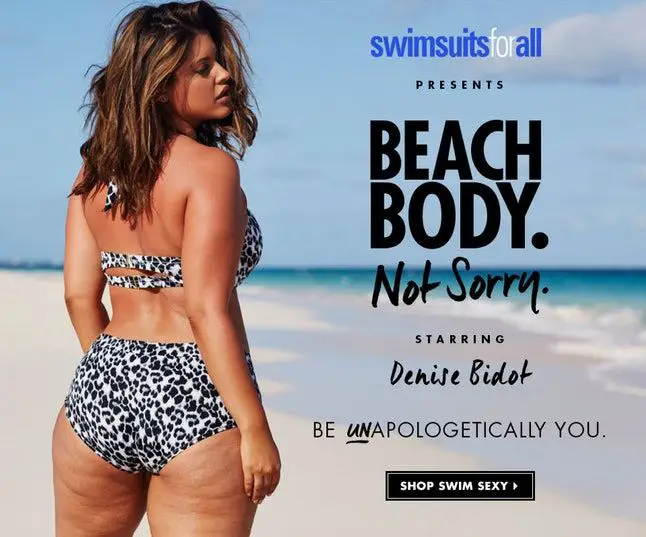 Queen Latifah has done beauty campaigns for CoverGirl, Lizzo proudly wore a swimsuit in her "Juice" campaign for Absolut. And most recently, plus size (and then-pregnant) model Lydia René for Ulta.
Ultimately, the visibility of plus size women (especially women of color) in beauty campaigns — or anything other than fashion — is still fairly scarce. Seeing bigger fingers and a fuller face wearing natural makeup on a Latinx woman is something we don't see every day.
And as a society, it's time that notion change.
Have you spotted Denis Bidot's TV commercial spot yet? What do you think about it? Who do you hope to see doing more ads in 2020?
Tell us all about it in the comments!