As fat girls and women, there's so many places in fashion where we're consistently told we don't belong. It's either we're being told we don't belong or there's literally no room ever made for you to exist there. That's where Thick Laces comes in.
But… let's back up for just a second…
Stop reading and go to your Instagram and explore some sneaker content. Now, count how many times you see fat women represented there.
Even though Black women have helped to build up sneaker culture, urban brands, and streetwear, the culture has often not centered their image and needs and they especially haven't been excited to include fat and other marginalized bodies.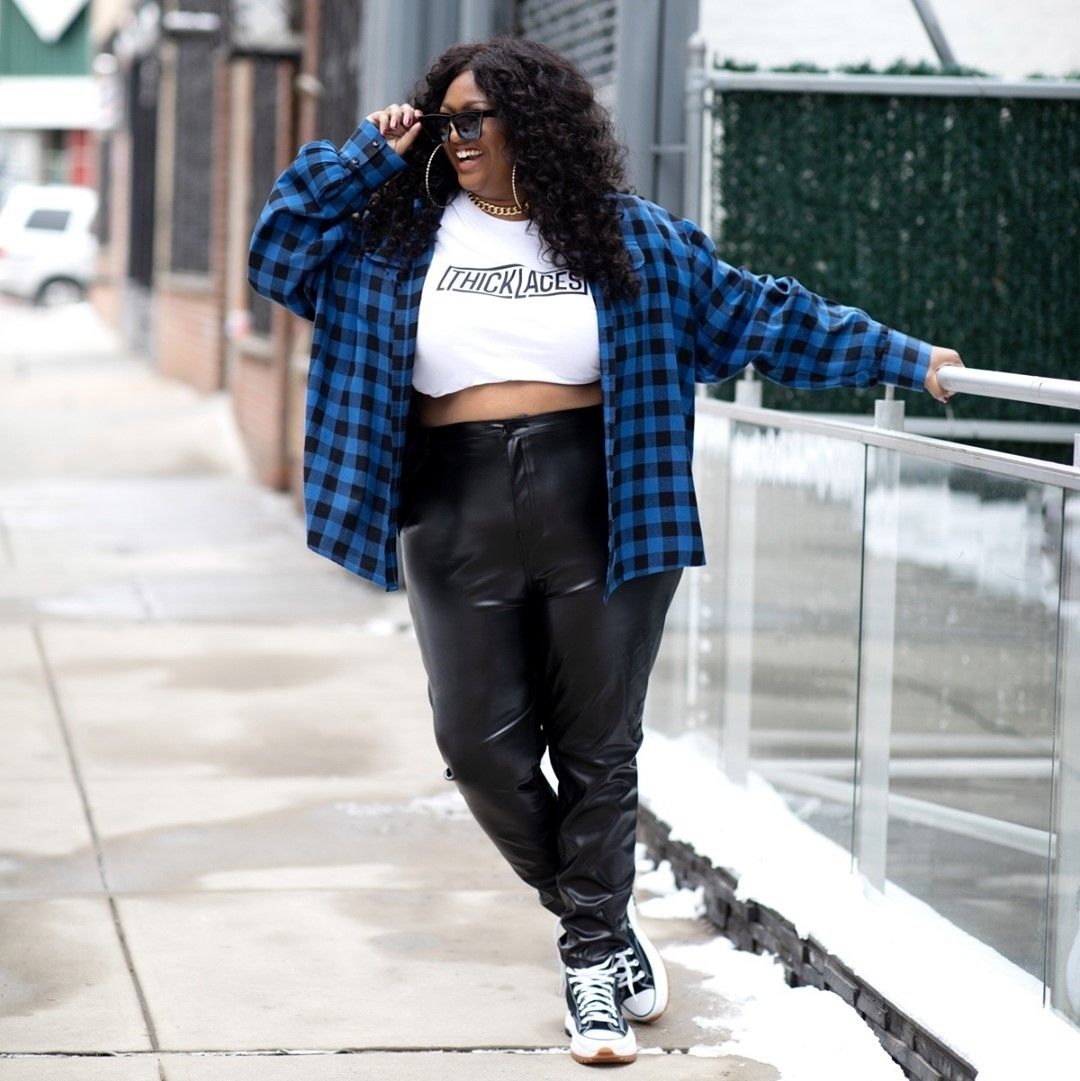 When I was younger, I loved sneakers so much. At one point, it was the only way I could jazz up my uniform outfits in middle school and showcase my own uniqueness and style.
However, other than people I knew and Missy Elliott, I never saw fly fat girls or women in entertainment or the sneaker world rocking their kicks. I eventually chose to put them on the back burner as I got older eventually associating them with not being "feminine" enough.
So often plus size women have to heighten their femininity to just be seen as women and for so long sneakers were not included in that exploration of feminine.
Fast forward now to 2021, and there's an entire platform dedicated to plus size women in sneakers and streetwear.
I. AM. LIVING!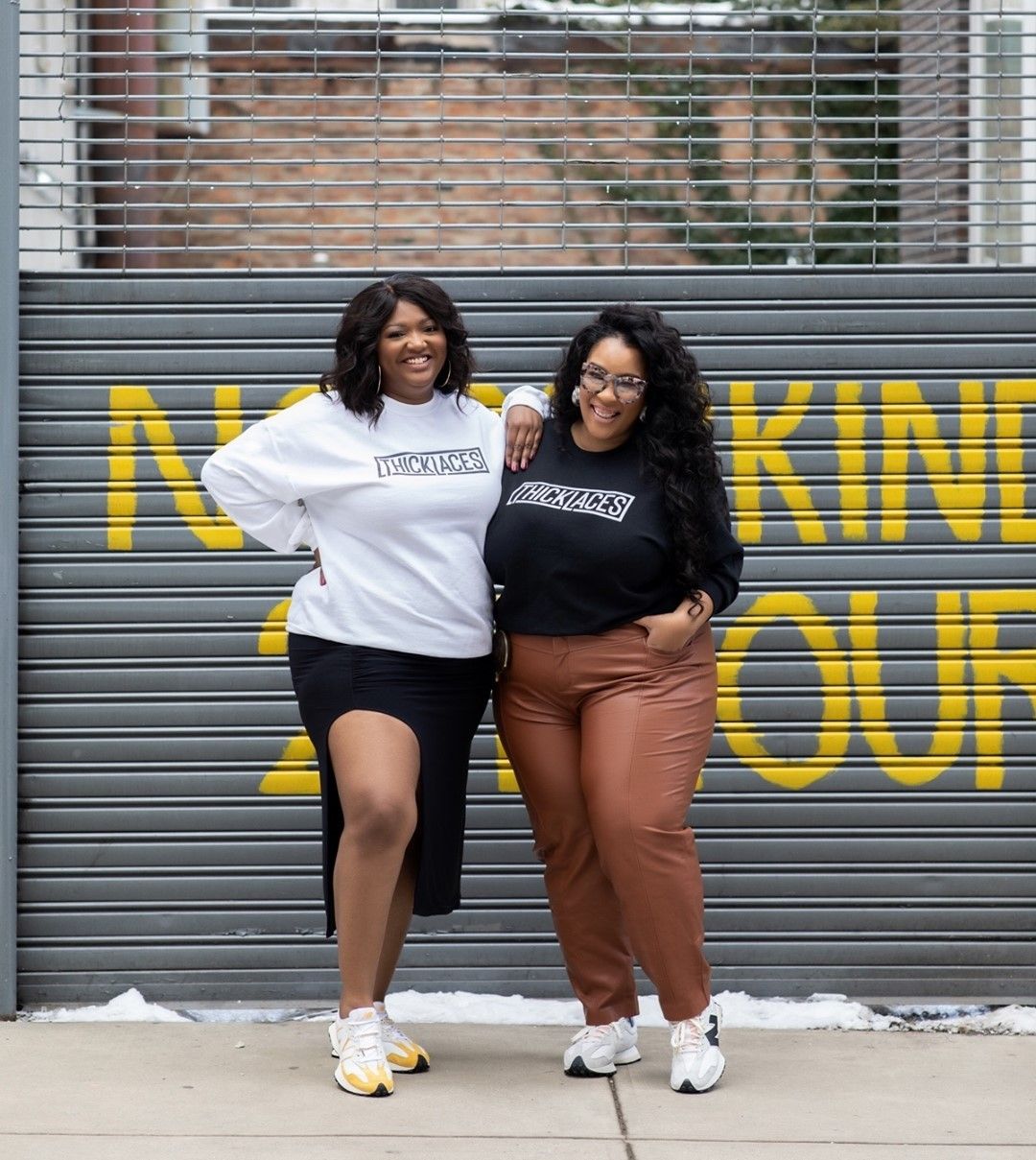 Enter Thick Laces
Thick Laces, created by Essie Golden of @EssieGolden and Katie Alexis of @KurvyKatie, is a community for plus size women who love kicks and streetwear!
Thick Laces was founded in 2019 and like many communities and brands these days, it started as a hashtag and grew into a vibrant and exciting community of plus size women sharing their love for sneakers and streetwear.
The new digital community is committed to empowering plus size women to embrace sneakers, streetwear, and all of their uniqueness they bring to it. If you're looking for sneaker inspiration, how to style your favorite pair of kicks, the best places to shop for your sneakers and streetwear, Thick Laces merch, and everything in between, the newly launched Thick Laces has you covered!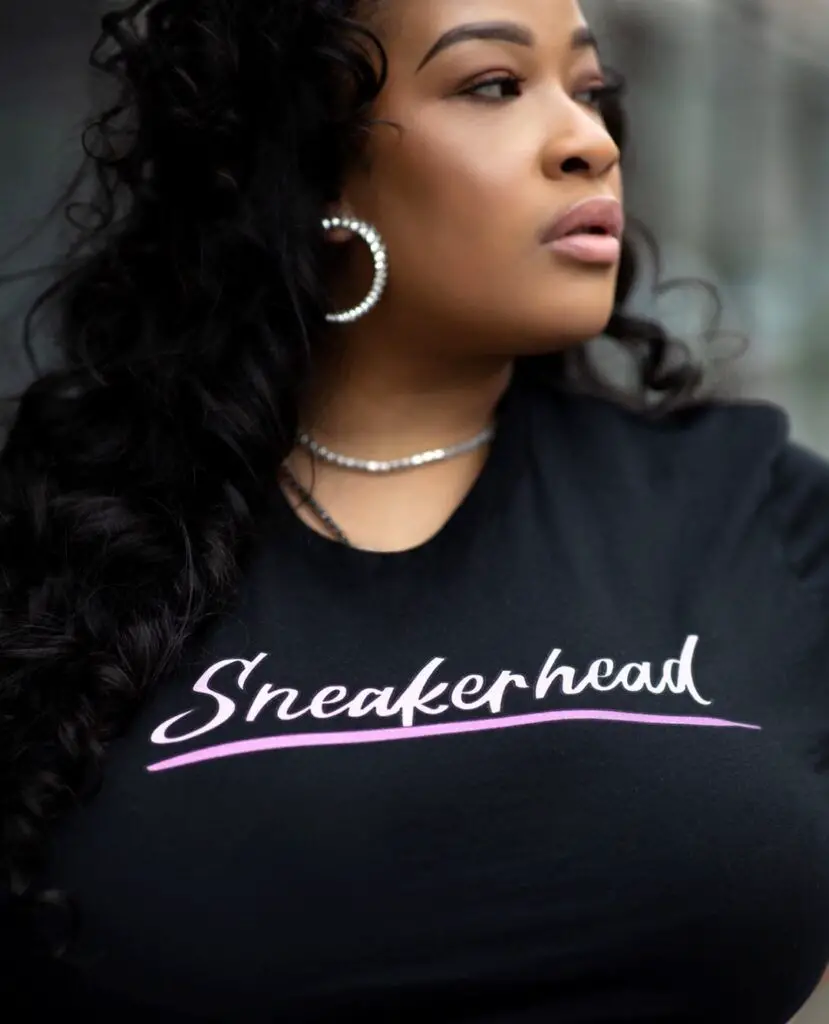 I was so honored to discuss Thick Laces with co-founders Essie and Katie as they shared their plans, visions, and dreams for their digital community.
Essie, who is an OG plus size blogger, body positive advocate, founder of #GoldenConfidence, and plus size model shared that when she did a deep dive into sneaker representation on the web: "Plus size women were basically nonexistent." Essie continued, "Thick Laces came out of a place of being true sneaker lovers and wanting a space where we could see ourselves."
She let us know about people sharing with her that they viewed sneaker culture as being intimidating and that Thick Laces helped to usher them into being comfortable, celebrated, and accepted.
Sneakers aren't feminine or masculine. We hope our platform shows that you can be confident and wear what feels good for you.

Essie Golden
When asked about what advice they have for plus size women who are scared to wear sneakers because of the innate hyper-masculinity of bigger women, these co-founders want fat women to get out of their own heads! "It's so many ways to style sneakers with accessories and your outfit to center your femininity" says Katie.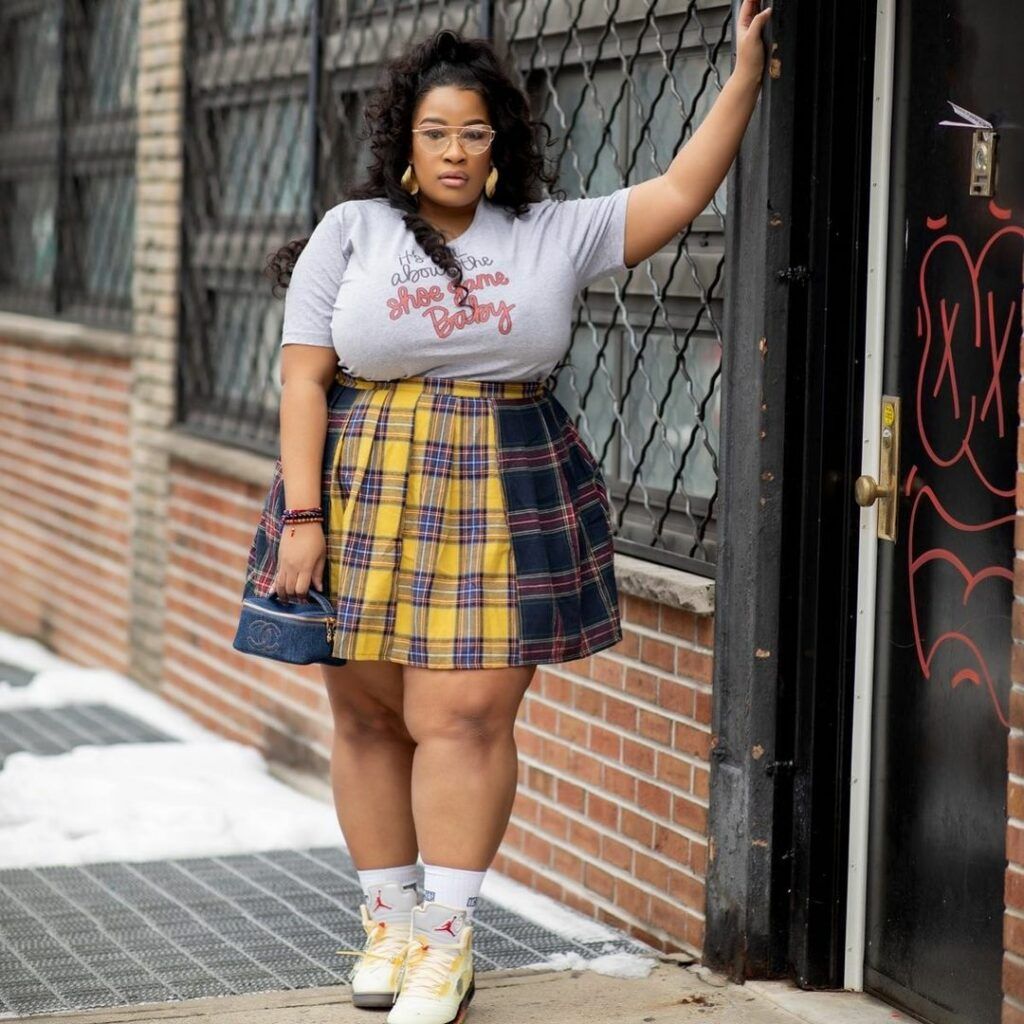 Essie then chimed in, "There's also so many masculine representing plus people who aren't represented in sneaker culture. We should just worry about looking and feeling good. Sneakers aren't feminine or masculine. We hope our platform shows that you can be confident and wear what feels good for you."
As someone who is also learning to throw the binary away and be comfortable in my skin, this was advice I hope is helpful for any plus size person entering the sneaker world.
What's Next For Thick Laces?
…Sky's The Limit!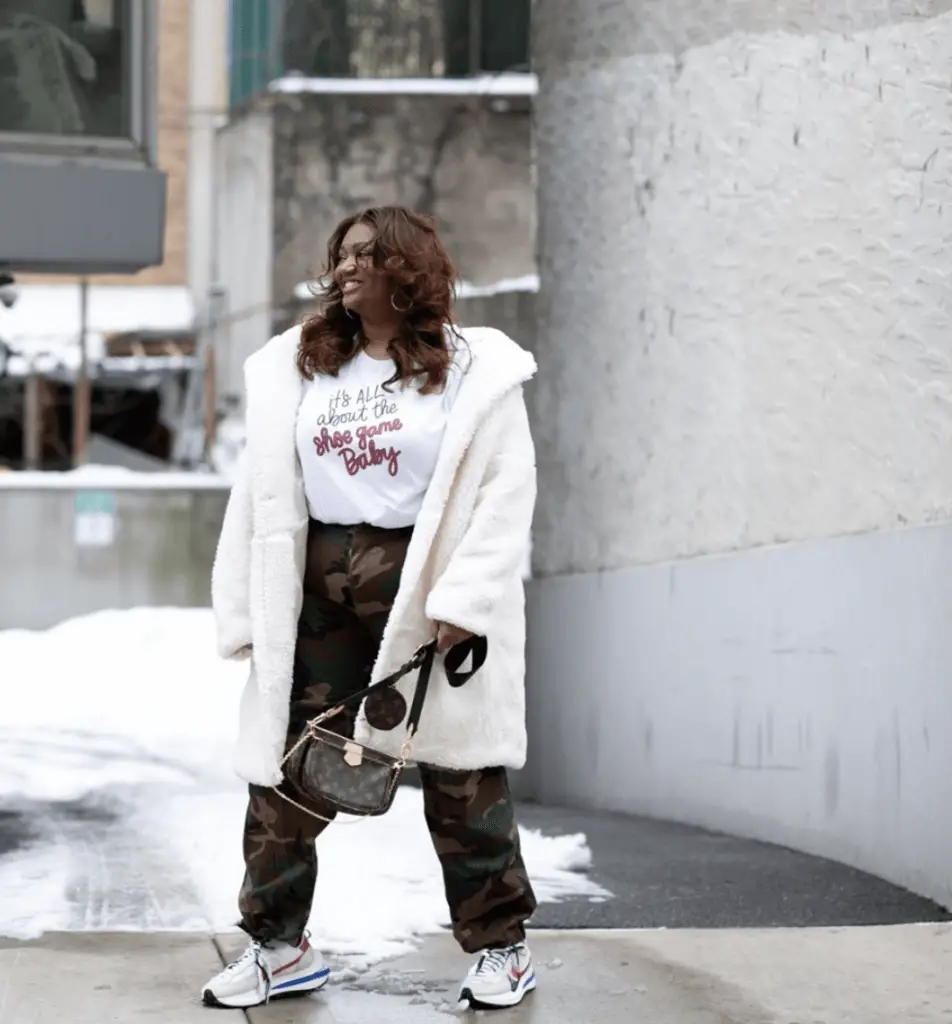 Katie, sneaker enthusiast, Army veteran, and digital creator, shared that their vision changes every day. While Thick Laces started as an Instagram page, both co-founders knew it was destined for so much more.
"There's plus size women who want better clothes, better styles, who want to be included in sneaker culture and street wear and be taken seriously in these spaces."

Katie Alexis
Thick Laces hopes to one day partner with Nike for a collaboration centering the inclusivity of all marginalized bodies in sneakers and athleisure. They hope to continue spreading the awareness and empowerment of plus size women in sneaker culture, streetwear, and be taken seriously in fashion and sneaker venues.
And if you're new to Thick Laces and sneaker culture, don't worry I asked that question too!
Katie and Essie suggest you do NOT buy the hype sneaker or the resale. Instead, you need a pair of white AirForce 1's, Air Max 95 or 97 in any color you like, a classic pair of white Reeboks, or low-top Converse.
Head over to Thick Laces now and check it out, join the movement, and get all of your sneaker and street culture style inspiration, merch, and styling advice.
I look forward to watching Thick Laces grow and become a cornerstone for all plus size women and people looking for representation of themselves in the sneaker world.
Thick Laces is doing what needs to be done!