Over the weekend while I was at FFFWeek, a new high-end plus size collection dropped- one that I have long been anticipating and so have quite a few others! If you happen to be a gospel music lover, like me who grew up in the COGIC family (Hey New J, West A, and Life COGIC) then you are aware of or are familiar with award-winning gospel singer turned fashion designer, Kierra Sheard! Over the weekend, pre-sales launched for her new clothing line, Eleven60 by Kierra Sheard!
Daughter of famed gospel singing group, Karen Clark-Sheard of the Clark sisters, Kierra named her debut clothing collection, Eleven60, named after her mother's birthday, November, 1960! How cute and sweet, right? Well, interestingly enough, this is not the first apparel project under Kierra's belt. Nope!
Did you know that she had a hosiery line sold exclusively to Walgreens named Sheers by Sheard? Yes! Love it. The Grammy and Stellar Award winning singer and judge on "Sunday Best" brought her line of "hosiery for curvier women" to the Chicago and Houston Walgreens, so business is in her blood and I salute her in her drive and mission to bring fashion and inspiration to the plus size woman!
Kierra has often shared the impetus for the brand, touting how difficult it is to find "quality and high fashion trends in my size." And this is why Eleven60 was created! She wanted a collection that featured her favorite elements in her frocks in a market where there is a need for more modern and high-fashion options in contrast to the overwhelming supply of casual, club, and streetwear options.
Vegan leather. Lined items. Bold Peplums. I am here for this.
But back to the clothes! Let me share the look book ad images with you! Sketched by Nicole Updegraff, and modeled by Kierra Sheard, Amber Riley, and my boo Cass, there are a few that I NEED.
So what does Eleven60 present? Here you go!
First Look at Eleven60 by Kierra Sheard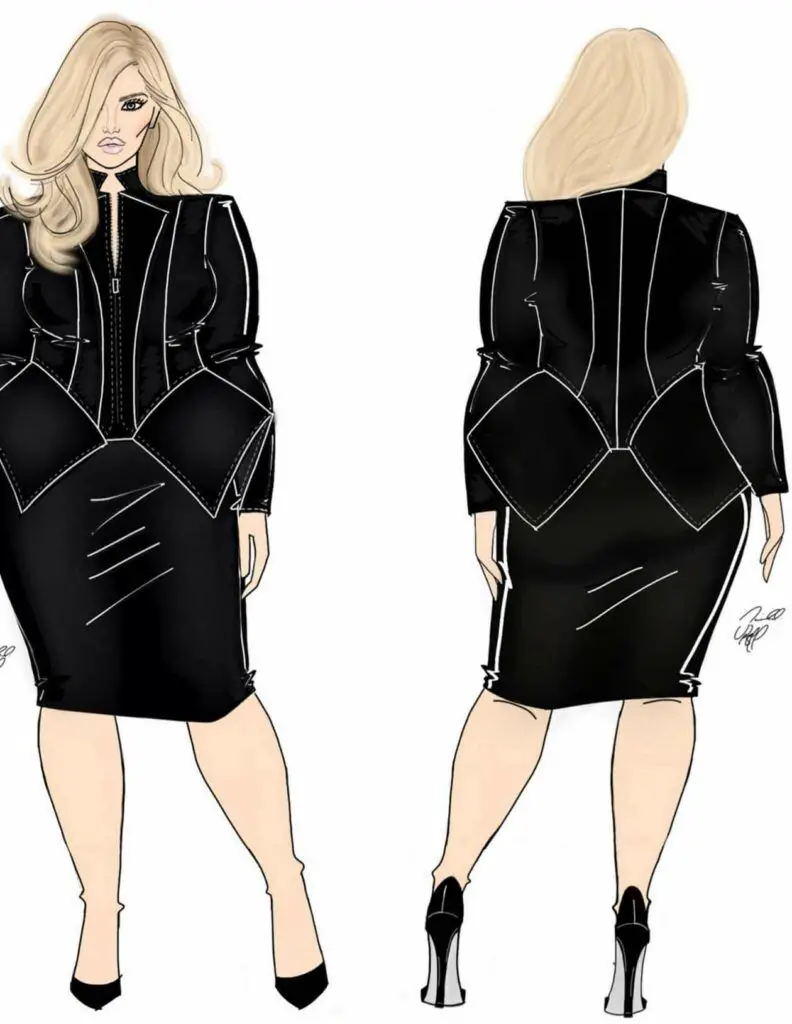 These details that Kierra has been looking for. She shared with Charisma Monroe that she needs "high waistlines, heavy duty, high quality material, bold zippers, exaggerated coat tails, subtle prints, neutral hues, and earth tones." This is what the brand gives us! High fashion, attention to detail, and a bit of a polished edge.
Now I must say, this collection is not for everyone, but definitely for someone. And this is okay. The woman who has been looking for unique and classic pieces to enhance her collection. The woman who wants a bit more out of her clothes. This is NOT fast fashion.
I say that to say that while we have more fast fashion brands (think Charlotte Russe, Ava+Viv, Missguided, BooHoo, RebDolls, Forever21, and Living Doll LA amongst many more) adding plus to their range, we now have Eleven60 that can sit next to the likes of Jibri, CarmaKoma, Adrianna Papell, and Rachel Pally! A true contemporary brand that is giving more options to the plus size woman!
Woot!
Items ship October 15th, but presale is happening now at www.myeleven60.com!
You can shop the collection on Pre-Sale NOW!
What do you think? How cool is this collection?! I love seeing new brands providing a variety of options to the evolving plus size consumer! So cool!