Editors Note: Last week on Facebook, I posed the question about Sex and the plus size woman, as it relates to building confidence. With YOUR overwhelming response, I have brought on a new contributor, Bonnie Lee who shares tips on embracing your sexuality and being confident in the bedroom as a plus size woman. This is a 3-part series that, based upon YOUR comments will delve deeper into channeling your inner sexual confidence! Enjoy!  Marie Denee
Some women are so caught up in what their bodies look like and how it moves that sometimes they forget to let go of their inhibitions.  Do you feel afraid to step into a room, to be with someone you love in the most intimate way , or to feel the exhilaration of an orgasm? All because you were are too worried about how your body is going to betray you?
Confidence, Sex, and the Plus Size Woman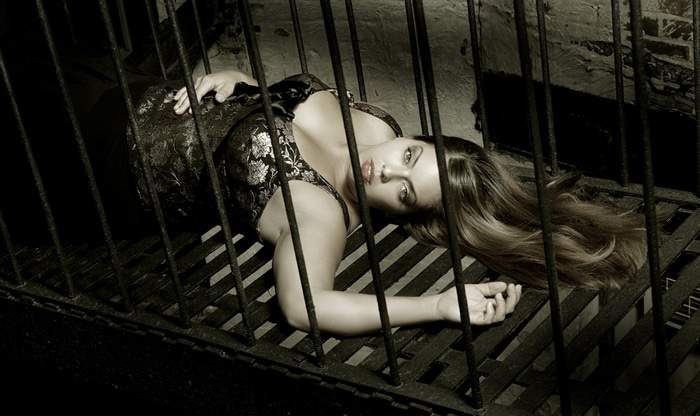 I won't lie to you and say I have always felt confident.  There were times when I worried about the jiggle in my butt and the roll on my waist.  I worried about my breasts ; questioning if they were just as beautiful as a Victoria's Secret model.  I got so gosh darn tired of feeling bad about myself. Then one day I looked at my husband, a man I have been in love with since I was 19 and married to for eleven years.  I was in a t-shirt and shorts, just finished working out and I looked (what I thought was) my absolute worst.  All he could think about and talk about was how sexy and beautiful I looked!
Since THAT moment, I realized that even at my worst, I was still a fox.  So!  All inhibitions went out the window!
This moment reminded me of the book/movie Eat, Pray, Love.  In the movie, Julia Roberts's friend is terrified to eat another bite of pizza because she has gained ten pounds.  Julia Roberts asks her if a man has ever walked out of a room right before they are going to make love?  Her friend tells her no and Julia Roberts tells her that is because "he feels like the luckiest man in the world. He feels like he just won the lottery.  He is in a room with a naked woman and about to make love to her."
She hit the nail right on the head!  Your partner does not care ( or should not) about all of your imperfections.  Your partner is simply excited to be in the moment and YOU should be too!
Feeling confident during sex is difficult for some women. They are afraid of their curves taking over the moment instead of realizing that they are the essence of that moment. The touch of someone you love thankful to have you and excited to feel the nuances of your body. In that very moment, you should exist, not over think!
But what if there was a way to get rid of those inhibitions?
We shared last week these tips to building your confidence as a sexy plus size woman, and today I wanted to go a bit further by…
Learning how to make your body move
These are suggestions that worked for my husband and I that greatly changed our sex life, and I wanted to share with you the ways I made it work with you!  I noticed that through working out, I learned how to make my body move, embraced how I looked while doing it, and felt more confident through it all!  Through learning how your body moves and a few workout tips to make it more enjoyable for me, this made for a sexier and pleasurable time for you and your partner.
Cardio for Longer Lasting Pleasure – The best way to make your love life and most intimate moments last longer is cardio outside of your bedroom. 30 minutes a day can enhance your body and your heart. It brings up the good endorphins and makes you feel more confident and gives you more energy!  And who loves a great lasting session?  There is no better way to love making love than by having the strength to enjoy it longer.
Thigh Tone Up for More Creative Movements – The most exciting part of being with the one you love is being creative, but many of those creative bedroom movements take lower body strength.  What a better way to feel like the vixen you are, than by knowing you can make it work?  Give yourself the strength to happily endure and orgasmically achieve bliss in the bedroom!  Take advantage of squats and lunges to tighten your inner thighs and glutes!  Trust me…
Core Strength for Support – You have cardio for longer pleasure, thighs and leg tone ups for creative movements and now you need core strength for support!  When you are making love the best support is your core. No matter what position you are or want to be in, you need to support your own body weight  and depending on how creative you get,  your partner's body weight. The best way to do that is to develop good core strength with sit ups, crunches, scissor kicks, and reverse curls.
Kegel Exercises for Overall Good Love Making & Health- You have heard it over and over. Kegel exercises strengthen your pelvic floor muscles. Several benefits are that it supports your uterus and bladder.  The sexy benefits you have the pelvic strength for experiencing a healthy orgasm.  How do you do Kegels? Contract the pelvic floor muscles for 10 seconds and release. Relax and begin again.  It feels like you have to use the ladies room but you have to hold it until you get there. Breathe and make sure to not flex any other muscles such as your stomach, or thighs.
The idea behind learning how your body moves is not just to enhance your body for better love making but to put the confidence back in your life! If all else fails get naked and fall in love with your sexy self. Then fall in love and into love making with your partner over and over again.
Make sure you tune in for the last part of this series next week!
How did learning how your body moves improve your love life? What tips would you share for that woman wanting to improve her body confidence in the bedroom? Please share and share!
 Bonnielee Cuevas is former NYC Fashion Stylist, and Journalist with a very successful portfolio. She left the fashion industry and is a Lifestyle, Holistic & Sustainable Expert, Humanitarian, and Mental Health Advocate. She has been a successful Entrepreneur for over 13 years. BonnieleeCuevas.Com is where you will find sprinkles of her personal adventures, encouragement through a sustainable, holistic, and positive approach to fill your body, mind, and spirit with pure JOY. She has been seen and featured in (not limited to): CBS Radio Minnesota, Curvy Magazine, Adweek, Business Insider, Fashion School Dail, Oxygen Magazine and named one of Vogue's Top Influential Social Media Darlings. You may have read many of her articles on sites like: The Curvy Fashionista, Dame Life Blog, Skorch Magazine and Zumba Life Magazine. Her passion and knowledge for style has never left her spirit, and she continues to freelance on the subject.