The Plus Size Fashion cover heard round the world.
Last week, the cover of Vogue Italia hit the internet and quickly the world took notice of Candice Huffine, Tara Lynn & Robyn Lawley shot by the illustrious Steven Meisel in a very sensual spread that would have BOTH the boys and the girls wagging their tails.
For as long as I can remember, I have not seen a plus model cover Vogue in any country… and for not one but three to grace the cover- well…
Plus Size Models Grace Vogue Italia
WOOT!
I love the sensuality about this shoot. Showing the world how plus size is beautiful, sexy, and how it can be just as fabulous as any other size model… this I love.
---
Side Note:

I think that the more that they incorporate plus size models into mainstream shoots, the more that we can see and become open to size diversity within fashion magazines. HOWEVER- yet again, this cover was done overseas- still begging the question- Curves in the US? (A must read if you haven't already!)

I imagine that One Day, Elle, Marie Claire, Lucky, Vogue, Ebony, Essence, or even Cosmopolitan would DARE to feature these US and Australian plus size models on their covers IN THE US.

A girl can dream and aspire yes? I mean this IS why I blog! To show YOU, the curvy Fashionista that YOU are BEAUTIFUL and that your curves, rolls, ample thighs, and rotund derriere is a thing of beauty!
---
Back to the topic at hand…
Please enjoy these images of INCLUDING Marquita Pring who did not make the cover- YET was featured in this shoot!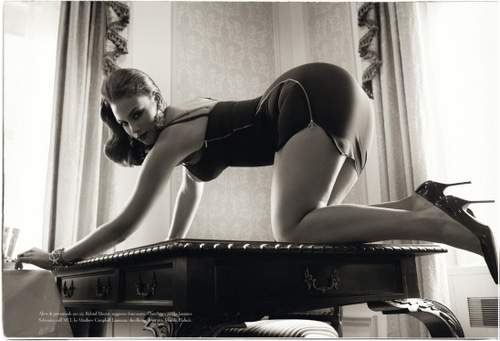 What are your thoughts about this shoot?
All images from The Fashion Spot