This year, I turn 30.
30.
A new chapter in my life, where from what I hear, as a woman we come into our own! Adopting certain habits, changing lifestyles, and a place where we become completely comfortable in our skin. But before any of that can happen, I am at a place where I am terribly worried about how I look- before the makeup. Life's tale-tell signs of care or lack thereof… I worry.
See, as a child, I grew up on the island of Okinawa and Hawaii exposing my body to the dangerous rays of the warm and beautiful sun to the extent of sun damage now plaguing my eyes! I only found THIS out like 6 years ago! Afraid of the effects on my skin, I went IN on SPF!
In addition to SPF, cause yes- women of color NEED this TOO, I began stepping up my skin care regimen. Oily skin, prone to breakouts, stress-related irritation, waxing scars, PMS- you name it, my face and chest has endured.
Given that (what I was told and understand) our skin changes every 7 years or so, I noticed that my skin was not taking to the cleansers, washes, and moisturizers as before and nervous, I wanted to ensure that I put my best face forward BEFORE the makeup!
So….
I have been fortunate, as a blogger to receive products to try and test… and through trial and tribulations, I FINALLY have a regimen that works for ME!
This is what my regimen looks like:
Thermaderm Skin Renewal System
First of all, a special thank you to Romy Raves who hosted F2FLA beauty event because I was introduced to Therapon Skin care and I fell in love! Immediately this facial wash set calmed my overly active skin! My skin instantly felt smoother, brighter, and I could feel a gentle tingle with use!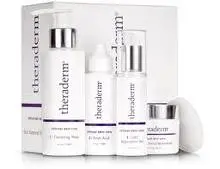 No overdrying, no crazy opposite reactions, I am in love! Here is what I use:
Cleansing Wash
Fruit Acid Exfoliant
Enriched Facial Moisturizer
Gentle Action Application Pads
SkinCeuticals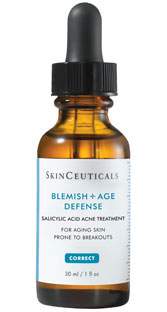 Lianne hosted a fabulous dinner for a hand selected few for a special SkinCeuticals dinner where we learned about a product that was right.up.my.alley. Anti aging AND blemish control all in one! Most products give one or another but THIS is giving me hopeful life! Rather than me having to heavily rely upon concealer and foundation- I hope clear skies are ahead for me! With just a week of usage… I am excited! Giving me a renewed hope are:
The Mia Clarisonic
I JUST got this a few days ago and quickly switched out my wash cloth for this handy dandy Christmas wish list item- The Clarisonic Mia! GEEKED!!!! Softer, smoother, and the feel against my skin… I am quite giddy and while it's still too early to gage its effects!
So now that I have shared my skin care regimen,
Tell me, what do you use??
Have you recently changed your regimen as you get… better with age? Are you one who uses specialized products or just soap?
I want to know!