It looks like plus size denim is about to get an upgrade! Luxury plus size brand, Marina Rinaldi is back again with their Italian fabulousness! Part of the Max Mara Fashion Group, Marina Rinaldi, is no stranger to the blog and they are certainly friends of TCF — if you didn't know, our very own Marie Denee was part of their 2015 campaign!
And today, their latest denim campaign has launched with the uber popular plus size model, Ashley Graham!
Cut to September 2017, when we heard about Ashley Graham's upcoming collection with Marina Rinaldi and "excited" was an understatement of our feelings!! I have great news, girls!
The wait is over and the collection is here! And yes, it is everything we've been waiting for. And more.
The Collection Deets
For the first time, Ashley has chosen to work with a Made in Italy brand to create a collection that embodies the liveliness and irreverence of her own personality along with a chic femininity that appeals to women everywhere…

This capsule collection is a first in so many ways: not only has Marina Rinaldi chosen to develop a collection around a woman, inspired and guided by Ashley's exuberant personality and talented input throughout the design phase, but the choice of luxury denim as the prime focus is a step forward that offers quality garments that are casual and fashionable, yet startlingly innovative in their varied silhouettes and contemporary style.

In front of Hong Jang Hyun's lens born an iconic campaign where denim is protagonist.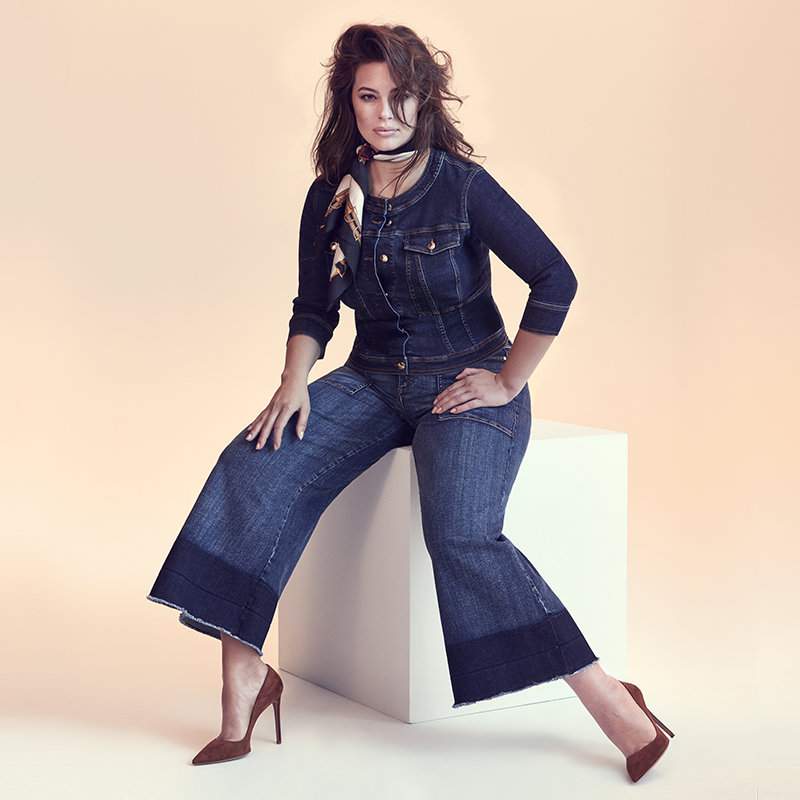 Denim is the Protagonist
Denim as the protagonist is classic!! There are soooo many great pieces from this collection that are a "need to have."
With denim, they are always a staple and a timeless item you can own.
What is special about these pieces are the unique silhouettes, shapes, and styling that we have not seen offered in plus sizes too often.
Can we talk about this two piece set below? I love that it "looks" like a jumpsuit, but is actually two fly pieces!
My favorites?
I have a few! The Stretch Denim Top is super cute and a piece that you can pair for with any season's essentials!
I love the idea of pairing the denim with a jersey tube skirt, one of my favorite silhouettes these days. I'm also digging the Top Corto in Denim.
And the denim tube skirt has lining that accentuates our curves! I am always here for that!
As always, Ashley is serving in every piece and she's making it difficult to choose just one or two pieces to buy. Hurry up and take my money, Marina Rinaldi!
Speaking of money, prices average in the $200-$300 range. Oh, and important note — all sizing is Italian!
And if you are NOT in the US but want a few pieces from the collection, they do have international sites.
All you have to do is choose your country to shop…
Shop the Ashley Graham For Marina Rinaldi Denim Collection at us.marinarinaldi.com!
So, what are your favorite pieces? Let's discuss denim!!