Hey girls it's Sugar! Lately I have been kind of obsessed with learning new ways to contour my makeup! With all the new Contouring palettes available and all the amazing information out there, like YouTube videos, Pinterest boards, Articles, Instagram Hashtags, Twitter Feeds, Beauty Blogs etc. I decided to make a guide for us fuller figured and fuller faced gals. When I think of a stunning plus beauty, I think of TESS HOLLIDAY!!
Isn't she so gorge!!! So much so, I had to draw her!
Whether you are the girl who wants to bring out the cheekbones or play up the jawline, for some of us, our goal is to basically have a little fun and feel a bit more confident when we walk out the door. And guess what? Contouring is not just for the pros anymore!!! I have done the research and I'm here to help!
So, let's start with the face shape!
We have 6 basic Face shapes: just imagine these shapes fuller!
Oval: versatile, slightly wider cheeks, gentle narrow forehead and jaw
Square/Rectangle: Angular lines with forehead, cheeks and jaw equal width.
Heart: widest at forehead, narrows down to jaw
Round: Softer angles with wider cheekbones, forehead and jaw
Oblong: pretty straight in it's shape, cheeks, forehead and jaw all similar length
Diamond: narrow forehead and jaw, cheekbones the widest point usually high and defined, considered the rarest face shape
A Few Contouring Steps!
The first step for beginners is to start with a powder form of contouring, think Bronzer!! Intermediate and experts can go straight for the big guns aka cream contouring palettes. Make sure you stock up on your faves or play around with a few palettes! Nobody wants to run to the store before work or a big meeting for that one makeup essential!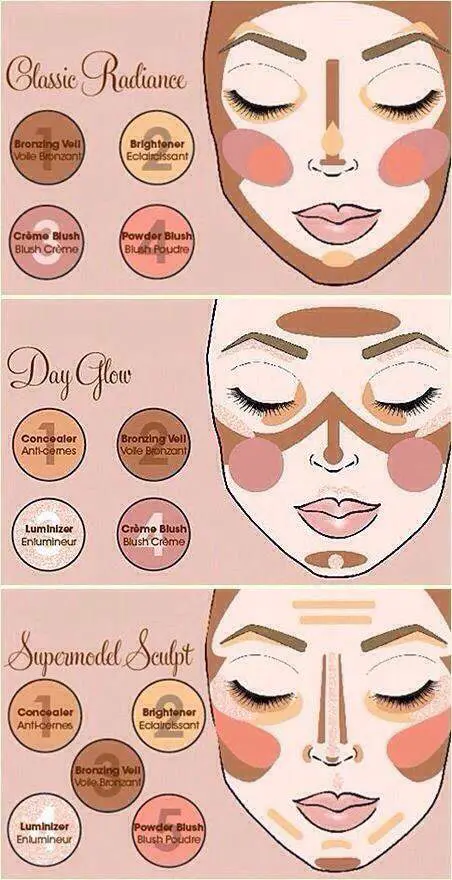 CONTOUR GUIDE: via Pinterest
This Contouring by Face Shape guide is a nice chart to reference if your just beginning.
Note: Oblong is not in the option because you only have to contour your chin if you wish. I basically decided I wish i had an oblong face once I read that!! I have a round face so just imagine all the contour I need! LOL!
Let's Talk Product!!
There are way more new contouring palettes in powder and cream form than there has ever been available to the public!! Remember when only your favorite youtube makeup celebs had access to the best makeup products!! We can all be makeup experts now thanks to a few new awesome Palettes that JUST came out!
Powder Palettes
Kat Von D Shade + Light Contour Palette available at Sephora(46.00)
Too Faced Cocoa Contour Chiseled to Perfection available at Sephora(40.00)
CREAM Palettes
Anastasia Contour Cream Kit Palette available at Sephora(40.00)
Coastal Scents Professional Camouflage Concealer Palette available on amazon(12.99)
TOOLS of the TRADE
available at ULTA (8.99) and The Beauty Blender available at Sephora (19.95)
My Favorite tools for contouring have to be real techniques brush and the Beauty blender. The Brush I use for powder products, and the Beauty blender for cream products. My favorite thing about both products is that they were created by Makeup Artists!! Samantha Chapman has the line of real techniques brushes, and ReAnn, one of Hollywood's hottest makeup Artists created the Beauty Blender. The beauty blender comes in normal size and minis! The beauty blender originally was only available at the original website, and now you can just run to your local Sephora for lovely in store options, or order online!!
When I Contour:
IN A RUSH: Blush Brush and Bronzer
When I am in a rush I tend to use a bronzer to contour and I use a blush brush made for contouring.
TIME TO SPARE: Beauty Blender mini and cream contour
On the day's I have more time I use my beauty blender mini with my contour cream a few shades darker.
Our Favorite Contouring Tutorial!
As an artist I see the face, pre-makeup, as an almost blank canvas in which we can totally create our own features!!
I am always inspired when I see a fellow plus size women do her own makeup on camera for all to see and learn! Here is a super helpful YouTube tutorial on contouring from the one and only Plus size Celebrity Makeup Artist Priscilla Ono, make sure to turn your volume up it's a little low in the vid.
Watch Priscilla do makeup in one of her ONOBEAUTY pro tutorials on a gorgeous gal here
What do you think? Do you have a favorite tool or tip when it comes to contouring? Share Your Favorite Contouring Makeup And Tools In The Comments!!!
xo Sugar
Guest Blogger via Tormented Sugar