Hey Curvy Girls, Maui here! I have some something to share, and giiiiiiiiiiirl, am I excited! I already know that you will be too! Now, before I share, let me just say that all of the details have not been confirmed. But Adele?
So in the words of Benita Butrell (from In Living Color), "I ain't the one to gossip, so you aint heard this from me!" However, the word is that our fierce, fashionable, and fellow Curvy Fashionista, Adele, may be working on a little more than music.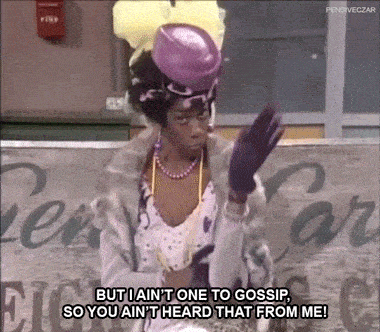 Say what?!?!
Yes! Reports are coming in from sources close to Adele's camp, that the songbird is working on a line of clothing for stylish mommies (mums) on the move. While the word is the collection will focus on loungewear for all sizes, there is also said to be "a few signature pieces as well as mix and match neutrals."
These same sources say that while Adele is "receiving input from several designers," she is creating all of her own work and making all of the decisions down to the high end fabric that she has selected.
Even plus size retailer, Evans, has reportedly been lined-up as a stockist! Could this be for reals, for reals?!?!
Tom Doran of Evans told NOW Magazine: "When we worked with designers Clements Ribeiro, they used designers tried and tested on Adele. Their high street collection for Evans included the Adele dress – inspired by the very outfit she wore [at the 2012 Grammys]."
This is very exciting for Adele fans and curvy fashionistas because many of us have swoon over Adele's style countless times. We even did a post highlighting her chic style! Please let this be true… please let this be true… AND!
If her attire is an indicator of what this "potential" collection will consist of, we are sooooooooooo here for it. Actually, first in line for it.
What is your take?
We know that Adele is the truth when it comes to music and that you are loving her latest album 25 but what do you think about Adele the designer?
Chime in ladies, add your two cents to this conversation.
Oh and if it turns out not to be true, you didn't hear it from me but if it is… I TOLD YOU SO!