Looking for something new to add to your closet? Looking for a new plus size store/boutique to check out? Well, no stranger to The Curvy Fashionista, Honey's Child Boutique, an indie boutique in St. Louis, has released a new collection that we had to share with you! If you have a love for all things floral, then you may find this collection a little groovy. Hehehe. Called Power to the Flower! this spring collection is an assortment of fun essentials and statement pieces, perfect for the spring!
The Power to the Flower collection is chock full of pieces that are a little bit hippie, a little bit boho and a WHOLE LOT of fun!
If you are looking for a dress for spring brunches? There are some. If you are looking for atop that is sweet and playful, there are a few. If a sexy maxi dress is more your speed, there are a few for you to play in!
Honey's Child Boutique is a physical boutique along with an online store, so if you happen to be in the St. Louis area, then you have to take a peek at the collection- up close and personal!
In the meantime, check out a few highlights from the Power to the Flower collection!
Honey's Child Boutique Power to the Flower Collection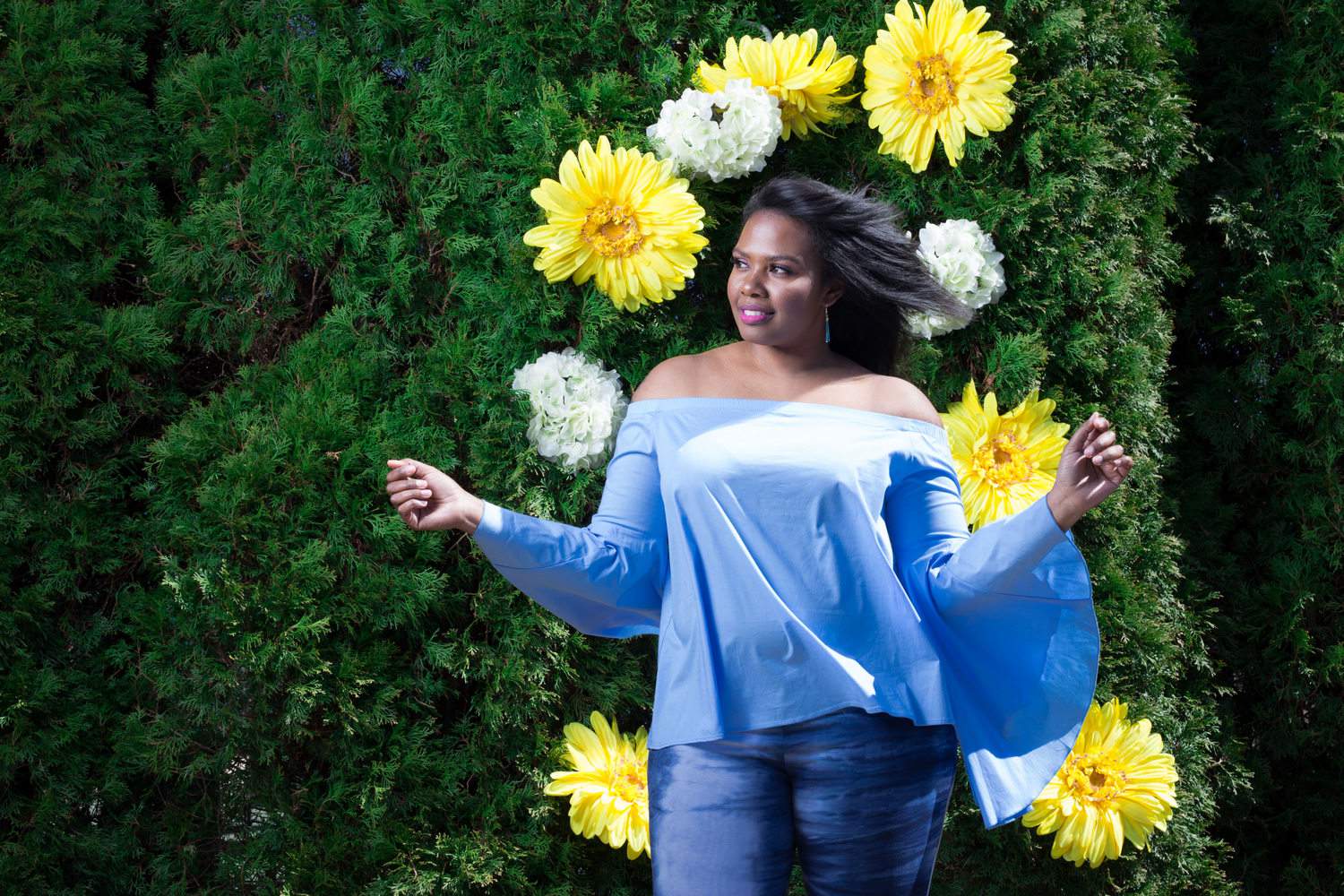 What's even better than a super cute off the shoulder top? An off the shoulder top with dramatic bell sleeves! It is made of cotton poplin with just a hint of stretch, an elasticized neckline for a comfortable and adjustable shoulder, oversized bell sleeves and open bottom. This top was made for flower garlands in your hair and getting in touch with your inner hippie!

Feminine and flirty, in a gorgeous jewel tone green, the Jordan Wrap Dress is THE dress to wear this spring when you really want to wow! Perfect for taking you from day to night, the dress features a butterfly sleeve, plunging neckline and self tie wrap belt.

Florals prints are spring essentials that are everywhere this season! These retro chic and comfy cigarette pants are a great way to incorporate prints into your wardrobe. These sinfully soft pull on pants feature a faux button, slim fit legs and a split at the bottom hem to show off your gams right!

Please allow us to introduce you to your new favorite dress for Sunday Brunch! Featuring a gorgeous floral motif print made vibrant with it's ivory background, this dress is a fun floral take on a classic dress silhouette. With full cap sleeves, banded waist and midi knee-skimming length, this dress is perfect for Easter, Weddings or even high tea wit the gals.

Oooh La La! The Tres Chic dress is a must have for curvy girls, whatever your body shape. Made of super stretchy neoprene fabric, it has a lovely off the shoulder neckline, deep pockets (win!) and a sassy exposed gold zipper in the back. The dress comes in hot pink AND in royal blue, which makes me personally think Tres Chis is magnifique!!

Come on, shoulders! If you are looking to serve up retro realness for the kids, then look no further! The Amelia is a super-sophisticated, sexy dress perfect for spring and summer. Featuring an off-the-shoulder neckline, midi hemline with a double lace trim, it illustrates vintage glamour effortlessly. Pair with a fabulous pair of pointy-toe pumps and some fly pearls, and you are ready to get your southern belle on!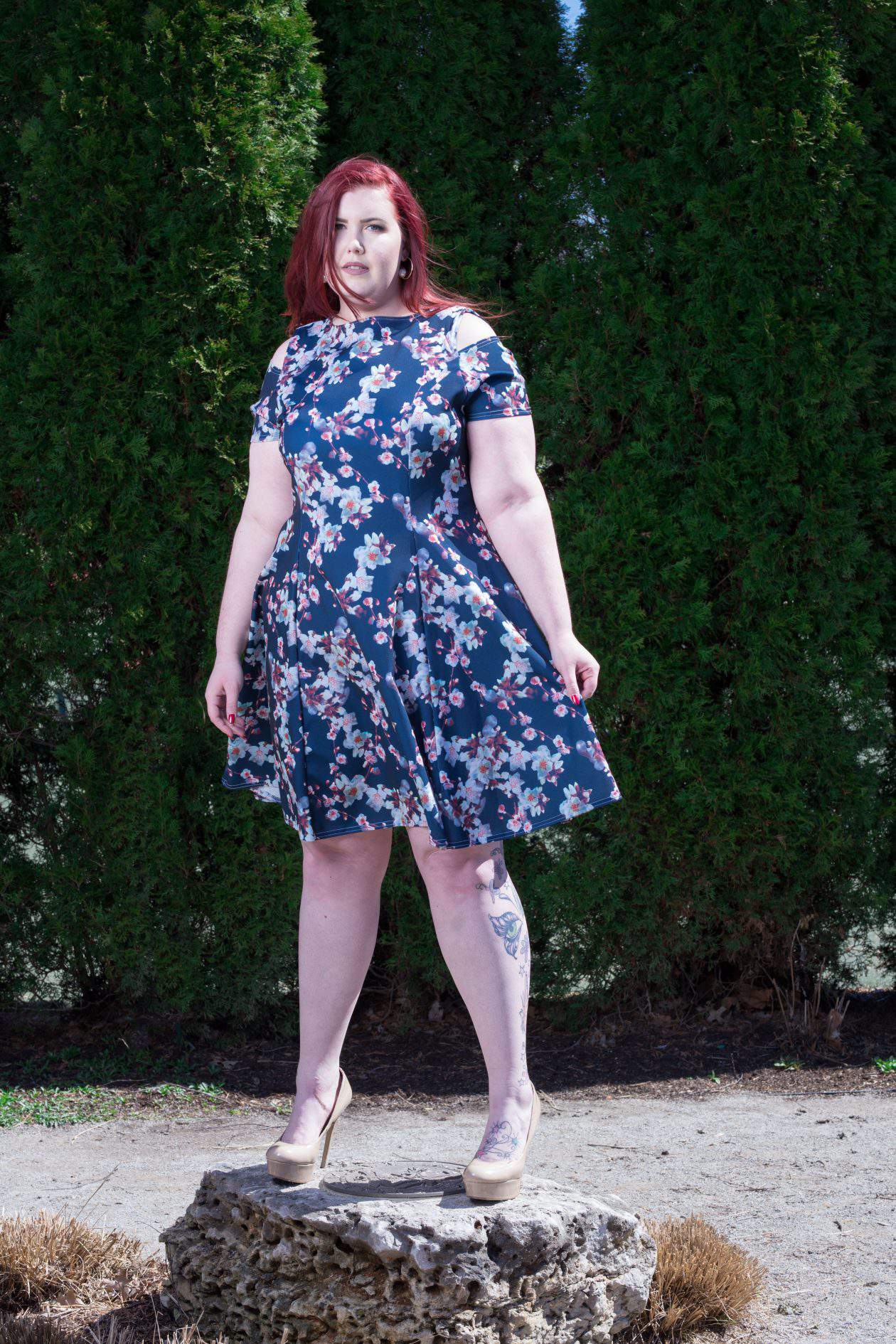 For moments when your wardrobe requires you be a little bit demure… but not completely, this is the dress for you. The Calla Cold Shoulder Floral Skater Dress boasts a gorgeous royal blue (hot color this season) floral print, a uniquely-designed cold shoulder sleeve, and is subtly chic with a promise of sass!
We knew going in that Honey's Child Boutique was not going to disappoint us with Power to the Flower, but we had no idea that the collection would blow our minds this much!! Tops, bottoms, and dresses, this new collection evokes all that is bright and beautiful about spring!
With fashionable finds in sizes up to 5X, so be sure to check them out to get these pretties and much, much more!!
Which of our faves are YOUR FAVORITE?!? Let us know in the comments!
Are you looking to shop at more plus size boutiques, with physical locations? Make sure you check out our Plus Directory with over 100 boutiques across the US and Canada!