While cruising through Instagram and TikTok I love watching other stylish plus-size women create their own versions of different trends. So we over here at TCF wanted to hop on-trend. Biker shorts have so much more potential than just going to the gym or running errands. Now that you can find biker shorts in tons of colors & styles, you can create effortless outfits that fit your style.
Look #1
For the first look, keep it super simple! Pair your favorite black biker shorts with a flowy shirt dress. Simply tie a knot in the front and let the tails of the shirt drape over the front of the shorts. Add a simple sandal for a casual summer look.
Look #2
For the second look, you can jazz it up a little. These beige biker shorts from Fabletics was perfect for this look. Using the same shirt dress from look one, button only the top buttons and add a belt that compliments your biker shorts. Add some sandals or cute heels, and you BOOM you have an easy evening look for brunch or dinner.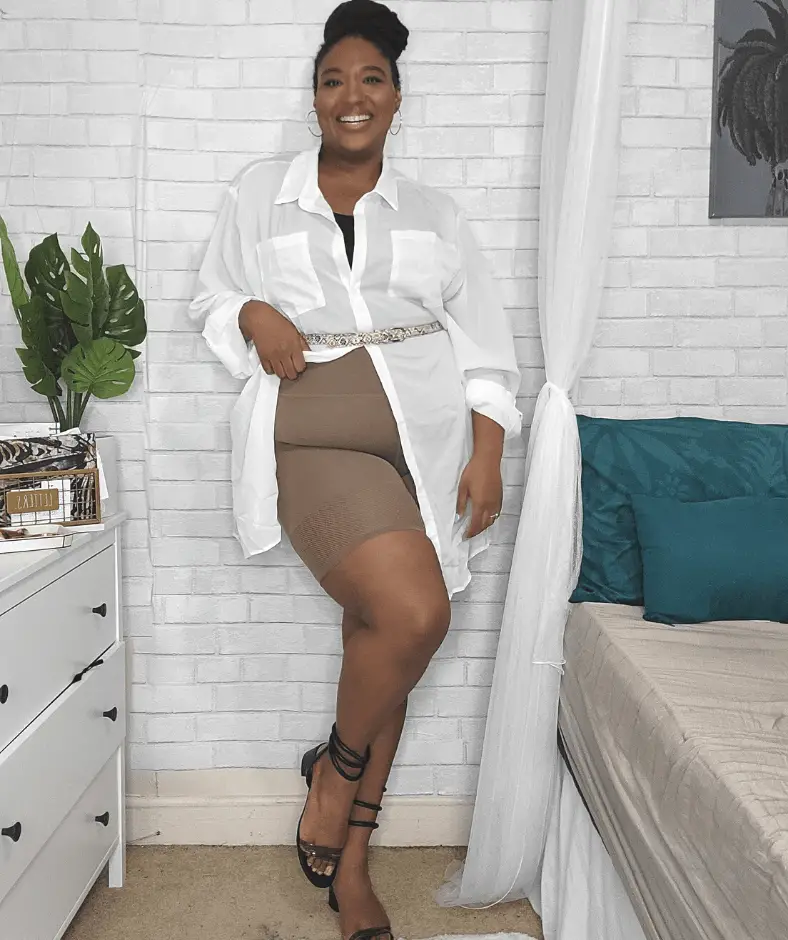 Look #3
For our third look, we're keeping it all the way casual. Grab your biker shorts, a graphic tee, an oversized button-up (denim or tartan will due), and a pair of vans. Currently, we're loving this "Not Today" graphic tee from Ashley Stewart. This is one of my g0-to summer looks when I know I'm heading to a festival or plan to do a lot of walking.
Look #4
For the fourth and last look, this one can truly be dressed up or dressed down depending on how you're feeling at the moment. Pair your biker shorts with a fun printed or colorful sports bra. (If a sports bra is too much, a tank top is a perfect alternative.) To complete the look add an oversized blazer. This beautiful blue is from Pretty Little Things, but you can find other alternatives like this Dad Blazer from Asos or your local thrift store.
What do we think of these looks? Easy peasy! Feel free to make these looks fit you and your taste. You can't go wrong. If you love "How-To" posts here at TCF you can check out posts like 3 Easy Ways to Style a Crossbody Bag or 7 Important Styling Tips for Plus Size Non-Binary People.
Be sure to tag on social media using hashtag #TCFStyle so we can see your looks!!!