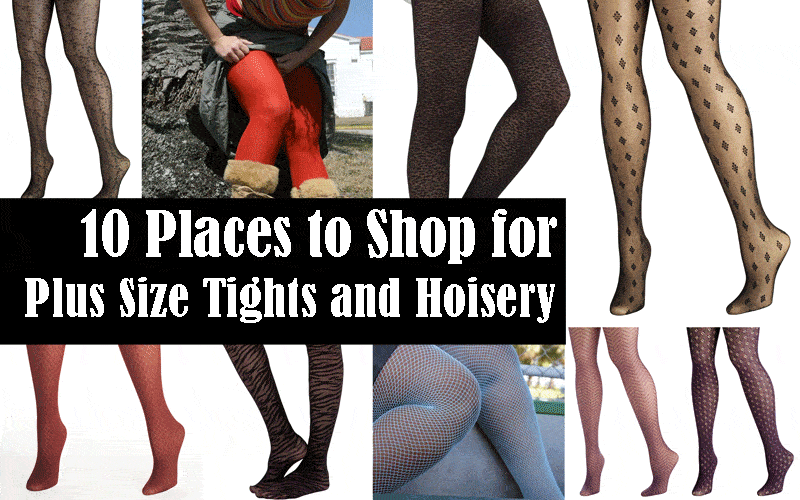 It's cold. For me, me and the cold do NOT mix well! Seriously! I had been asked before, about where to get tights, and thought to share with you some of my haunts and places that offer great selections, styles, and sizes!
I mean, tights are no longer boring, dull, and stale. There are fancy styles and prints, thigh highs that are cheeky and playful, and so much more! Now, know there are more than five places, but I wanted to give you a great place to start!
You ready? Here we go:
10 Places to Get Plus Size Tights and Thigh Highs
A new find of mines! Thigh highs and hosiery! I just ordered a few after reading and hearing about them! I am ready and here for these! Woot!
With over 80 hues to play with, We Love Colors offers fishnets, tights, patterned colors, and a rainbow of hues to accentuate your looks!
DKNY, Pretty Polly and Spanx! While you are shopping for your look, you can score a fancy pair of tights to complete your look!
Avenue (Up to a 7X)
This has to be one of the most diverse range of options that I have seen, especially in sizing. While One Stop Plus may use their feed, there are quite a lot to choose from here!
UK company that has recently crossed over the pond into the US brings us fancy classics and fashion forward options in sizes up to a 32! Definitely worth a second look!
Target (Up to a 2X)
I have a nice array of patterned tights, a few in various hues, and they rock out for me! In stores you will find some great choices up to a 2x and Merona has a few too online!
Their Love Your Size Collection has options in store as well! I happened to score a pair of great tights that has become my life!
One of the largest online malls pulling from brands across the globe, One Stop Plus offers so many options from Torrid, Avenue, and their own house brand, Comfort Choice!
Diamonds, lace, and hues of varying colors, Simply Be offers you a range of fashion forward and classic choices to pair with their chic outfits!
Sexy, sultry, and daring, Hips and Curves offers plus size thigh highs, sexy sheers and fishnets!
 What kind of tights do you rock? Have you shopped all or any of these? If I have missed some of your favorite haunts, leave where you go in the comments!
Sound off, I want to know! XOXOXO