Plus Size Wear to Work Options
Hello Marie,

I just started following your blog and I saw you on Ricki Lake. I absolutely love your fashion sense and body acceptance philosophy. Plus you are gorgeous!. In your video you indicated that you might welcome topic suggestions. As a plus size fashionista with the closets to prove it and who is approaching fifty, I would love to hear your thoughts on age appropriate dressing. (Think MORE Magazine for plus size women). I have been to a few fff events and visited several blogs while the women behind the scene may be in the fabulous fifty crowd, the events, models and even the fashions, in my mind, focus on the 20's-30's age group.

I was looking at your blog and I was looking for professional clothing for lawyers or executives in very conservative professional settings and really did not see anything. (Think Marina Rinaldi at Jones of New York price point) Any suggestions?

Also I love you hair and if you don't mind me asking is it a wig. If so I wear locs but I am bored and I to want to switch to wigs and I am really looking to duplicate your hair. While your blog focuses on fashion, I don't know how you feel about talking about wigs which I think of as a fashion accessory. Thank you for your consideration.

Lorraine S.
First of all Lorraine, thank you so much for finding me! I truly appreciate you for follow! Now your email touched on a few things, that I want to address to help you out here!

I have touched on this and you can check out the professional wear posts I wrote here:
You mentioned Jones of NY and I was curious if you checked out their plus sizes? Have you looked at Talbots, Eloquii, Nordstrom, and Saks? For suiting and more professional options, that is a great start. Especially for the professional looks. I would also check the outlets to score Marina Rinaldi and others designers at the deal of a lifetime. Nordstrom Rack, the Outlet malls, or even shopping the department stores NOW, during clearance season will give you a great price without sacrificing quality. (Dress to the left, you can get here.)
Some tips to find great steals and deals:
Subscribe to your favorite store's email lists
Department stores associates, especially the ones who work on commission, keep clientele books. Ask to be added and to be notified of the sales! This way you have the inside loop!
In addition to the outlets, online sample sale sites like Ideeli, Beyond the Rack, and others offer plus size finds without breaking the bank!
Thrift in great neighborhoods! You'd be surprised what you'll find!
When it comes dressing for your "Age" its moreso how you style it, not the mindset that, only XX age can wear this. I think this also falls into the mindset of "Oh, I am a plus size woman and can only wear X." I'd be interested to know what your perception of what a woman on the better side of 50 looks or to you, is supposed to look like. My mother has never been inhibited by age, and maybe this is where my thoughts stem from, but I really think there is a mindset!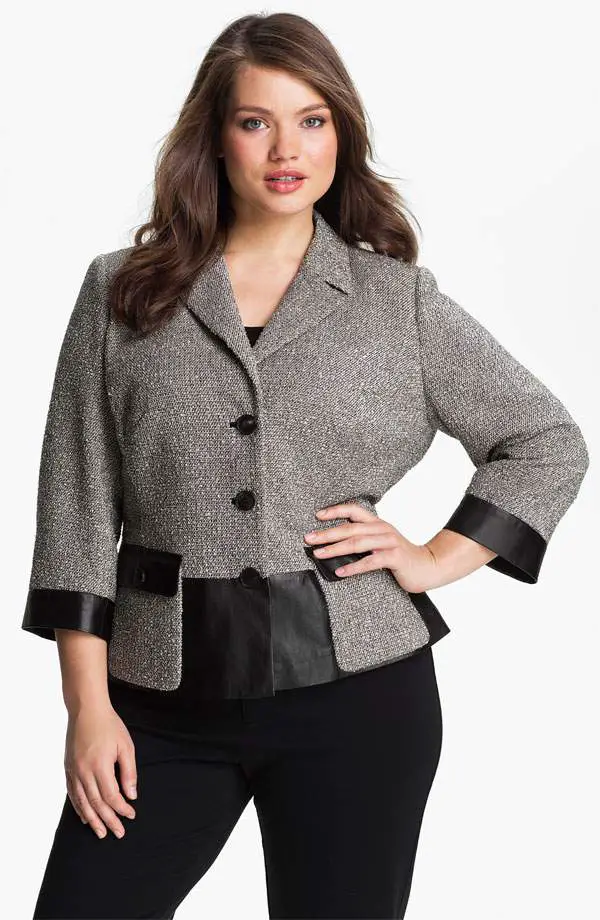 I know that as we get older, there may be more modesty, but that does not mean a compromise in style. You can still wear bold hues, sharp tailoring, and playful textures and prints. While the models for these sites and campaigns may look ageless, you can still find items where you can have a little fun.
Please take a look at the guest post from Kristin from my fabulous over 40 fashion blogger girlfriend, Fashion Style Beauty: Plus Size, Over 40 and Personal Style; Tips and Real Talk.
You can get this Tweed and Leather Jacket here.
As far as my hair? Ohhhh, I alternate between wigs, weaves, and au natural. It just depends on my mood and where I am at in my life. Currently, I am in a weave, and do not mind you asking! I have actually shared why I had to rock a protective style, so I do not mind at all! I will keep this in mid for future posts! I got you! 🙂
I hope that I have started to answer some of your questions here!
WHAT DO YOU THINK? If you are reading and have two cents to ADD, please help your fellow Curvy Fashionista and leave a comment! Sharing is caring!
Do you have a style question? Please do not 
hesitate to EMAIL me!
Your question could end up on the blog!