I love the idea of fake lashes, but putting them on is struggle city. It is for that reason that I only started attempting to wear lashes more consistently last year.
Any time before then that I had worn lashes were times when someone else was gracious enough to place them on me.
Of course I knew that if I was going to be committed to wearing lashes more often than I'd have to learn how to apply them myself.
So, I fought the good fight and lashes kicked my butt but I pushed through.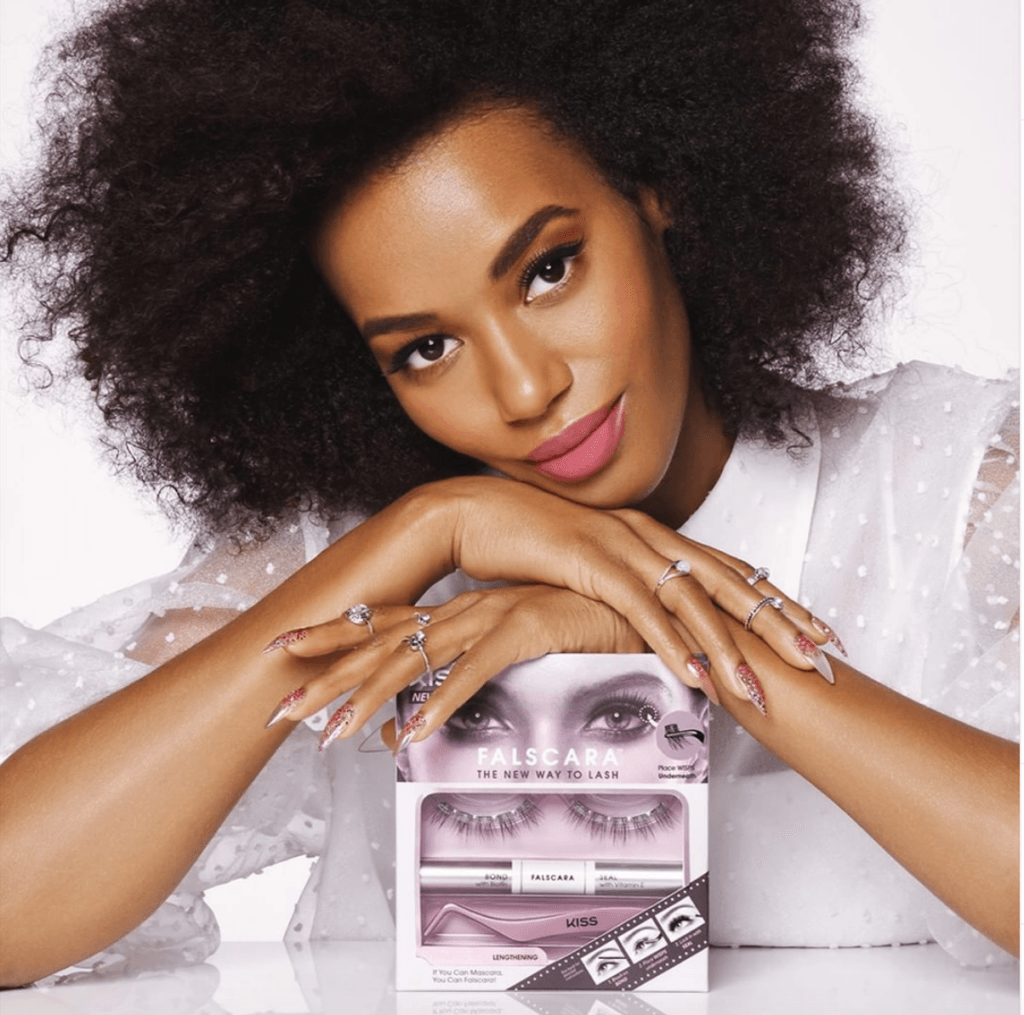 Sadly, the application process is still a struggle for me as I find myself adjusting and re-adjusting often, but I've learned that the types of lashes you use plays a huge role in your success.
That is why I'm here to tell you about my most recent discovery, KISS Falscara. Falscara gives you the lash extension look for a fraction of the price it would cost at a salon and you can do it yourself.
I attended a master class taught by celebrity makeup artist Carolina Gonzalez where she walked us how to use what is being called a "new way to lash."
A New Way to Wear Lashes with Kiss? Could it Be?
https://www.instagram.com/p/B9H2mMeFTQM/
Here's a breakdown of Kiss Falscara:
It applies below your top lash line, meaning over the lashes, not behind them, so it's easier to see what you're doing when you're applying them.

Application is a two step process provided by a wand that's along the lines of mascara. One side that's the bond, and then the other side that seals everything in. The bond is sticky, but it feels more like you're working with mascara.

You can layer the lashes for a fuller look or use just a few for a less dramatic look. It depends on what you're going for.

You can place wisps wherever you want on your eye. Maybe you want more drama on the outer part of your eyelid for a cat eye flair. You can get creative and you can cut them to the desired length or shape.

Finally, you remove them with the gentle lash removing solution that KISS also makes. You soak a cotton pad, apply it to your lashes for a few seconds, and the lashes glide off. It's that simple.

You can get at least three uses out of the lashes.
https://www.instagram.com/p/B9FKtG-lTpw/
In short, Falscara can make your lash-loving life easier. It comes in lengthening, volumizing, and lifting.
Each style speaks to what you're looking for personally and it's easy on your pockets.
Grab your Kiss Falscara at KissUSA.com
You can get the starter kit that has everything you need for $20.00, but you can also buy individual items from the tweezers to the lashes to the glue starting at $6.00.
There's a misconception that beauty has to be expensive or hard to obtain but that is simply not true.
We live in an age of convenience so that should absolutely trickle down to your glam.
Do you plan to try KISS Falscara?